INSIDE PASSAGE
(WITH GLACIER BAY NATIONAL PARK)
7 DAY Alaskan cruise from Seattle
September 7-15, 2018
Ships have been sailing from Seattle to Alaska since the gold rush.
Now it's your turn to follow in the wake of history on a seven-day cruise vacation filled with glacier-carved fjords, forested islets and quaint ports along Alaska's famed Inside Passage.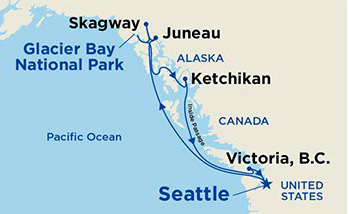 Rick and Abbie Princess Confirmation code: HQCXML
Sam and Patty Princess Confirmation code: HQCX2C
INSIDE PASSAGE & ALASKA CRUISE PORTS
These are serene waters, where one moment you can be sailing a wide bay of barrier islands and the next you're cruising through a narrow waterway flanked by towering forested walls. That's the splendid spectacle of the Inside Passage — the scenery is constantly changing, from picturesque shores to friendly coastal towns.
Stretching from Puget Sound, Washington, through the British Columbia coast and into the Gulf of Alaska, the Inside Passage includes more than 1,000 islands, seemingly endless shore line and thousands of idyllic coves and bays.
Sailing with Princess from Seattle, you'll marvel at the breathtaking scenery and encounter ports like Gold Rush-era Skagway and Ketchikan, the capital city of Juneau and British-flavored Victoria.
These are places where you can visit a Native village, learn about the triumphs and tragedies of Alaska's Gold Rush heyday or go dog sledding with a real musher. The Inside Passage has stories to tell that will give you a greater understanding of the culture, history and lifestyle of the Great Land.

Sail aboard the Ruby Princess
Ruby Princess is a luminous jewel on the seas and a romantic destination in itself. Christened by lovebirds Trista and Ryan Sutter of TV's The Bachelorette, she offers nearly 900 balconies from which to view the world, an array of entertainment options including Movies Under the Stars®, and sumptuous dining choices from Crown Grill to the International Café.
Friday September 7:
DEPARTURE
You'll depart from Columbus, OH and fly to Seattle, arriving the day before the cruise.
Enjoy the Emerald City!
You'll arrive in Seattle today and check into your centrally located hotel room. Many popular sites and great restaurants are within walking distance or a short taxi ride. Enjoy the city!

Included in your itinerary is access to the famed Seattle Space Needle and the attached Chihuly Garden.

This evening, enjoy a baseball game at Safeco Field watching the Seattle Mariners take on the NY Yankees (extra cost).
 
SEATTLE EXCURSIONS SUGGESTED:
There's SO much to do in Seattle! Start by checking out the iconic Space Needle and the beautiful Chihuly gardens
Space Needle and Chihuly Garden and Glass Combination Ticket
Visit the iconic Space Needle and world-famous Chihuly Garden and Glass on this combo ticket. Make your way to the top of the 520 ft. observation deck for unparalleled views of downtown Seattle, Mt. Rainier, and the Puget Sound while zooming in on the action through high-quality Swarovski telescopes. Walk through the blown-glass art exhibit of Washington native Dale Chihuly and see the world-famous glass chandeliers and Native American-inspired art he created after working at a glass factory in Venice. Book together to experience the scenic beauty of Seattle viewed up high and the unique artistic offerings of the Emerald City in one visit.
Built for the 1962 World's Fair, the 605-foot tall (184 meters) Space Needle is an integral part of the Seattle skyline and the landmark of the city with over one million visitors making their way to the top each year. Now it's your turn to experience it for yourself! After redeeming your ticket at the bottom of the Space Needle admissions, take a 41-second elevator ride to the top for a stunning panorama view of the sprawling city cradled between the Puget Sound and rolling hills to the East. The imposing, glacier-capped Mt. Rainier will loom large before you while distant views of the Olympic and Cascade Mountain ranges retreat towards to the horizon. Look through high-powered telescopes to catch a closer view of the action or head inside to the revolving Sky City Restaurant to fortify yourself with brunch, lunch, or dinner to get through the rest of the day. After feasting on delicious local fare and 360 degree views of the city, head down the elevator to Chihuly Garden and Glass just beneath the Space Needle As one of the most prolific glass artists of the 20th century, Dale Chihuly pushed the boundaries of blown glass as an art medium and gained world-renown recognition for his Native American and nature-inspired art. Make your way through the wonderland of 8 unique Galleries, the 40-foot-tall Glasshouse filled with 4,500 square feet of light and color, and snap photos of towering sculptures while strolling through the lush, ever-changing seasonal Gardens. The combo ticket allows you to visit two of Seattle's most popular attractions for one discounted price. Take in the sweeping views of the Pacific Northwest, eat at Seattle's highest cafe and restaurant, and walk through the red, orange, and yellow tinged light of the famed Chihuly Garden and Glass with one convenient ticket. Both attractions must be visited in the same day.
Inclusions
One Single observation Deck admission
Free digital download from Space Shots Photography
Use of Swarovski telescopes
Admission to Chihuly Garden and Glass Exhibition Hall, Glasshouse and Garden Chihuly Gardens - Free digital photo opportunity
Chihuly Gardens - Free audio tour upon request, smartphone required
Seattle Mariners vs New York Yankees
Rick and Abbie! You have 2 tickets to go see this game!

Safeco Field, Seattle, WA
Fri, Sep 07 2018 - 7:10 PM
SEC 215
ROW 5
SEAT 1-2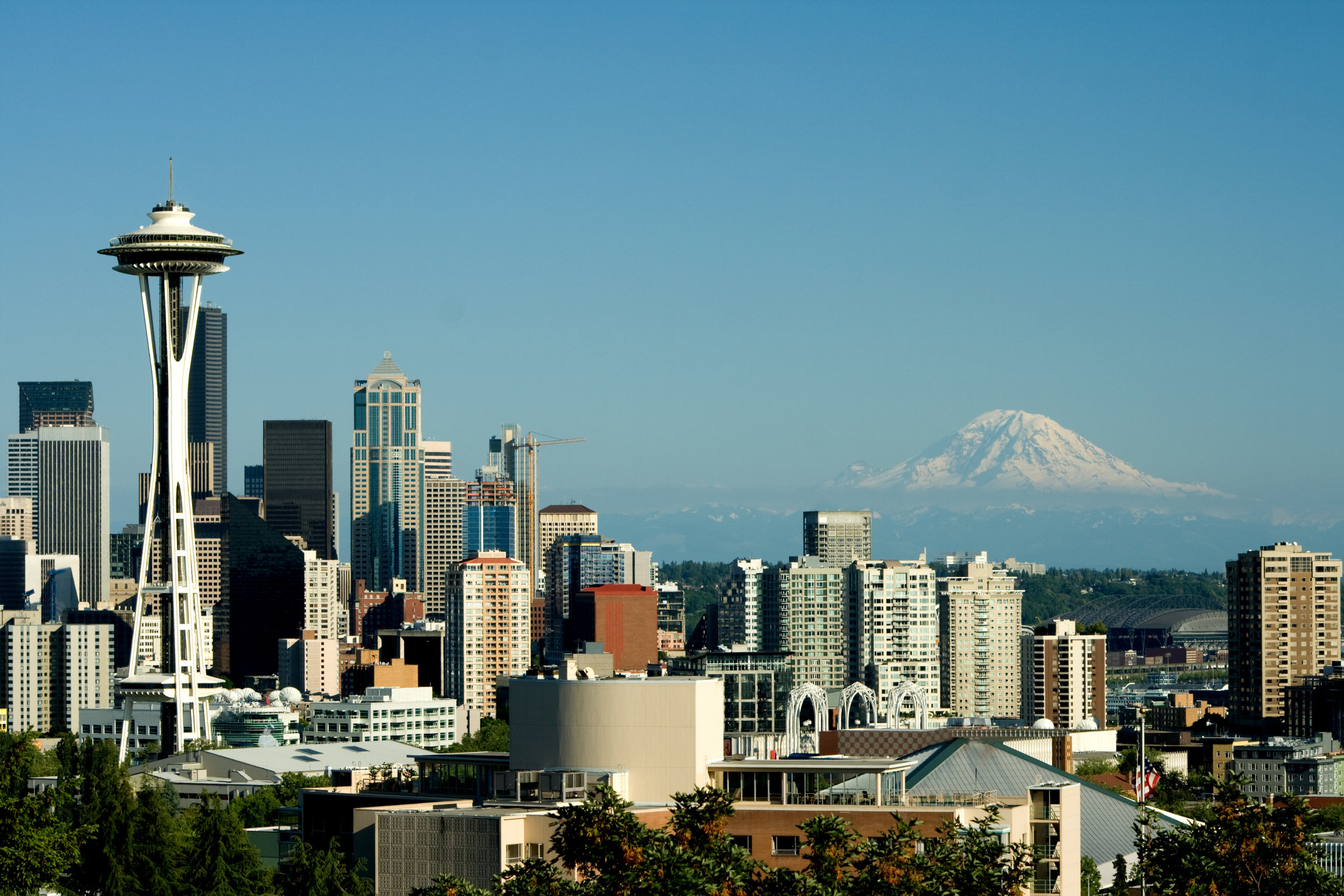 Saturday September 8:
set sail
embark @ 4pm
Today you'll embark on your journey to experience incredible history, famous landmarks and unique culture in grand style!

Make sure to be at the cruise port (Pier 91) early with plenty of time to spare (we suggest arriving around noon).
Sunday September 9:
At sea
Each day, a world of exciting activities awaits, from cooking demonstrations to dance classes, trivia contests and a range of enrichment programs, including our Encounters with Discovery at SEA™ speaker series from experts who offer insights into the places you'll visit.
Discovery at SEA™ Programs
Festivals of the World
The Piazza
Shops of Princess
Art Gallery & Auctions
Photo & Video Gallery
Platinum Photography Studio
Freshwater Pools & Hot Tubs
Sports Court (basketball, volleyball, tennis)
Princess Links (putting course)
Lotus Spa®
Lotus Spa® Fitness Center
Fitness Classes
Movies Under the Stars®
The Voice of the Ocean (live show)
Original Musical Productions
Vegas-style Casino
Princess Theater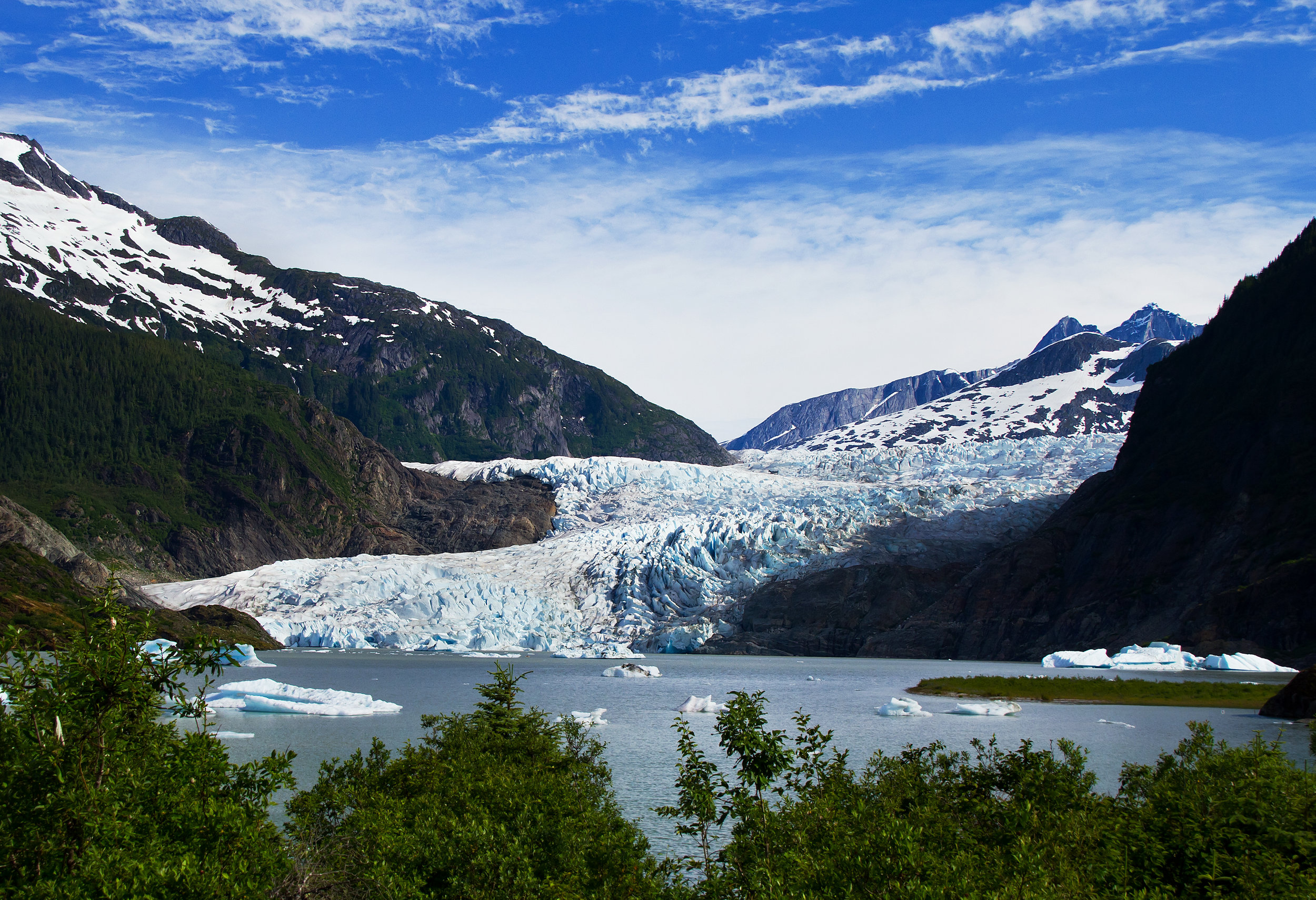 Monday September 10:
Juneau, AK
11am - 10pm
In 1880, it was slow going for Joe Juneau and Richard Harris as they searched for gold with the help of Native guides. After climbing mountains, forging streams and facing countless difficulties, they found nuggets "as large as beans."

From their discovery came three of the largest gold mines in the world. By the end of World War II, more than $150 million in gold had been mined. Eventually the mines closed, but the town Joe Juneau founded became the capital
of Alaska and the business of gold was replaced by the business of government.

Some 30,000 people live in Juneau. Its total area makes it one of the biggest towns, in size, in the world. Only Kiruna, Sweden, and Sitka, Alaska, exceed Juneau's 3,248 square miles.

Today Juneau is famous not only for gold and government but also for its breathtakingly beautiful glaciers and stunning views of both water and mountains.

Included in your package is the whale watching and Mendenhall Glacier tour.
Juneau Shore Excursion:
COMBO TOUR WHALE WATCHING & MENDENHALL GLACIER
On the way to Mendenhall Glacier, you will learn about the history and trivia of this famous state capital. Your guide will be on hand to provide narration once you arrive to the awe inspiring Mendenhall Glacier. An hour visit will ensure enough time for overlook point, take pictures and spend time at the Visitor's Center. Afterwards, you will board your boat with your guide and naturalist to view the famous residents of the area. During the course of your trip, you will learn about life in Alaska as well as the habits of these mammals. In addition to humpbacks, you are also likely to see orca whales, stellar sea lions, harbor seals and eagles.
5.25 hours
Tuesday September 11:
Skagway, AK
6am - 815pm
 
Skagway was the gateway to the gold fields for the thousands who flocked to Alaska and the Yukon with the hope of striking it rich. Skagway may have boasted the shortest route to the Klondike, but it wasn't the easiest.

Over 100 years ago, the White Pass route through the Coast Mountains and the shorter but steeper Chilkoot Trail were used by countless stampeders. Many a would-be miner perished on the treacherous Chilkoot Trail.

The gold rush was a boon and by 1898, Skagway was Alaska's largest town with a population of about 20,000. Hotels, saloons, dance halls and gambling houses prospered. But when the gold yield dwindled in 1900, so did the population as miners quickly shifted to new finds in Nome.

Today, Skagway has less than 1,000 residents. It still retains the flavor of the gold rush era.

Included in your package is the White Pass Train and drive.
Skagway SHORE EXCURSION:
WHITE PASS TRAIN AND DRIVE
ALL ABOARD! Skagway's most scenic ALASKAN experience begins with a 28-mile journey between Skagway, Alaska, and Fraser, British Columbia, aboard the Scenic Railway of the World. The White Pass Railway, which was completed in 1900, has a narrow gauge track that takes visitors into the White Pass. Experience the breathtaking panorama of mountains, glaciers, gorges, waterfalls, tunnels, and trestles while listening to historic narration from the comfort of vintage passenger coaches. Climbing up the mountainside, you'll see the extreme changes in vegetation as you pass through several temperate zones before reaching Fraser.

Once a water-stop for the thirsty steam engines and rotary snowplows, Fraser, BC, is now the site of Canadian Customs and Immigration. Upon arrival at the train depot in Fraser, you'll be transferred to a comfortable tour vehicle for your return trip to Skagway while being entertained by professional guides with their amusing stories of local lore and captivating tales of the Gold Rush Era. As you drive down the mountainside, you'll have ample opportunities to take fabulous photos at scenic vistas such as Skagway Scenic Overlook, Pitchfork Falls, Bridal Veil Falls, and more.

Since this excursion enters Canada, all passengers must bring their passport or passport card.
Built in 1898 during the Klondike Gold Rush, the Scenic Railway of the World was designated as an International Historic Civil Engineering Landmark (along with the Eiffel Tower and Statue of Liberty). The 3-foot wide Narrow Gauge Railroad climbs almost 3,000 feet in the first 20 miles with an average grade of 2.6%, and up to 3.9% in some locations. It also passes through two tunnels and travels over sky high trestles and bridges.

Comfortable restored and replica passenger coaches are pulled by vintage diesel locomotives. Each heated passenger coach has large viewing windows and a restroom.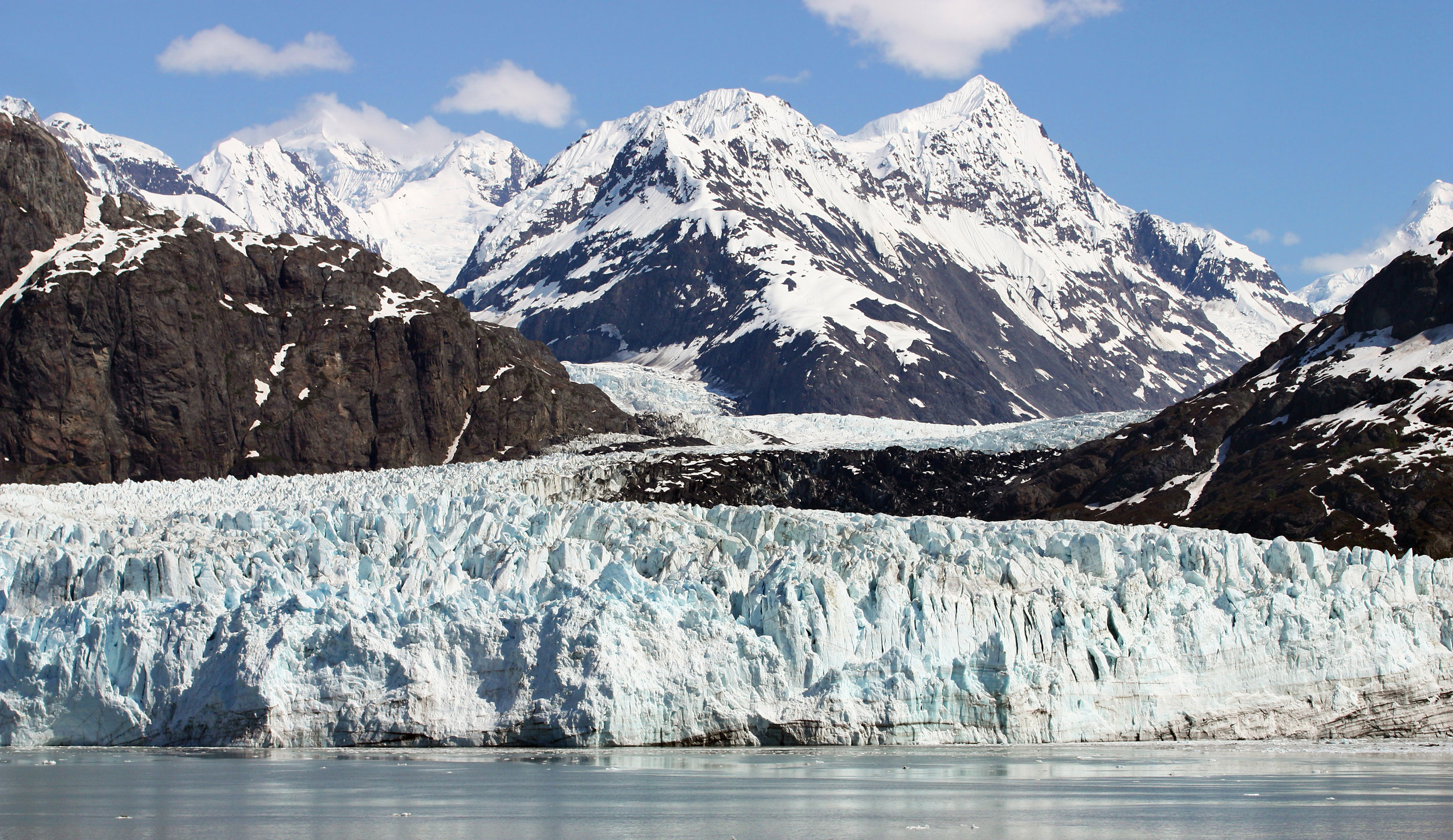 Wednesday September 12:
Glacier Bay National Park
(Scenic Cruising)
6am - 3pm
Princess is one of a select few cruise lines permitted to cruise the pristine waters of Glacier Bay, the highlight of our 7-day Voyage of the Glaciers cruise. Just west of Juneau, this breathtaking national park and preserve boasts some of the world's most spectacular tidewater glaciers, such as Margerie Glacier, which often drops colossal chunks of ice into the sea. Not surprisingly, Glacier Bay National Park and its epic ice giants are part of a UNESCO World Heritage Site comprising Alaska's magnificent park system.

During your scenic cruise, friendly Park Rangers will join the ship to share their knowledge of this amazing place and host a fun Junior Ranger program for kids. They may even be able to help you identify Glacier Bay's abundant wildlife, including humpback whales, sea otters, porpoises, harbor seals, black bears, mountain goats, bald eagles and large colonies of seabirds.

Take in the awe-inspiring scenery as you enjoy an unforgettable day of sailing through this dazzling park, where you'll glide along emerald waters and past calving icebergs, and can breathe in the crisp, fresh air to your heart's content.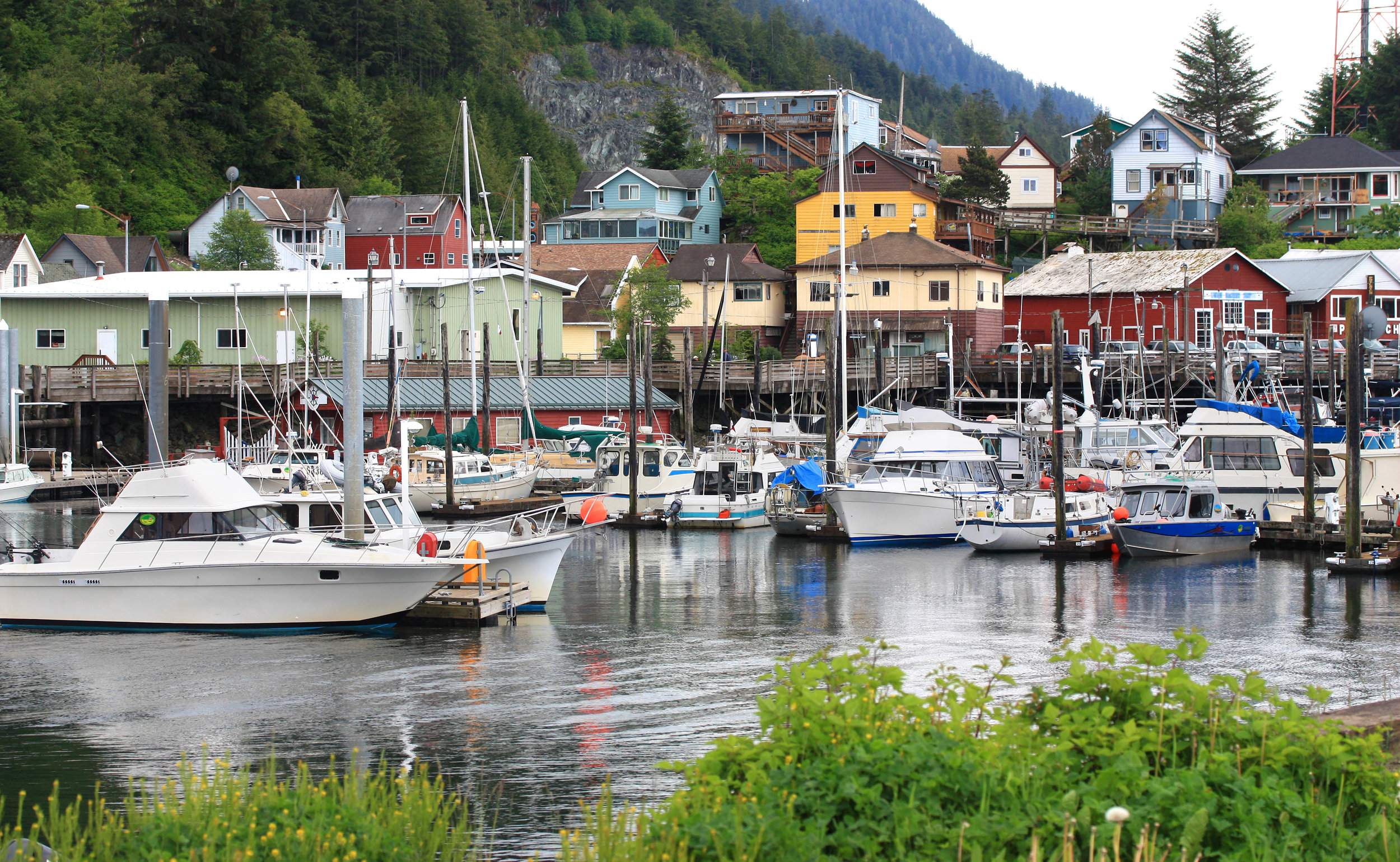 Thursday September 13:
Ketchikan, AK
7am - 1pm
Ketchikan is known as Alaska's "First City" because it's the first major community travelers come to as they journey north. Located on an island, Ketchikan began life as an Indian fishing camp. The name Ketchikan comes from a Tlingit phrase that means "eagle with spread-out wings," a reference to a waterfall near town.

In the early 1900s, when gold was Alaska's claim to fame, fishing and timber industries were established in Ketchikan. The growth of these industries helped make this Inside Passage port Alaska's fourth-largest city.

Visitors to Ketchikan will be intrigued by its rich Native heritage, which includes the world's oldest collection of totem poles at Totem Heritage Center. The Haida, Tlingit and Tsimshian are all a part of the city's colorful history. Ketchikan, with its abundance of salmon, is also a sportfishing paradise. Sightseers will be impressed with both the scenic town and its surroundings, especially Misty Fjords National Monument.

Included in your package is the Ketchikan city tour and Totem Bight tour.
KETCHIKAN SHORE EXCURSION:
KETCHIKAN CITY TOUR AND TOTEM BIGHT TOUR
This trip will take you to the outskirts of Ketchikan, as Totem Bight is a lovely 15 minutes from downtown. It was originally the site of a traditional fishing camp and has proven to be a peaceful spot on the edge of Tongass Narrows. The short walk through the woods to the location of the totems provides both an aesthetic and educational experience.
2.5 hours
Friday September 14:
Victoria, British Columbia
7pm - 1159pm
Victoria exudes old-world charm and fragrant and colorful flowers are everywhere. Founded in 1843 by James Douglas of the Hudson's Bay Company, the city was first known as Fort Victoria. By 1848, Vancouver Island was a British colony and Victoria was its capital.

In 1858, Victoria was a tent city and the base for some 25,000 prospectors on their way to the Frasier River gold fields. When Vancouver Island was incorporated with mainland British Columbia in 1868, Victoria became the capital of the entire province.

Although it's a port city, Victoria is not as industrially oriented as Vancouver. The harbors, especially Inner Harbour, are dotted with pleasure craft, ferries and floatplanes. The city is renowned for its beautiful gardens, charming houses and very British feel.
SATURDAY SEPTEMBER 15
SEATTLE, WA
DISEMBARK @7AM
Depart for home
Your transfer to the airport will pick you up at the cruise port for your flight home, today!
Sam and Patty:
Confirmation # JE5D9L
DEPARTING Sep 7, 2018:
UA6165
(Operated by Mesa Airlines dba United Express)
Departing CMH at 605am
Arriving IAD at 717am

UA389
Departing IAD at 840am
Arriving in SEA at 1122am
-----------------------------------
RETURNING Sep 15, 2018
UA260
Departing SEA at 118pm
Arriving IAD (Dulles) at 907pm

UA6366
(Operated By MESA AIRLINES DBA UNITED EXPRESS)
Departing IAD (Dulles) at 1005pm
Arriving CMH at 1119pm
Rick and Abbie:
Confirmation #: CWXW0Y
DEPARTING Sep 7, 2018:
UA3994
(Operated By ExpressJet Airlines dba United Express)
Departing CMH at 925am
Arriving IAH at 1114am

UA617
Departing IAH at 1202pm
Arriving in SEA at 247pm
-----------------------------------
RETURNING Sep 15, 2018
UA260
Departing SEA at 118pm
Arriving IAD (Dulles) at 907pm

UA6366
(Operated By MESA AIRLINES DBA UNITED EXPRESS)
Departing IAD (Dulles) at 1005pm
Arriving CMH at 1119pm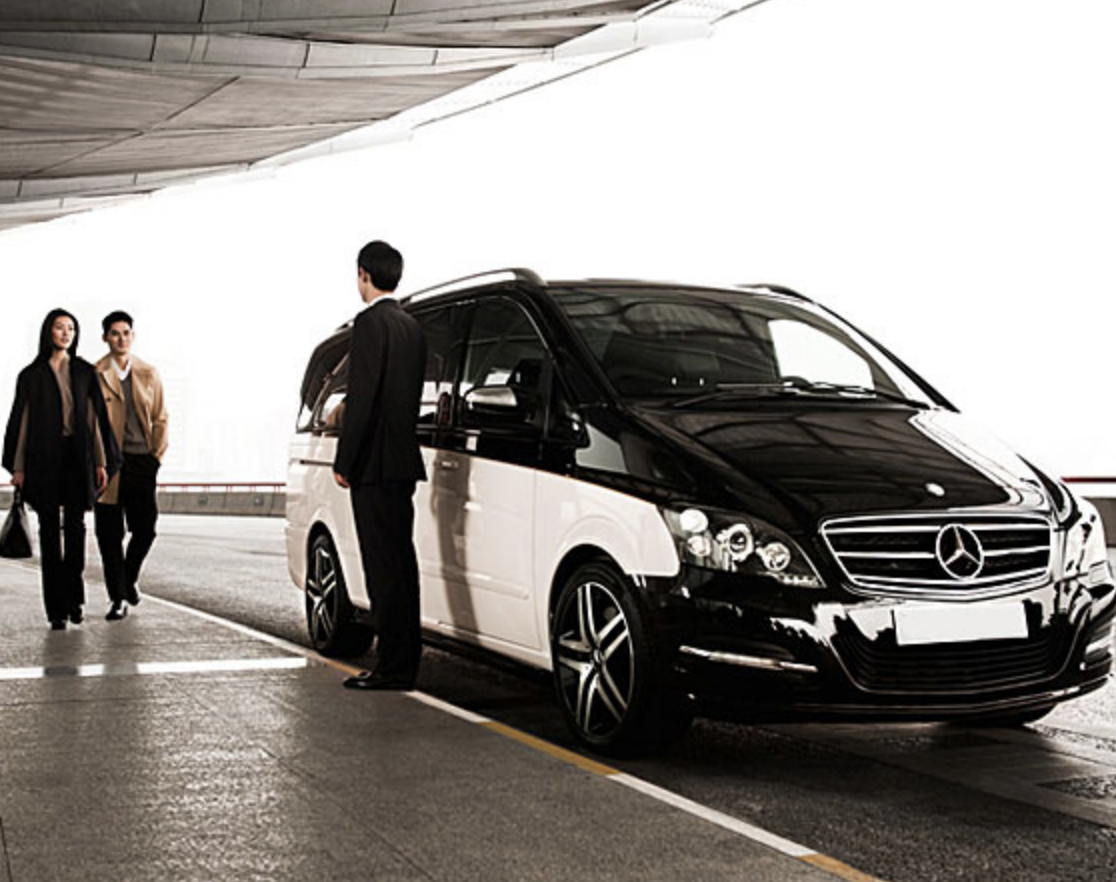 SHUTTLE EXPRESS:
425/981-7000
Blagovich Arrival Transfer
(upon arrival)
SEA to hotel
CF: 6302804*1
Green Arrival Transfer
(upon arrival)
SEA to hotel
CF: 6302806*1
Group transfer to Cruise Terminal
(1130A)
Hotel to Cruise Port Terminal
(lead traveler: Richard Green)
CF: 6229695*1
Group Departure Transfer
(upon arrival)
Cruise Port Terminal to SEA
(lead traveler: Sam Blagovich)
CF: 6229699*1
Hotel Monaco (A Kimpton Hotel)
Pricing details
price Per Person (based on inside cabin, double occupancy):
starting at $2782*

(*Prices and availability are subject to change and are not guaranteed until completed through the booking process)
INCLUDED
Roundtrip, airfare from Columbus, OH (or another location*) (including all air taxes)
1 night lodging pre-cruise in Seattle, WA
7 Day Alaskan Princess Cruise

Interior cabin
$200 OBC per cabin
1 night of Specialty Dining per person

All transfers

Airport to hotel (on 9/7)
Hotel to cruise port (on 9/8)
Cruise port to airport (on 9/15)

Some Activities

Seattle Space Needle and Chihuly Garden and Glass Tickets
Whale Watching and Mendenhall Glacier Tour
White Pass Train and Drive Tour
Ketchikan City and Totem Bight Tour
*Prices and availability are subject to change and are not guaranteed until completed through the booking process
NOT INCLUDED
Add on Activities have not yet been added to this total price
Cruise gratuities
Cruise beverage package
Meals not included in cruise (ex. prior to and after the cruise or during excursions, etc.) (unless otherwise stated)
Optional Travel Insurance (due 10 days after first payment)

Basic- starting at $125
Classic Trip+- starting at $207
Cancel Anytime- starting at $216
SUGGESTED PAYMENT SCHEDULE
*based on double occupancy Interior cabin
Prices and availability are subject to change at any time and are not guaranteed until completed through the booking process.
Payment can be made in full
or
You can follow a customized payment schedule
Additional fees apply: $50/pp (one time) and 3% processing fee per payment.
REGISTRATION DUE ASAP
A completed registration form

Signed and returned to christian@zone-travel.com, or mailed in.

First payment is needed to reserve a place on this cruise.
FINAL PAYMENT
Payments not received on time will result in reservation cancellation without refund.
Additional bookings after the final payment deadline may result in additional administrative fees.
Fee amounts imposed are at the discretion of Zone Travel.
CANCELLATION
Cancellation in writing must be received by Zone Travel prior to departure for appropriate refund on the land/sea tour cost minus the following fees. Airline penalties are not part of the percentages below and vary based on each individual airline policy.
Non-refundable

$100/pp service fee
All commissions not paid by vendors
Travel Insurance
Princess Cruise Line Cancellation Policy:
You are required to pay a cancellation fee (including 3rd and 4th berths) if You cancel Your Cruise, Cruisetour or Cruise Plus package. Cancellation fees are based on the fare paid, excluding Taxes, Fees and Port Expenses, transfers, , surcharges, shore & land excursions and most pre-purchased gift(s) and/or special service(s). You are not entitled to any refund, payment, compensation or credit except as otherwise provided in this Section. Any refunds will be made directly to the method of payment You used at the time of booking or Your travel agent and You must receive Your refund directly from these sources. You may cancel by telephone or electronic advice via a Carrier-approved Computer Reservation System, provided Carrier immediately receives written confirmation of cancellation. In such case cancellation shall be deemed effective as of the close of business Pacific Standard Time on the date You communicated such cancellation.
Since a cancellation likely means a diminished opportunity to sell space on other cruises/cruisetours, the cancellation fees in the schedules below apply regardless of whether Your space is resold. You hereby agree that losses sustained by us in the event of Your cancellation would be very difficult or impossible to quantify, and that the fees set forth in our cancellation policy represent a fair and reasonable assessment as liquidated damages. The amount of cancellation fee varies based on length of sailing for cruise/cruisetour and timing of cancellation for cruise/cruisetour and Cruise Plus package, as illustrated in the schedules below.
Sailings less than 30 days (including World Cruise Segments)
75 days or more: None
74-57 days (Cruise fare): Deposit* Amount
56-29 days (All Items): 50% of Total Charges
28-15 days (All Items): 75% of Total Charges
within 14 days (All Items): 100% of Total Charges
*Items: Cruise, Cruisetour, Cruise Plus Package, pre-purchased gift(s)/special services.

*For those passengers booking a reduced deposit promotion, the initial cancellation fee amount will not exceed the deposit required/paid.
Travel Insurance
TRAVEL INSURANCE - AVAILABLE FOR ALL PASSENGERS - DUE 10 DAYS AFTER DEPOSIT
Zone Travel LLC strongly suggests purchasing Trip Cancellation insurance. Be sure to check with your healthcare provider as most U.S. medical coverage will not cover you outside of the country.
Insurance costs are based on the total package cost, including air taxes and charges listed under "Included."
Approximate amounts can be given at time of reservation in order to purchase the appropriate amount of insurance.
Basic Plan:
Your may think you can't afford both the fun and the insurance to protect it. The Basic Plan is so affordable that you can have it all, while still staying in a budget. The plan offers existing medical condition coverage and 24-hour assistance services, allowing you to purchase your trip with complete confidence.
Trip Cancellation: Trip Cost
Trip Interruption: Trip Cost
Emergency Medical/Dental Coverage: $10,000.00
Emergency Medical Transportation: $50,000.00
Baggage Coverage: $500.00
Baggage Delay: $200.00
Travel Delay: $300.00
Travel Delay: $150.00
24-Hour Hotline Assistance: Included
Classic Trip+:
When you book your family on an international vacation, you want the peace of mind that you purchased the right amount of coverage. Classic Trip+ doubles nearly all the post-departure coverage of the Classic Plan, including Emergency Medical and Dental, Emergency Medical Transportation, Baggage Loss, Baggage Delay, Travel Delay, and Missed Connection.
Trip Cancellation: Trip Cost
Trip Interruption: Trip Cost
Emergency Medical/Dental Coverage: $50,000.00
Emergency Medical Transportation: $1,000,000.00
Baggage Coverage: $2,000.00
Baggage Delay: $600.00
Change Fee Coverage: $250.00
Frequent Flyer Miles Redeposit Fee: $250.00
Travel Delay: $1,600.00
Missed Connection: $1,600.00
24 Hour Hotline Assistance Plus: Included
Cancel AnyTime:
You can enjoy the extra flexibility of knowing you can cancel your trip for almost any unforeseen reason that the Classic plan does not already cover at 100% and receive 80% of their non-refundable trip cost back in cash. With features like comprehensive trip cancellation, primary emergency medical coverage and 24-hour travel assistance, the Classic with Cancel Anytime plan is there if life throws an unexpected wrench in your travel plans. Plan must be purchased within 10 days of the first payment date and must cover the full non-refundable trip cost ($10,000 maximum).
Trip Cancellation: Trip Cost
Trip Interruption: Trip Cost
Emergency Medical/Dental Coverage: $25,000.00
Emergency Medical Transportation: $500,000.00
Baggage Coverage: $1,000.00
Baggage Delay: $300.00
Change Fee Coverage: $250.00
Frequent Flyer Miles Redeposit Fee: $250.00
Travel Delay: $800.00
Missed Connection: $800.00
24 Hour Hotline Assistance Plus: Included
How can I make a payment?
You can make a payment (Mastercard, Visa, Discover or American Express) by clicking one of the payment buttons above
or, if you prefer a check, you can make checks payable to
Zone Travel LLC
PO Box 44098
Columbus, OH43204
Please ensure checks are mailed early to arrive by the required payment deadline.


What is included in my cruise?
As the Consummate Host, Princess Cruises strives to provide each guest with a truly unforgettable onboard experience and an exceptional value for their vacation dollar. From an array of great-tasting dining options to engaging onboard activities to staterooms featuring all the comforts of home, you'll discover plenty of amazing options that are included in your cruise fare, so you can simply relax, unwind and escape completely.
Facilities vary between ships so make sure you check the "Ships" pages in the "Learn About our Cruises" section of princess.com to discover the options available on your chosen cruise.
Dining options freshly prepared from scratch
Taste your way through an ever-changing menu of delicious options for breakfast, lunch and dinner in our main dining rooms, with your choice of Anytime or Traditional Dining in the evening.
Choose from an array of casual dining venues to satisfy any craving, including: fresh pastries and paninis at the International Café; crisp salads, hearty soups and warm rolls baked three times daily in the Horizon Court buffet; grilled hamburgers, hot dogs and hand-tossed Neapolitan-style pizza in our convenient poolside grill and pizzeria.
Order from a room service menu at any time of day or night.
Indulge in a hearty British-style Pub Lunch in the Wheelhouse Bar or alternate location during sea days.
Treat yourself to creamy, refreshing soft-serve ice cream – sprinkles optional – every day.
Delight in chilled glasses of milk and warm cookies just out of the oven, served every afternoon.
Dazzling entertainment from sunrise to sundown
Enjoy Princess Signature Shows with lively music, stunning choreography and some of the largest casts at sea.
Cozy up under a fleece blanket with complimentary popcorn as you watch anything from Hollywood blockbusters to live sports events and concerts on the giant poolside screens at Movies Under the Stars®.
Melt into your chair and relax in the inviting Piazza-style Atrium while street performers and musicians entertain you.
Applaud the comedy, live music and cabaret of talented guest entertainers, dance in the night club or sing your favorite tune during our Princess Pop Star competition.
Let loose at Princess deck parties with festive themes that go till late at night.
Expand your mind with dance classes, cooking demonstrations, port lectures and engaging ScholarShip@Sea programs, covering topics from art history to navigation at sea*
Flip through a wide choice of satellite channels or relax with a Hollywood blockbuster film on your stateroom television (subject to reception).
Peruse the extensive onboard library with over 2,000 books.
Check out our incredible Youth & Teen program with fun age-specific activities from science experiments to arts & crafts to video games, makeovers and teen dance parties.
* A nominal fee may apply to some classes
Health and Wellness
Practice your skills with a variety of sports activities including table tennis, basketball and a jogging track.
Stay fit in the well-equipped Lotus Spa® Fitness Center, complete with treadmills, rowing machines, exercise bikes, and free weights.
Relax and take a dip in our many fresh water pools, including some underneath a retractable glass dome to enjoy rain or shine, as well as swim-against-the-current pools and soothing whirlpool spas.
Comfortable Accommodations
Discover the friendly services of your stateroom steward, whether you've chosen a modest inside stateroom or a luxurious suite.
Enjoy the conveniences of home, including a TV, hairdryer, refrigerator, in-room safe, bathroom sundries, and more – in every stateroom!
Rest your weary eyes upon comfortable beds blanketed in duvets with 100% Egyptian cotton bed linens.
Taxes, Fees & Port Expenses as shown on your booking confirmation are included in your cruise fare. Other items are not included in the cruise fare including, but not limited to: gratuities for onboard staff, alcoholic and some non-alcoholic drinks, spa and salon services, laundry, shore excursions, travel insurance, purchases made in the onboard stores, or meals at hotels when booking pre- or post-cruise hotel stays or cruisetours.
Boarding Passes and Luggage Tags (for the cruise)
The Boarding Pass provides information required at embarkation. There are two types of Boarding Passes: Regular and Preferred.
Regular Boarding Pass
The booking has been paid in full
The required immigration information has been added to the booking
A credit card has been registered for onboard use
Preferred Boarding Pass
The guest is either a Platinum or Elite member of the Princess Captain's Circle or booked in a full suite
The booking has been paid in full
The required immigration information has been added to the booking
A credit card has been registered for onboard use
Printing your boarding pass and luggage tags is fast and easy! Beginning 75 days prior to sailing, you can print your boarding pass and luggage tags once the booking is paid in full and we've been provided with all your guest immigration information and credit card registration.
Simply log-in to Cruise Personalizer® to access and print this information!
Can I prepay my gratuities?
YES! For your convenience, we're pleased to offer you the ability to pre-pay the gratuity that is included in your folio onboard at the end of your cruise. You can also utilize this service as a gift for someone else who may be cruising.
The gratuity amount is based on the itinerary length. It is $15.50 per guest for suites, $14.50 per guest for mini-suites and club class, and $13.50 per guest for interior, oceanview, and balcony staterooms.
To take advantage of this service, login to Cruise Personalizer to pre-pay online, or simply call 1-855-500-7690 and reference Special Service Item #0591. Pre-payment is available up to 2 days prior to departure.
Can I prepay for a beverage package?
Pre-paying beverage packages and cellars offer a great way to save time at embarkation. From a bottle of wine to beer specials to our Premier Beverage Package* option that features cocktails, fountain sodas and bottled water, there's a beverage package to quench every thirst.
To take advantage of pre-payment, login to Cruise Personalizer to pre-pay online, or simply call 1-855-500-7690. Pre-payment is available up to 3 days prior to departure.
*Please note: Beverage Packages are calculated based on the total number of days of your cruise. Premier Beverage Package does not include bottles of wine; however, when purchased in the bars or dining rooms, will be available at a 25% discount from the menu price.
Package is NOT available for purchase within 3 days of sailing and is NOT available for voyages 2 nights or fewer. Package must be purchased for full length of voyage, cannot be shared, is non-transferable, and is non-refundable within 3 days of sailing. Alcoholic drinks are limited to 15 beverages per 24 hour period (non-alcoholic beverages do not have this limitation).
What does the Premier Beverage package include?
Unlimited non-alcoholic beverages (such as soda, juice, espresso, coffee, tea) and alcoholic beverages under $12 (liquor, beer, glasses of wine). There is a max of 15 alcoholic beverages per 24 hour period.
What should I pack?
You should dress for a cruise with Princess the same way you would for any stylish land-based resort.
Casual sportswear, including shorts, lightweight pants and jogging suits, is the order of the day both at sea and ashore in hotter climates.
We recommend you bring a sweater, a jacket or an all-weather coat for cool evenings, and for shore excursions, depending on your destination. Due to unpredictable weather, don't forget a hat or visor and a collapsible umbrella. Please be sure to bring proper clothing for visits to religious sites. You'll also want low-heeled, rubbersoled shoes for strolling on deck, as well as comfortable walking shoes or sandals to wear.
Princess makes it easy to know what to pack and what to wear when you're dining onboard our spectacular ships. There are two designations for dress codes: Smart Casual and Formal.
Smart Casual
Guest attire should be in keeping with what they would wear to a nice restaurant at home.
Skirts/dresses, slacks, and sweaters for ladies
Pants and open-neck shirts for men
Inappropriate dinner wear such as pool or beach attire, shorts, ball caps and casual jeans (with fraying and/or holes) are not permitted in the dining rooms. Shoes must be worn.
Formal
When formal nights are held, please observe the dress code in the Traditional Dining and Anytime Dining venues for the enjoyment of all our guests.
Evening gowns and cocktail dresses for women
Tuxedos, dinner jackets or dark suits with a tie for men
Length of CruiseNumber of Formal EveningsNumber of Smart Casual Evenings
1-4 Days 1-4
5-6 Days 4-5
7-13 Days 5-11
14-20 Days 11-17
21-28 Days 17-24
29+ Days minimum 24+
Princess offers formal wear rental on all cruises; this can be arranged prior to embarkation.
Dress with an elegance and style that is perfect for all the formal activities on your cruise with Princess. Cruiseline Formal Wear delivers beautifully-tailored clothing directly to your stateroom.
To order your formal wear, please visit cruiselineformal.com, call 800-551-5091 or 305-252-8572. For questions, email: custservice@cruiselineformal.com.
Follow these important luggage reminders:
Essential medicines, travel documents, valuables and breakables should be hand carried in your possession at all times.
Many domestic airline carriers now impose excess baggage fees for one or more bags and bags weighing over 50 lbs., so check with your carrier regarding weight restrictions.
Princess will make every effort to assist you in safeguarding your belongings. But remember, you are responsible for your things at all times. Princess is not responsible for money, jewelry, cameras, binoculars, documents or any other articles you retain in your personal control.
All luggage should have a sturdy personal identification tag that will not be lost or damaged in the course of typical airport and trucked luggage handling.
On journeys including air travel, luggage will be subject to a considerable amount of handling and we would recommend that your luggage be of sturdy construction.
Princess recommends that your travel protection is adequate enough to cover any possible loss or damage which may occur. Any loss or damage caused by Princess or an airline must be reported immediately to the responsible party.
Learn more on what to pack for a cruise
Can I bring alcohol onboard?
As provided in the Passage Contract, guests agree not to bring alcoholic beverages of any kind onboard for consumption, except one bottle of wine or champagne per adult of drinking age (no larger than 750 ml) per voyage, which will not be subject to a corkage fee if consumed in the stateroom. Additional wine or champagne bottles are welcome, but will incur a $15 corkage fee each, irrespective of where they are intended to be consumed. Liquor, spirits or beers are not permitted. Please remember that luggage will be scanned and alcohol outside of our policy will be removed and discarded.*
Alcoholic beverages that are purchased duty free from the ship's gift shop, or at ports of call, will be collected for safekeeping and delivered to the guest's stateroom on the last day of the cruise. A member of the ship's staff will be at the gangway to assist guests with the storage of their shoreside alcoholic purchases while our Boutiques staff will assist guests with shipboard alcoholic purchases.
*Zone Travel LLC and Princess Cruises is not responsible for any alcoholic beverages removed and discarded by shoreside security staff.
Such items are not eligible for monetary refund or replacement.

 
How safe are my valuables?
Zone Travel LLC is not responsible for lost or stolen items. We strongly recommend you hand-carry all valuables and breakables, including jewelry, electronics and cameras as well as any medications. Please read Princess Cruise's Passage Contract for limitations and responsibilities for lost items and baggage.
What items are prohibited?
Guests are advised not to bring any prohibited items to the ship. Prohibited items will not be allowed or stored onboard the vessel with no exceptions. Guests are fully responsible for either storing these items ashore or disposing of them prior to embarkation.
The following items must not be allowed on board without valid lawful reason:
All firearms including non-firing weapons. An exception to this rule are law enforcement agents acting in an official capacity and certified armed security guards acting in an official capacity (with full permission of the ship's Master).
All forms of ammunition, explosive materials and propellants, projectiles of all kinds, cartridges.
All imitation or replica weapons including de-commissioned weapons, those not capable of being fired and realistic imitation/toy weapons.
Air/Pellet guns or any other variety of projectile firing weapon.
All explosives and explosive device components including but not limited to military, civilian and safety devices, detonators, detonation cords, blasting caps, smoke cartridges, grenades, mines, imitation explosives/devices.
Fireworks, Flares and Pyrotechnics
Knives with a blade over 6.35 cm (2 ½ inches) or ½ inch at widest point. This includes bladed weapons, sharp pointed weapons, daggers, sabers, swords, axes, ice axes, hatchets, straight razors (shaving safety razors are allowed), razor blades not in a cartridge, box cutters, ice picks, meat cleavers and utility knives.
Concealed bladed weapons such as belt buckles knives, cane and umbrella knives/swords, pen knives and credit card knives.
Recreational Diver's Knives unless accompanied by other diving/snorkeling equipment and a valid diving ID card/license (must be held in the custody of the Security Officer). Dive knives may be checked out/in by the owner for dive excursions during the cruise.
Diver's spears and spear guns/slings.
Ceremonial knives/swords as well as entertainment props are at times permitted with prior notification from the Fleet Security Department (must be held on-board in the same manner as dive knives).
Flick knives, gravity knives, switchblades or lock knives. Small locking pocket knives with blade lengths less than 6.35 cm (2 ½ inches) and widths ½ inch or less are allowed.
Scissors with blades longer than 4 inches.
Telescopic or regular truncheons/batons/clubs/coshes/nightsticks/billy clubs/blow pipes/ASPs and or any other item made, adapted or intended for use as an offensive weapon.
Archery equipment including crossbows and bolts.
Catapults
Martial Arts Equipment including flails, throwing stars, nunchakus/nunchucks, kubatons, bostaff, etc.
Knuckle Dusters, brass knuckles, or any other item constructed for use as a weapon in hand-to-hand combat.
Stun Guns, Tasers or any other electroshock device.
Handcuffs
Items containing Incapacitating Substances such as gas guns, tear gas sprays, pepper/mace cartridges, phosphorus, acid and other dangerous chemicals that could be used to maim or disable.
Flammable Liquids and hazardous chemicals/substances including gasoline/petrol, cooking fuel, acid, spill able batteries (except those in wheelchairs), phosphorous, oil, lighter fluid (common lighters are permitted), methylated spirits, paint thinners, acid, turpentine, spray paint, chlorine, bleach, spray paint and any other dangerous chemicals that could burn, maim, incapacitate or disable.
Compressed gas bottles/cylinders including propane tanks and aerosol cans (except for personal care or toiletries in limited quantities). Dive Tanks are not permitted, empty or full. Medical gas bottles are allowed in connection with a certified medical condition but cannot be packed in baggage. Oxygen cylinders must be delivered to the Purser's Office and stored in a designated safe area. Oxygen cylinders are not x-rayed.
Drones also referred to as Unmanned Aerial Vehicle (UAV) or Remotely Piloted Aerial Vehicle (RPA), and any other remote controlled aerial devices/toys.
Any other item made, adapted or intended for use as a weapon.
Hookah and Water Hookah Pipes, candles and incense, strike-anywhere matches, clothing irons, heating pads, hot plates, kettles, coffee makers, toasters and other electronic cooking appliances.
Alcohol in violation of the company alcohol policy.
All illegal drugs, including medications without proper prescriptions. This includes legal intoxicant synthetic or "designer" drugs also known as "Legal Highs" such as Lysergamides, Opioids, Methoxetamine, Synthetic Cannabis, Betel Nuts or Kava (Cava).
Medical Marijuana
Poisons
Noxious Items
Baseball bats, hockey sticks, cricket bats, lacrosse sticks, pool cues, ski poles, and skateboards.
Emergency Position Indicating Radio Beacons (EPIRB), Ham radios, transformers, lasers, laser pointers, electric extension cords with surge protectors*.
Bicycles
Tools of trade/hobby including any type of hand or power tool. This includes hammers, drills, drill bits, crow bars, saws, power saws, chef/cooking knives/utensils, tools greater than 7 inches in length such as screwdrivers, wrenches and pliers (unless prior authorization is provided by Corporate Headquarters and strict controls are maintained on-board).
Surfboards – (Boogie boards no longer than 42 inches in length are allowed).
Coolers - only coolers approximately 12 x 12 x 12 in size (holds 6-12 cans of non-alcoholic beverages) are allowed. Guests carrying larger sizes will be directed to return them to their vehicle. If the guest is without a vehicle, the cooler will be destroyed in the same manner as other prohibited items. Exception: if the cooler is larger and contains baby food/formula, kosher food/special diet food or medication - these must be hand-carried. Coolers cannot be accepted as checked baggage. Whenever there is doubt an embarkation
Scooters (only permitted if used for mobility), boats/canoes/kayaks, Segways, Heely Shoes, Hoverboards/self-balancing scooters.

The above list is not exhaustive. The Ship Security Officer and Staff Captain are authorized to make a professional judgement as to the legality of any item, declared, detected or discovered.

*Electrical devices such as small fans, power strips, multi plug box outlets/adaptors, and extension cords without surge protectors are allowed onboard when used with proper caution. However, if such devices are determined to pose a hazard they will be removed and returned the last day of the cruise prior to debark.

As our guest, please follow the above precautions while traveling on any of our ships, and if possible, please refrain from taking these devices with you on board.
WHat is traditional dining?
Traditional Dining is the classic cruise dining experience. Indulge in our freshly-prepared, award-winning cuisine, served at set times in an elegant dining room with the same waitstaff and table mates each evening.
Should you need to change this request, call your travel agent no later than three weeks before you sail. Requests for preferences and changes are considered on a first-come, first-served basis. It is not always possible to alter dining preferences or seating arrangements once they are reserved.
Once onboard and subject to availability, you may attempt to switch preferences with 24 hours notice to the Maitre D'. We will do our best to accommodate your preference.
Dining Hours are posted onboard and are subject to change. Actual times may vary based on itinerary per season.
What is casual dining?
When a casual mood calls, you have plenty of choices – even on formal nights. Whether it be the buffet at the Horizon Court, the pizzeria, burger & hot dog grill, or 24-hour room service, you're able to choose how you dine with us.
What is specialty dining?
Variety is the spice of life, especially when it comes to gourmet fare. That's why Princess offers several Specialty Dining options for you to choose from on every ship.
These distinctive restaurants provide intimate dining in an upscale atmosphere. Reservations are suggested at these popular venues. And because these restaurants at sea are truly a special treat, a cover charge will apply per person.
Sabatini's
Sabatini's serves up an authentic Italian dining experience in a remarkable eight-course meal. The stellar menu features both local seafood specialties and other regional favorites.
Bayou Café & Steakhouse
Experience the first New Orleans-style restaurant at sea, and enjoy fabulous Creole and Cajun traditional cuisine, such as jambalaya, etouffee and crawfish gumbo.
Crown Grill
Crown Grill entertains guests with an open, theater-style kitchen where chefs custom-prepare steamed shellfish - such as lobster, scallops, clams and mussels - and cooked-to-order steaks and chops.
Sterling Steakhouse
Experience a more refined approach to the traditional steakhouse. Enjoy the best, most tender cuts of beef, such as New York steak and porterhouse, plus a prime-rib carving station.
Specialty restaurants vary on a ship basis.
Is there room service?
Yes! Guests may call for personal complimentary Room Service at any time of the day or night. To have continental breakfast delivered to the stateroom, fill out the breakfast card included in the stateroom portfolio (one is also placed on the pillow) and hang it out at night on the stateroom door in order to receive delivery the next morning at the time of your choosing. For a full stateroom menu, guests may review the stateroom portfolio, call the number listed in the telephone directory or press the "Room Service" button on their phone.
Below are some examples of what's offered on the complimentary Room Service Menu. Please note that Coffee, Iced Tea and Milk are available 24 hours a day.
Sandwiches (served with your choice of french fries, potato chips or coleslaw).
Club House
Roast Beef
Roast Turkey Breast
Tuna Salad
Peanut Butter & Jelly
Vegetarian
Soups and Salads
Soup of the Day with Saltine Crackers
Assorted Mixed Garden Greens
Caesar Salad with Grilled Chicken Strips
Chef's Salad
Hot Dishes
Beef Chili with Black Beans and Tortilla Chips
Baked Italian Lasagna
Moroccan Vegetable Crock Pot with Pita Bread
Croque Monsieur
Grilled Hamburger or Cheeseburger
Hot Dog
Grilled Chicken Sandwich
From the Pastry Shop
Caramel Flan
Chocolate Fudge Cake
Chocolate Chip Cookie
What if i have dietary restrictions?
Princess is happy to meet your request for low-sodium, low-fat, low-sugar and vegetarian diets. Visit Cruise Personalizer® to indicate your dietary preferences.
In addition, kosher meals and baby food are available upon advance written request. Any other special diet requests must be authorized in advance by the Princess corporate office.
You or your travel consultant must advise Princess in writing of any special diet, allergies or medical needs. Requests must be received no later than 35 days prior to departure for cruises to Alaska, Canada/New England, Caribbean, Hawaii, Mexico, Panama Canal and Coastal Getaways. For all other cruises, requests must be received no later than 65 days prior to departure. Once onboard, please check with the Maitre D' to confirm your request.
Any special dining requests (name brands, daily food order requests, sample menus, etc.) not related to medical or allergy requirements should be directed to the onboard dining staff and is not handled by our Dietary Office.
What should I expect at Disembarkation?
On the majority of Princess cruises, you will be required to identify and clear your luggage through customs. As you leave the ship, you will be directed by Princess representatives to the luggage claim area. As many bags are similar in appearance, please check each luggage tag to ensure you are claiming your own luggage.
Due to U.S. and local customs restrictions, guests may not leave the ship until all luggage is off-loaded. With this in mind, we suggest that you relax in one of the many public lounges to wait for customs clearance and disembarkation by pre-designated groups.
Customs and immigration inspectors will review with you the customs declarations form upon which you have listed all the articles bought in foreign ports or in the ship's boutiques. U.S. residents returning to the United States are allowed a duty-free exemption of $800 USD per person, which includes the cost of one liter of alcoholic beverages (if purchased onboard or ashore) for each guest 21 years of age or older.
It is recommended that guests keep their sales receipts handy for declaring their purchases. Food items should not be brought into U.S. ports.
Please note that family members, who live in the same home and return together in the United States, may combine their standard personal exemptions. Children are allowed the same as adults, with the exception of alcohol and cigarettes. Please note that these are current exemptions and are subject to change.
For further customs information, we recommend that you attend the Cruise Director's disembarkation talk given during the last days of the cruise.
If your friends or relatives are meeting you at the pier, please be advised that disembarkation may take up to four hours after the scheduled arrival of the ship in order to clear immigration and customs.
terms and conditions
AIR TRANSPORTATION
If needed, Zone Travel will arrange for the best-priced airfare available at the time of booking.
Please Note:
All taxes, fuel charges and security fees are subject to change based on the ticketing date.
Passengers wishing to cancel or change their air reservation may be subject to cancellation penalties.
Airfares quoted by Zone Travel LLC are promotional fares and cannot be combined with other promotional offers.
Airlines involved in tours are not responsible for any act, omission or event during the time passengers are not on board their planes or conveyances.
Zone Travel LLC is not responsible for unforeseen flight delays, charges due to changes required during political unrest, or schedule changes imposed by the airlines.
Air schedules may be subject to change at the discretion of the airline.
PRICING
Quoted tour prices include planning, handling and operational charges and are based on the current rate of exchange and tariffs. In the event of a marked change in foreign exchange rates, fuel costs or tariff rates, tour costs are subject to revision. Such increases will be added to the client's final billing. Zone Travel LLC reserves the right to vary itineraries and prices, and to substitute facilities and hotels of equal or better quality if necessary.
Prices and availability are subject to change until completed through the booking process.
Pricing for each package includes the non-refundable service fees and commissions.
AIRLINE SECURITY
It is the passenger's responsibility to provide valid identification in the form of a passport or other required identification at the time of airport check-in.
DEPARTURE TAXES, SECURITY, FUEL CHARGES, & BAGGAGE FEES
When purchasing air transportation from Zone Travel LLC, various taxes, fuel charges, and airport fees are included in the air ticket expense. Such fees may be subject to increase by governments and/or airlines and will be the responsibility of the client at any time. Baggage weight, size restrictions and fees may change and are the responsibility of the client.
PROOF OF US CITIZENSHIP, PASSPORT, VISA & MINOR CHILDREN REQUIREMENTS
Failure to arrive with proper documentation could result in denied boarding, and no further compensation will be offered.
Minors traveling with either one parent or no parents must have a certified letter of permission from the parent or parents who is/are not traveling.

This letter must be presented at airport check-in.

All international tours require a current passport.
Entrance to most countries requires your passport be valid for 6 months after your return date.
Your passport number must be recorded by Zone Travel LLC when making your reservation.
Names on airline tickets must appear as shown on passport.
Photocopies are not acceptable forms of identification.
Non U.S. Citizens are responsible to fulfill appropriate entry requirements of the destination countries.
Contact the local Consulate of the country or countries you intend to visit for information.
In addition to your passport, a visa may be required. Visa requirements vary by country and are subject to change.
Visas are required for all U.S. and Canadian citizens traveling to Asia, Australia, South America, India and Brazil. For the appropriate requirements based on your itinerary and nationality please contact your local immigration office.
It is the guest's responsibility to obtain required visas and other documentation prior to sailing, including vaccinations for infectious diseases.
RESPONSIBILITIES
This tour program is operated by Zone Travel LLC (235 Binns Blvd Columbus, OH 43204). In common with other companies, Zone Travel LLC acts only as an agent in arranging vacation services offered, including transportation, sight- seeing, and accommodations through independent contracts. Air carriers, accommodations, and other suppliers (including but not limited to trains, cruises, ferries, motor coaches, hotels, tour guides and restaurants) providing services are independent contractors and are not agents, employees, servants, or joint ventures of the Company or its affiliates. All travel documents for services issued by the Company are subject to the Terms & Conditions specified by the supplier, which are available upon request, and to the laws of the countries in which the services are supplied. Zone Travel LLC reserves the right in its sole discretion to make changes in the itinerary and is not responsible for expenses, loss of time, money or other incidents resulting from a change of tour scheduling made for tour members, including any rescheduling due to political unrest. Zone Travel LLC, and all contracted companies for this trip, are not responsible for any losses or damages of personal property, injuries, thefts or unforeseen expenses incurred by any tour member.
SERVICE CHARGES
Zone Travel LLC requires payment of a fixed service charge for all guests in all categories booked, these fees are non-refundable.
Princess Cruise Line also requires payment of a fixed service charge for all guests in all categories booked. The charge is per person, per day and can either be pre-paid with the reservation, or charged to the guests onboard account once onboard.There is no charge for children under the age of three. Our crew is encouraged to work together as a service team and compensated by a combination of salary and incentive programs that the service charge supports. It is our earnest wish that you enjoy your cruise experience and that our entire crew in all areas of the ship will provide you with the standard of service for which Norwegian is known. Therefore, if you have any concerns about the service you receive during your cruise; please bring them to the immediate attention of our reception desk staff on board so that we can address any issues in a timely manner before the cruise is over. Princess has a structured guest satisfaction program on board designed to handle any concerns raised by our guests relating to the service or on board product quickly and efficiently. In almost all cases we are able to come up with a satisfactory solution to any issues which are raised and make sure our guests can focus on enjoying their cruise vacation. In the unlikely event we cannot satisfactorily resolve the issues through our guest satisfaction program; guest will be able to adjust the service charge according to the level of inconvenience they feel they have experienced. Our clear priority is to have the opportunity of resolving the issue, when it happens, to everyone's complete satisfaction.