Road Trip: Ireland
take The Road less traveled
September 2-16, 2018
Total package price:
$5737
Includes airfare, car rental, hotel accommodations, tours and more.

*Price is total for 2 people and both price and availability are subject to change and are not guaranteed until completed through the booking process.
From breathtaking landscapes and enchanting castles, to other-worldly formations...
take the roads less traveled and explore the sights and secrets of Ireland.
September 2:
DEPARTURE and arrival in ireland
Today you embark on your journey to Ireland! Pack your jacket and a camera as you set off for the Emerald Isle!

Your flight will leave shortly after midnight, so make sure you get to the Cleveland airport Saturday night!

You'll arrive in Dublin in the afternoon, giving you plenty of time to check in and explore your surroundings!
When you arrive in Ireland you will be picked up by your private driver.

After settling into your hotel, grab a bite to eat in the famed Temple Bar area of downtown.

Then, enjoy the city by checking out some of the most popular sites!

(A Hop On Hop Off bus is available that can take you to all of these sites! - This can be added to your package)

Here's a list of the sites you can see/explore:
Upper O'Connell Street (City Sightseeing Shop)
Abbey Street
Abbey Street / Abbey Theatre
Nassau Street
EPIC The Irish Emigration Museum
Leinster Street
National Art Gallery
Merrion Square
Dawson Street
Pearse Street
College Green (Irish Whiskey Museum & Dublin Visitor Centre)
Dame Street / Temple Bar
Dame Street / Dublin Castle
Christ Church Cathedral
St. Patrick's Cathedral
Teeling Whiskey Distillery
High Street
Guinness Storehouse
Royal Hospital Kilmainham
Kilmainham Gaol
Heuston Station
Parkgate Street
Phoenix Park
Parkgate Street
National Museum of Decorative Arts & History
St. Michan's Crypt
Smithfield
St. Michan's Church
Constitution Hill
Brian Boru Pub
Glasnevin Cemetery
Mountjoy Square
Parnell Square
Croke Park
 
You'll stay the next 2 nights in Dublin
September 3:
Guinness Storehouse
Enjoy shopping and site seeing around Dublin and take a tour of the Guinness Storehouse!
Make your own way to the Guinness Storehouse, the seven-floor exhibition space at the St James's Gate Brewery in central Dublin, where Guinness was first brewed in 1759. Enjoy a quicker entrance to one of Dublin's top attractions with a fast-track pass.
Your ticket lets you explore the Storehouse, which is modeled like a giant, seven-floor pint glass of Guinness, at your own pace. Start at the ground floor Atrium and work your way up to the 'head of the pint', the seventh-floor Gravity Bar, as quickly or slowly as you like. In the Atrium, see the copy of the 9,000-year brewery lease signed by Guinness' founder, Arthur Guinness, in 1759, and learn about the four ingredients of the iconic Irish stout: water, barley, hops and yeast.
On the First Floor, find out all about the Guinness brewing and barreling process through virtual exhibits, equipment displays and videos on the craft of the coopers — the original wooden barrel-makers. Then, over the next three floors, immerse yourself in the Guinness story through a host of interactive displays and multi-sensory experiences. Discover the key moments in Guinness' history and advertising, and sample delicious Guinness variants with handy tips on your tasting technique!
On the Fifth Floor, enjoy some Guinness-inspired dishes (own expense) at The 1837 Bar and Brasserie and Arthur's Bar, and then, hit the glass-walled Gravity Bar. Enjoy a free pint of Guinness here while you drink in the 360-degree views over Dublin: it's the most spectacular bar in the Irish capital!
Before leaving, head for the Guinness Store to buy some Guinness-branded memorabilia — the perfect memento of your visit.
Extra insight:
Do make sure to check out Ireland's prestigious academic institution, Trinity College. The college sits in Dublin's city center and boasts alumni including esteemed literary legends such as Oscar Wilde, Bram Stoker, and Samuel Beckett. Founded by Queen Elizabeth I in 1592 for the exclusive use of Protestant men, the university now welcomes all religions and genders. Tourists from the world over come to wander the historic cobblestoned campus and see the Book of Kells, a prized medieval manuscript housed in the Trinity College Library.
The Book of Kells located within the walls of Trinity College Dublin was written around 800AD. This beautiful and fascinating masterpiece is considered the greatest example of medieval illumination for over 1,200 years.
Described in the Annals of Ulster in 1007 as 'the most precious object in the western world,' the historic and cultural significance of the Book of Kells has only increased over time.

An early morning tour is available of Trinity College and The Book of Kells! it provides a more private experience with fewer people around and a guide to tell you all of the cool history! -This can be added to your package.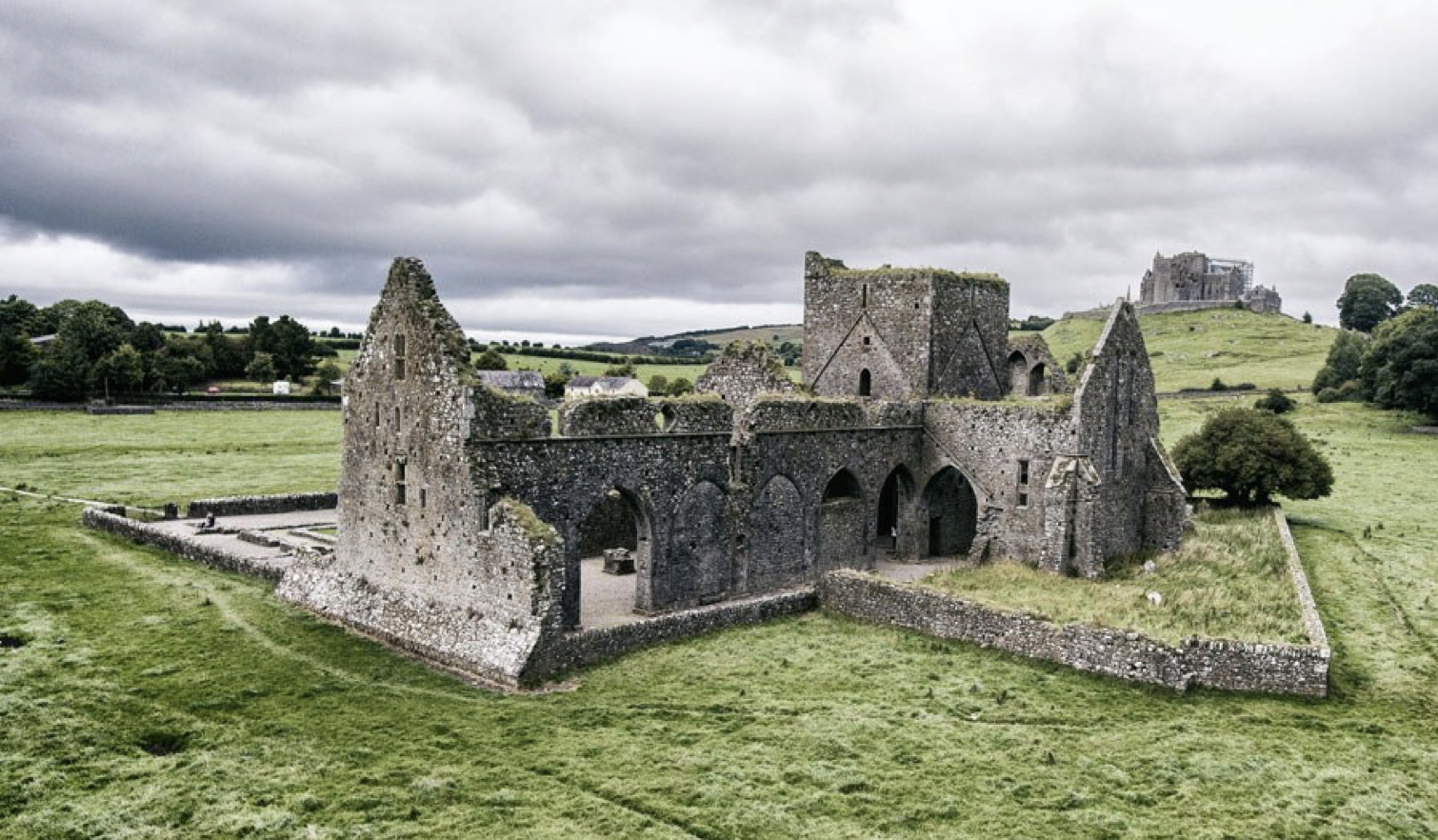 September 4:
Kilkenny
Rock of cashel
Blarney Castle
This morning, you'll check out of your Dublin hotel, pick up your rental car and hit the road!

On the way to Cork, stop by the town of Kilkenny and the Rock of Cashel.

Kilkenny is an awesome little city in Ireland.
Explore the town in the morning, have lunch, and then continue your road trip, heading to the Rock of Cashel next.
Overlooking the Plains of Tipperary, the Rock of Cashel is one of Ireland's most historic sights. This was the seat of the ancient kings of Ireland. St. Patrick baptized King Aengus here in 450 AD. Now visitors arrive every day to tour this historic complex of buildings.
You can tour the Rock of Cashel in about an hour, but make sure you also walk downhill to the much less visited and just as awesome Hore Abbey.
Make your own way to the old Midleton Distillery, which is located in Midleton, around a 15-minute drive from the city of Cork.
Begin by watching an informative video that will introduce you to the story of Jameson. The long-standing brand has been producing Irish whiskey for more than 230 years.
After getting up to speed on the history of Jameson, talk a walk through the old distillery in the company of an expert guide. Some of the buildings here date back as far as the late 18th century and although the distillery is no longer functioning, much of the equipment and features have been carefully preserved and restored.
As you walk through the historical buildings, see old kilns, mills and distilling equipment, including the largest pot still in the world. Enter a 19th-century warehouse, which has been carefully restored with original features and now stores casks full of aging whiskey. Learn about the artisan craft of building whiskey barrels through a cooperage exhibit in the warehouse.
Your hotel will be near Blarney Castle, so stop by and kiss the Blarney Stone—the famous stone that's believed to bring eloquence to anyone who gives it a kiss. (like you guys need it! -HA!!)

You'll stay two nights in Cork.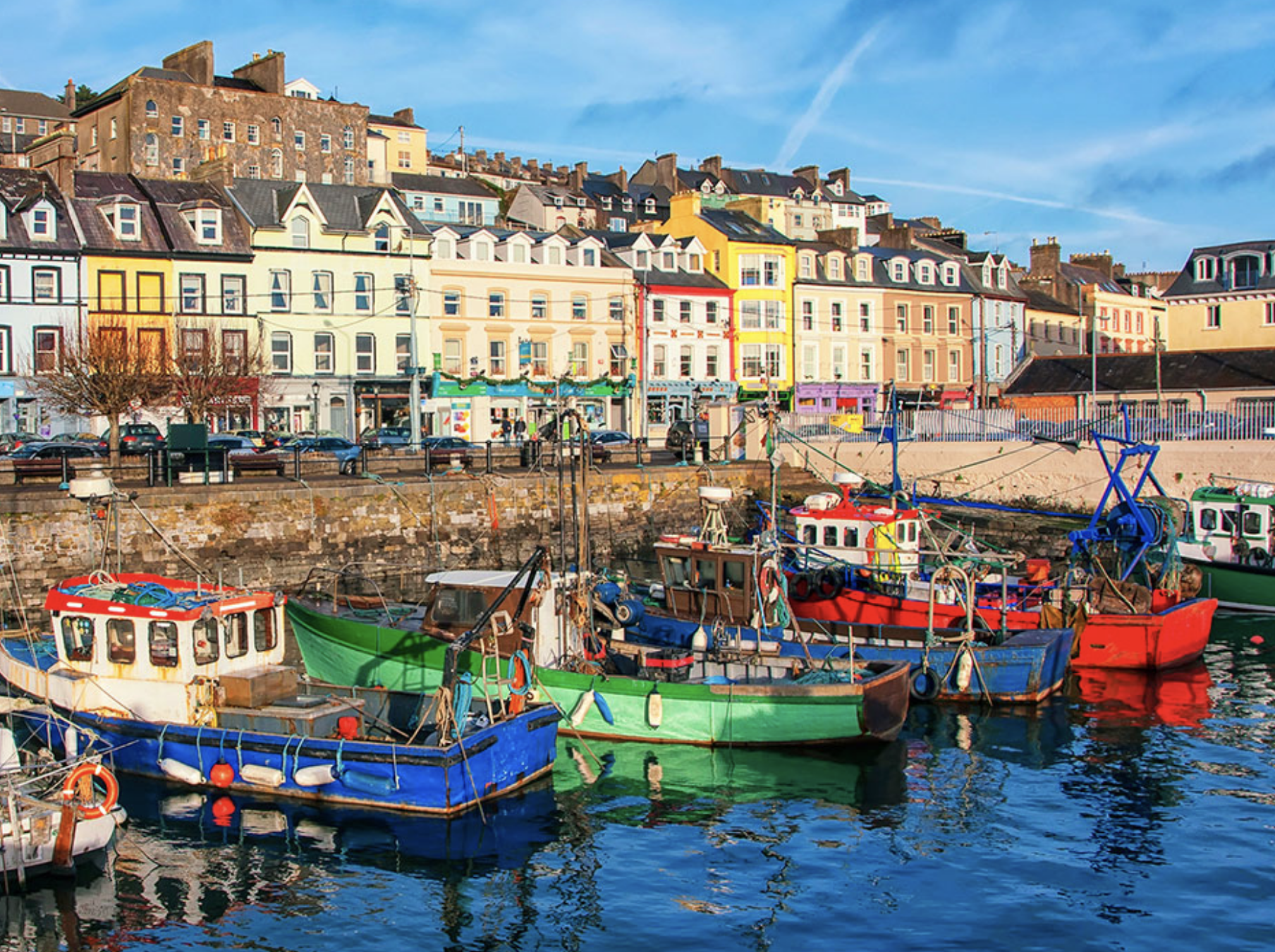 September 5:
Cobh
Titanic Experience
Jameson Experience
Where the River Lee flows out of Cork and into the Atlantic Sea, Cobh sits wrapped in the protective arms of its Cork Harbor surroundings. This picturesque port town was known as Queenstown until the late 1920s, and of the 6 million Irish citizens who immigrated to North America, it's believed nearly half of them waved goodbye to their homeland here on the shores of Cobh. Even more infamous is the tale of the Titanic, which departed on its doomed North Atlantic crossing from right here in Cobh. Tours today still detail the time the Titanic spent in Cobh—including the original wooden dock that the Titanic's passengers walked on.
Titanic Experience Cobh is located in the original White Star Line Ticket Office in the centre of Cobh, the departure point for the final 123 Passengers who boarded Titanic on the morning of April 11th 1912. The tour is presented in two parts, the first is an immersive audio visual tour retracing the footsteps of the 123 Passengers. With Fourth Officer Boxall as your virtual guide and with the use of innovative audio visual technology and replica set designs visitors will experience what life on board would have been like on board for those passengers.
The second part of the tour examines how it went wrong. Using computer generated graphics to recreate the collision and subsequent sinking, film analysis of Titanic on the seabed and expert interviews these interactive exhibits allow visitors to find out how and why the Titanic sank on that fateful night. Touchscreen computers allow you to look at personalities on board the ship and in particular the fate of our 123 Queenstown passengers.
Finish up in the Jameson Bar, where a select few participants will get to take part in a comparative tasting. They'll learn how to distinguish Jameson from different types of whiskey. Everyone in the tour can then savor a complimentary glass of Jameson or a Jameson-based cocktail.
The tour concludes here in the bar, where you can indulge in more whiskey tastings (own expense). Alternatively, browse the gift store, which stocks exclusive Jameson merchandise.


This area of Ireland is dotted with castles! Spend some time today exploring some of your favorites!
September 6:
Kinsale
Wild Atlantic Way
Kilarney
After checking out of your hotel, travel to Kinsale, one of Ireland's most picturesque towns. With colorful, winding lanes, and fabulous restaurants, Kinsale attracts a lot of visitors during the summer months.
There are more castles and castle ruins along the shore, so plan on stopping to see some of these.
After Kinsale, start driving west, along the coast. Kinsale is also the starting point of the Wild Atlantic Way.

You'll travel to Kilarney, where you can explore the Kilarney National Forest, or even Muckross House!

You'll stay in Kilarney for 3 nights.
September 7:
Ring of Kerry
Skellig Ring
Skellig Michael
After breakfast, drive south on the Ring of Kerry to Portmagee.
As you cruise along the Atlantic Coast on this spectacular mountain road through the towns of Kells, Derrynane, and Glenbeigh, you'll find a number of impressive sights, with various stopping points and photo opportunities. From Ross Castle and Muckross House to Torc Waterfall, Bog Village, and the glacial valley of the Gap of Dunloe, you'll want to keep your eyes peeled and your camera out.
The ring also passes the golden beaches of Inch Beach, the Lakes of Killarney, the Macgillycuddy's Reeks mountains, Ladies View, and Dingle Bay looking out to the Dingle Peninsula.
The coastal side of the loop offers a taste of the Wild Atlantic Way, and in County Kerry's Waterville, visitors tend to stop for photos with the waterfront Charlie Chaplin statue.
Insider Tip
As with many ring roads, there is little room to pass at some points. It's good to note that all tour buses travel counterclockwise from Killarney and that self-driving travelers can head clockwise for less traffic.
At the bottom of the Ring of Kerry, you'll take a detour onto the lesser known, Skellig Ring.
Skellig Ring is a predominantly coastal road that offers panoramic views of its namesake, the Skellig rocks. While it might be the Ring of Kerry's lesser sister, it certainly is far more impressive.
From the highest point of the road you can climb the hill on the seaward side of the saddle in twenty minutes or so for the most magnificent views out to the Skellig Islands, across to the Dingle Peninsula and the Blaskets, and inland to the Iveragh Mountains.
Take Skellig Ring to Portmagee where you will board a ferry to Skellig Michael.

Sail on a grand adventure to the majestic Skellig Islands, which lie 7 miles off the west coast or Ireland.
The first amazing sight is of the Small Skelligs and its snow covered-like appearance, when seen from a distance. Upon sailing closer you realize it is 75,000 nesting gannets that cover the Island.
Onwards to Skellig Michael to marvel the monks, who built the monastery on this remote island 600ft above sea level.
See locations where scenes from Episode VII and Episode VIII of the Star Wars franchise were shot. You will quickly see why this incredible location was such an attractive inclusion for the production team in the Star Wars universe.
Skellig Michael also features birdlife in abundance - puffins, guillemots, kittiwakes to name a few all call these islands home throughout the year. You may also just encounter whales, dolphins, sunfish and even basking sharks roaming the surrounding waters.
September 8:
The Dingle Peninsula:
Dingle
slea Head Route
Connor Pass
Hidden away on Ireland's southwestern coast, Dingle is at the heart of the Dingle Peninsula, and a popular starting point for both the Dingle Way long-distance hiking trail and the Slea Head driving route, which loops around the scenic headland, passing by Europe's westernmost point at Slea Head.

The drive passes through the village of Ventry which is on the coast and has a good beach for swimming and water sports. Then the drive winds through cliffs and offers views of the Atlantic Ocean as it nears Slea Head. Scenes from Ryan's Daughter and Far and Away were filmed near here. The Slea Head Drive continues through wild landscapes and several villages. One of the highlights is the Gallarus Oratory, the best preserved early Christian church in Ireland. The drive also passes through fishing villages and mountainous regions, including Mount Brandon, the second highest mountain in Ireland.

The Connor Pass is an absolute highlight that cannot be missed. It starts just outside the town of Dingle and ends on the other side of the peninsula near the village Castlegregory. It is Ireland's highest mountain pass. It is a narrow, twisting road surrounded by sharp drops and lakes. As such, buses are prohibited from driving this road.
Just off the very westernmost point on the peninsula you will find the Blasket Islands. Until the 1950s these islands were inhabited and from Dunquin, on the mainland, you can still see the remains of the main village on the Great Blasket island. Many of the old inhabitants became famous writers and poets and the Blasket Centre has a fascinating exhibition on the literary heritage of the islands.
A large part of the peninsula is designated as a so called "Gaeltacht". This means the Irish language is the primary language spoken here. Road signs, for example, are all in Irish language.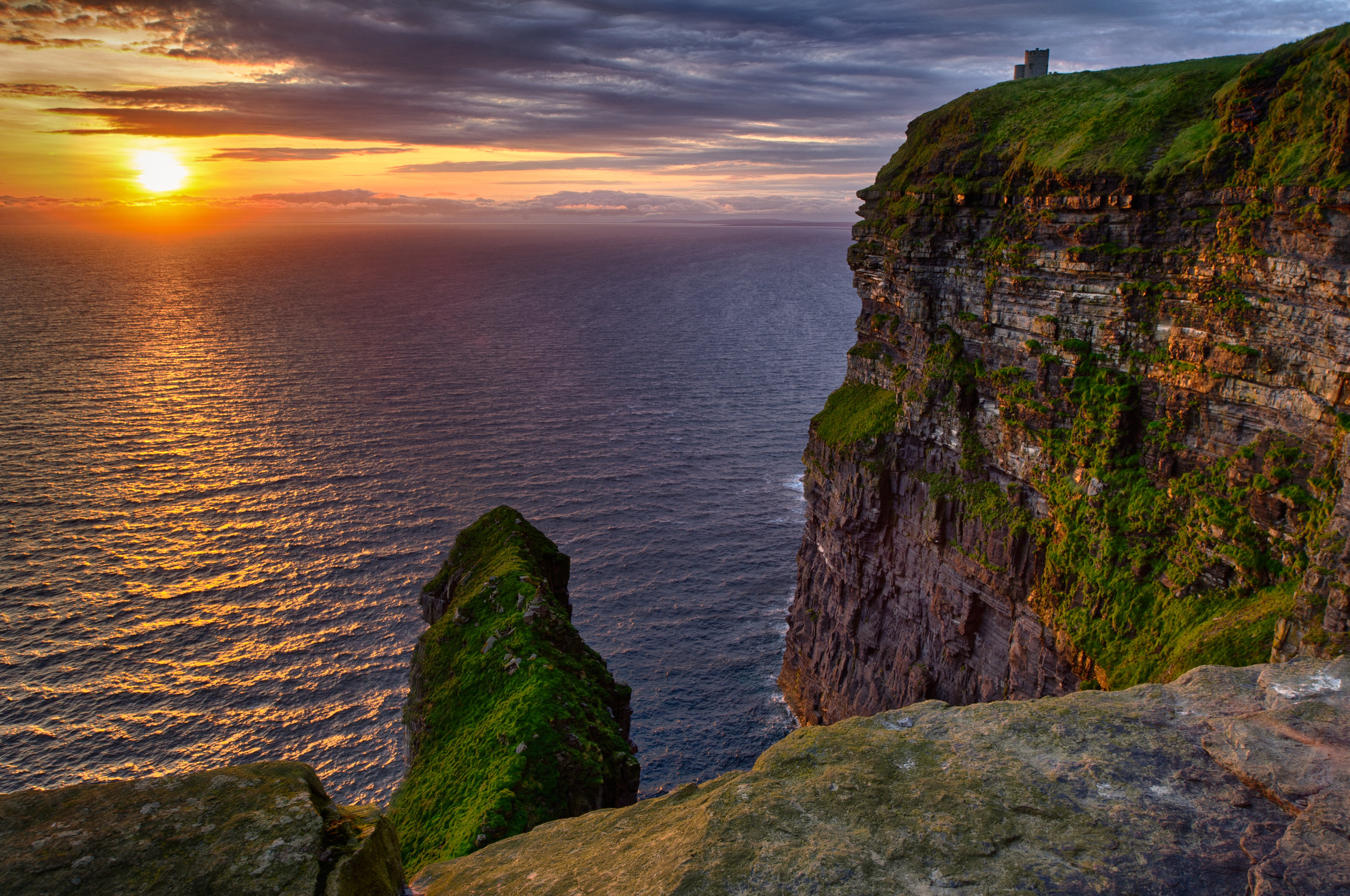 September 9:
The Burren
Cliffs of Moher
Check out of your hotel this morning and take off on the road to see Co. Clare.

Start your day by exploring The Burren, one of Ireland's most unique and photogenic landscapes.
Stretching over 160 square km, the Burren, derived from the Gaelic word Boireann meaning 'rocky place', is one of the most visited attractions in the Shannon region.
Aptly named, the karst topography is characterized by its unusual limestone formations, naturally sculpted through acidic erosion over thousands of years. The natural landscape is an otherworldly terrain - a giant jigsaw of rocks, made up of grikes (fissures) and clints (isolated rocks jutting from the surface), with pockets of lush greenery poking between the expanses of bare rock.
Then head towards the Cliffs of Moher.
Towering 702 feet above the Atlantic Ocean at their highest point and stretching for five miles along the water, the world-famous Cliffs of Moher define the rugged west coast of Ireland. They are one of the most popular tourist attractions in Ireland.
Once at the cliffs, you can wander a number of winding coastal trails and pathways, capture photos of the dramatic scenery, and walk out to peer over cliff edges at the waves below. The onsite underground Visitor Centre features educational exhibits and a number of arts and crafts gift shops, while the viewing platform atop the historical O'Brien's Tower provides stellar views stretching west to the Aran Islands, north to Galway, and out along the Atlantic Coast.
After exploring the Cliffs of Mohr to your liking, drive north to Ennis, where you'll check into your hotel for the next 2 nights.
September 10:
Aran Islands
DOolin
The Aran Islands are one of Ireland's most unique destinations, but most visitors only admire them from afar. Today, you'll take a round-trip ferry from Doolin to Inis Mór to give you the whole day to explore independently and visit sights such as Dun Aengus, the Black Fort, the Seven Churches, and Clochan na Carraige.
 
Make your own way to Doolin Pier in time for a 10am departure. Set sail on the around 1-hour and 15-minute journey to Inis Mór, the largest of the Aran Islands, and enjoy spectacular views of Galway Bay and the Cliffs of Moher as you cruise out across the Atlantic. On arrival in Kilronan Harbour, you'll have the entire day to explore the island at your own pace. Perhaps rent a bike, or ride a horse around the island, and take in sights such as Dún Aonghasa (Dun Aengus), the Aran Heritage Centre, Dún Duchathair (The Black Fort), Na Seacht dTeampaill (The Seven Churches), Teaghlach Einne (House of St. Enda), and Clochan na Carraige.
You could also shop for the islands' famous Aran Sweaters at the Aran Sweater Market in Kilronan, spot wildlife such as seals and sea birds along the coastal cliffs, and tuck into a typical Irish lunch at one of the harbor's many pubs, restaurants and cafés.
Make your way back to Kilronan Harbour in time for the return ferry at 4pm sharp. Your tour ends back at Doolin Pier around 5.30pm.
You'll want to stay in Doolin for dinner, stop by Fitzpatrick's Pub , the local seafood is particularly good here!
Then visit one (or more) of the village's three historic pubs, Gus O'Connor's, Mcdermott's and Mcgann's.
All host nightly music sessions, where you can hear Gaelic poetry set to music and admire the soulful timbre of traditional instruments like Celtic harps, tin whistles, fiddles and Irish flutes. Musicians from all over the globe visit Doolin in search of the genre's roots, and a number of events throughout the year bring together local and international musicians for impromptu jam sessions.

With allegedly more musicians per square mile in this county than anywhere in the world, it's unsurprising that this small fishing village is hailed as the capital of Irish folk music. Musical traditions still reign strong today, and those looking for an authentic taste of traditional Irish music won't have to look far in Doolin.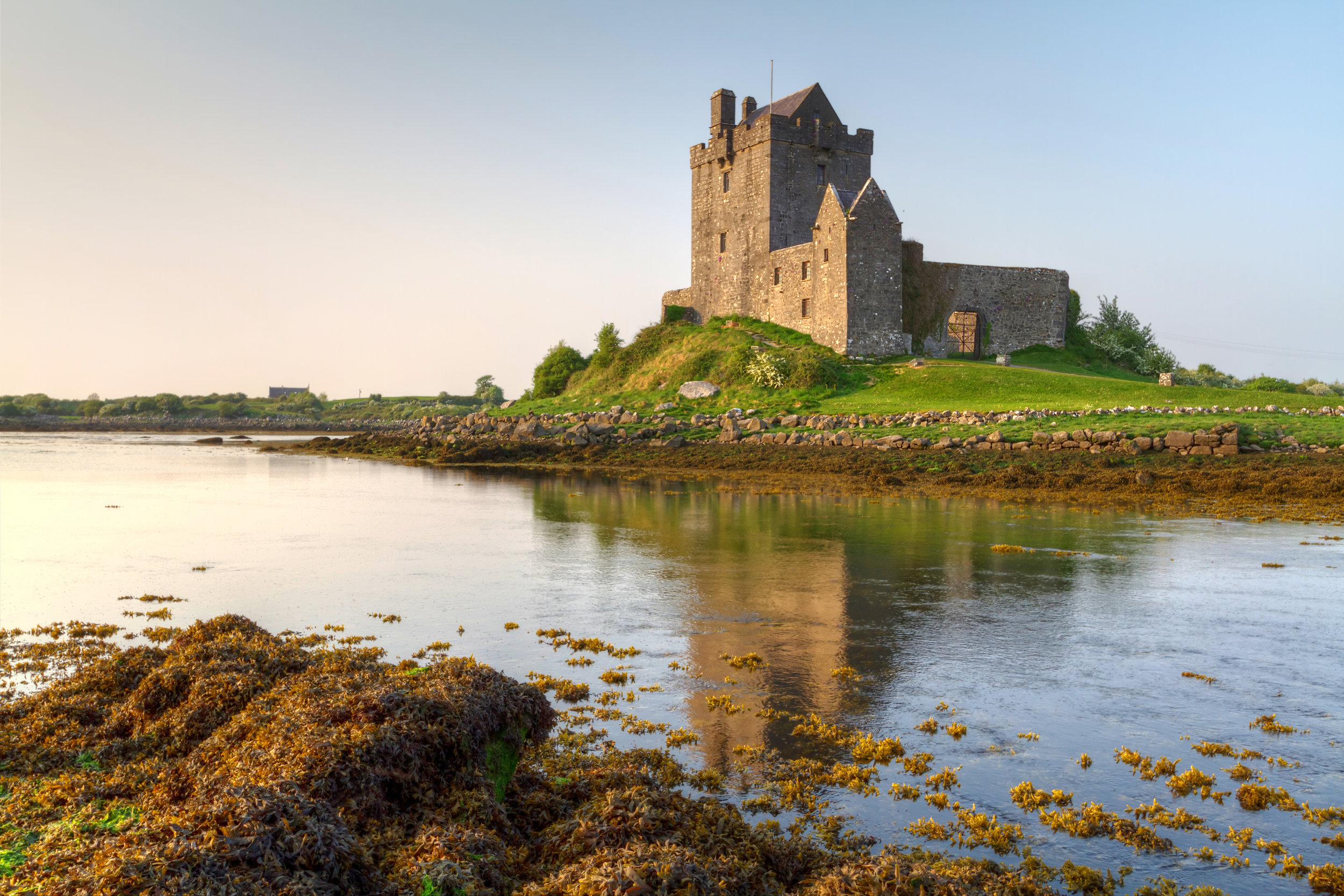 September 11:
Galway
Galway cathedral
Dunguaire Castle
HAPPY BIRTHDAY, BRANDON!
This morning, you'll check out of your hotel and drive north to Galway, where you will stay in your central hotel for the next 4 nights.
Known as the ˜City of the Tribes", the vibrant city of Galway has plenty to keep visitors entertained, with awe-inspiring architecture, a riotous nightlife and some of Ireland's principal attractions right on its doorstep.

In fact, one of those tribes that Galway is known for is the Joyce Family, who gave us the Claddagh ring!
Explore the Claddagh area on a tour (food, history, whiskey), or on your own!

Be sure to visit the Galway Cathedral, though!
The cathedral's copper domed roof, visible for miles around, has become one of Galway's most beloved landmarks, but it's the resplendent interiors that visitors find most impressive. An eclectic blend of artistic and ceremonial decorations, the lavish cathedral hall draws inspiration from a myriad of architectural styles including gothic-style rose windows by George Campbell, Romanesque stone carvings and a Renaissance-style Crucifixion mosaic by Patrick Pollen. Above all though, it's an incredible achievement of artistry, from the intricate woodcarvings to the vast wall paintings, seamlessly blending generations of Irish art and design styles.

Tonight, visit Dunguaire Castle
Sitting on an outcrop jutting into Galway Bay, the 16th-century Dunguaire Castle appears like a fairy-tale vision to drivers traversing the coastal road, prompting many to pull over and reach for a camera. The site housed prominent local clans for centuries before famous Irish surgeon, poet, and playwright Oliver St. John Gogarty bought it in 1924. He then turned it into a hangout for Ireland's literary elite, including Lady Gregory, W.B. Yeats, Sean O'Casey, and George Bernard Shaw. Today, most travelers admire the castle from afar, though some do venture inside.
Visitors can explore the castle's modest interior and climb to the top of the 75-foot (22-meter) tower for daytime views over Galway Bay, or purchase tickets for a twice-nightly medieval banquet, which includes a 4-course candlelit dinner complete with Celtic music, mead, and storytelling.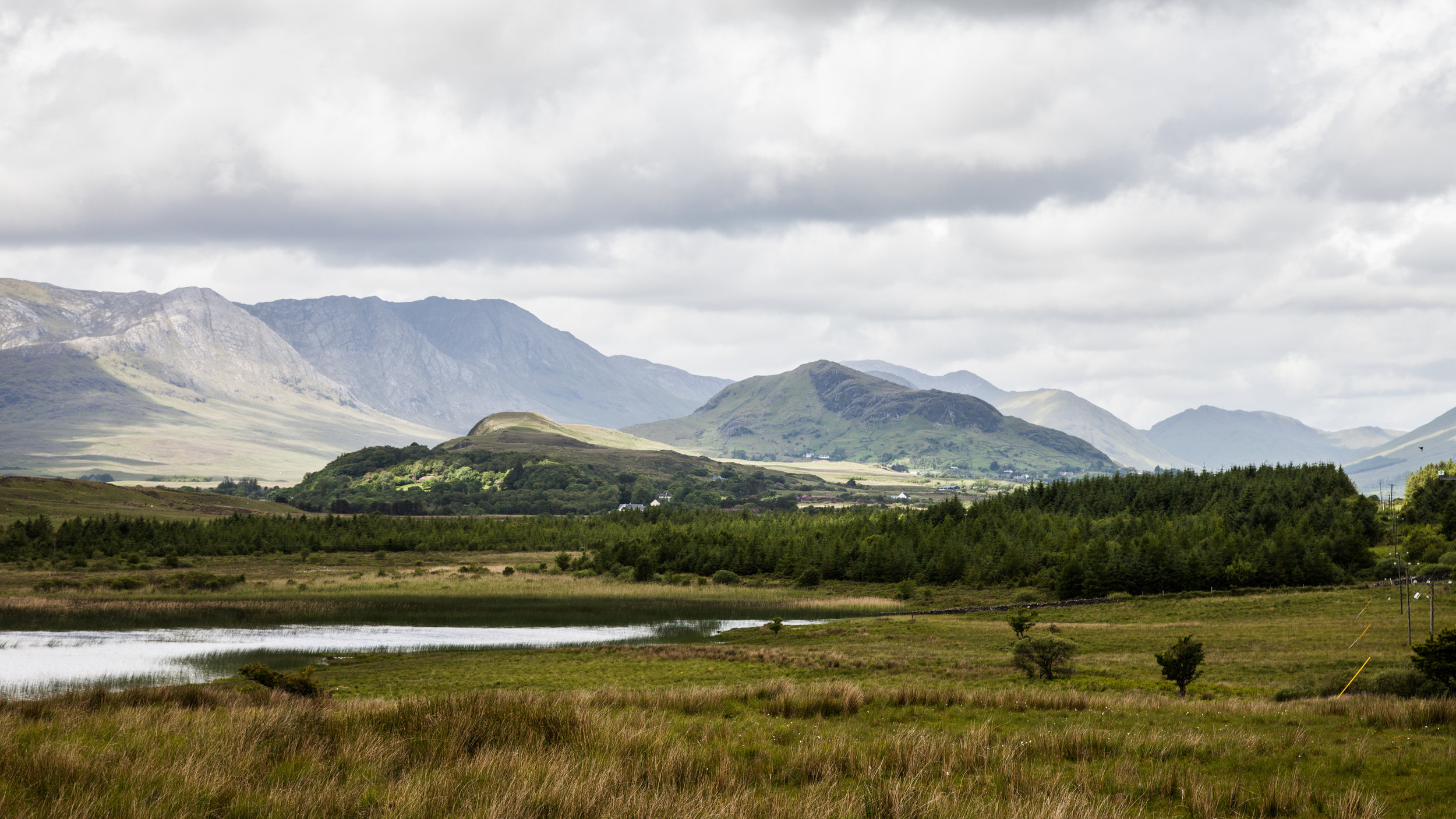 September 12:
Connemara
Sky Road
This morning you will head west along the southern shores of Connemara, looking out across beautiful Galway Bay. As you pass through the picturesque villages of Barna, Furbo, Spiddal and Inverin, you will see thatched cottages, dry stone walls, mountains, woodlands, rivers and streams, lakes, Connemara ponies, amazing beaches and unspoilt bogs and deserted islands.
Your first scheduled stop of the day could be Pearse's Cottage. Patrick Pearse was one of the leaders of Irish Nationalism and a signatory to the Irish Proclamation of Irish Independence, read out by him outside the GPO in Dublin during the Easter Rising 1916.
Then it's on through Connemara's hidden jewel, Bothar na Scragoige. View the wilderness bog landscape and experience the tranquility and isolation of Connemara.

Head out along the Wild Atlantic Way. To your left will open up the iconic Dog's Bay Beach stretching a mile out into the Atlantic.
Next is Derrygimlagh Bog (Wild Atlantic Way – Signature Point). This remote site was the centre of the communications (Marconi) and aviation world (Alcok & Brown) in the beginning of the 20th century. After travelling through Clifden, the capital of Connemara, you head skyward.
Renowned worldwide for its heart stopping twists and turns, the Sky Road (Wild Atlantic Way – Discovery Point) swoops and soars above the Atlantic Ocean. The views and photo opportunities from this 'Discovery Point' have to be seen to be believed.
Last stop is the main attraction! Explore and hike in the Connemara National Park.
SEptember 13:
Ashford Castle
Kylemore Abbey
Start your day by heading north to Ashford Castle

Massive, flamboyantly turreted, Ashford is the very picture of a romantic Irish castle. This famed mock-Gothic baronial showpiece, dating from the 13th century, and rebuilt in 1870 for the Guinness family, has been wowing visitors like President Reagan, John Travolta, Brad Pitt, and Pierce Brosnan—who got married here—ever since.
Nearly bigger than the entire neighboring village of Cong, it is strong on luxury and service, yet maintains a relaxed atmosphere in which guests of all ages feel totally at ease. Kids immediately associate the castle with Hogwarts... and better yet, you don't have to stay here to see the grounds!
While a small fee will allow you entrance to the grounds and gardens, lunch reservations will allow you a sneak peak inside the castle (closed to guests not staying the night).
(If you'd like, you can add activities to your trip to Ashford Castle. We highly recommend flying falcons at the School of Falconry!)
 
Your final stop of the day is at the magical 19th century limestone and marble Kylemore Abbey.

Tucked in the shadows of the mighty Seven Pins Mountain range, Kylemore Abbey cuts a striking figure against its majestic backdrop. A Benedictine monastery founded in 1853, the Abbey took seven years to build and remains in use today as an all girls' school governed by Benedictine Nuns - the only Benedictine Community in Ireland - as well as opening its grounds to tourists. With its idyllic surroundings encircled by woodlands and postcard-worthy façade fronted by a glistening lake that perfectly reflects the grand building, Kylemore Abbey has fast become one of County Galway's most popular iconic sights.

While parts of the 1000-acre estate remain closed to the public, visitors can tour many of the most impressive sights, including the magnificent Gothic Chapel and the Abbey's beautifully restored main hall. The 6-acre walled Victorian Gardens are another highlight, where pretty walkways, 19th-century flowerbeds and a series of greenhouses are divided by a gurgling stream and enclosed by a brick and limestone wall. The onsite crafts shop and café, where the nuns serve up home-cooked food, are also popular, with the teahouse terrace offering wonderful views over the nearby Connemara National Park.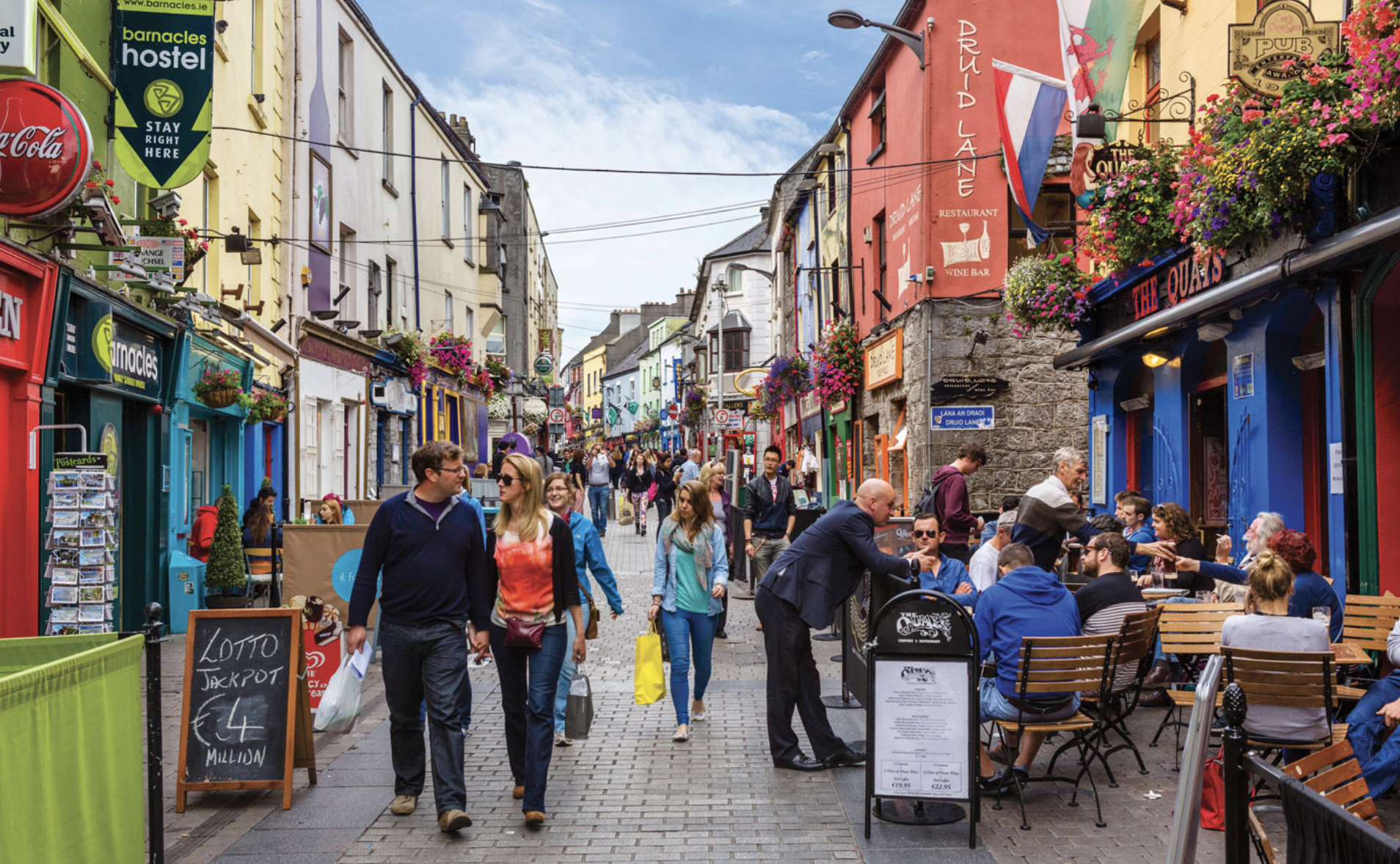 September 14:
Explore more of Galway
Use this last day in Galway to walk the streets, drive the Connemara one last time or go on a castle hunt along the Wild Atlantic Way!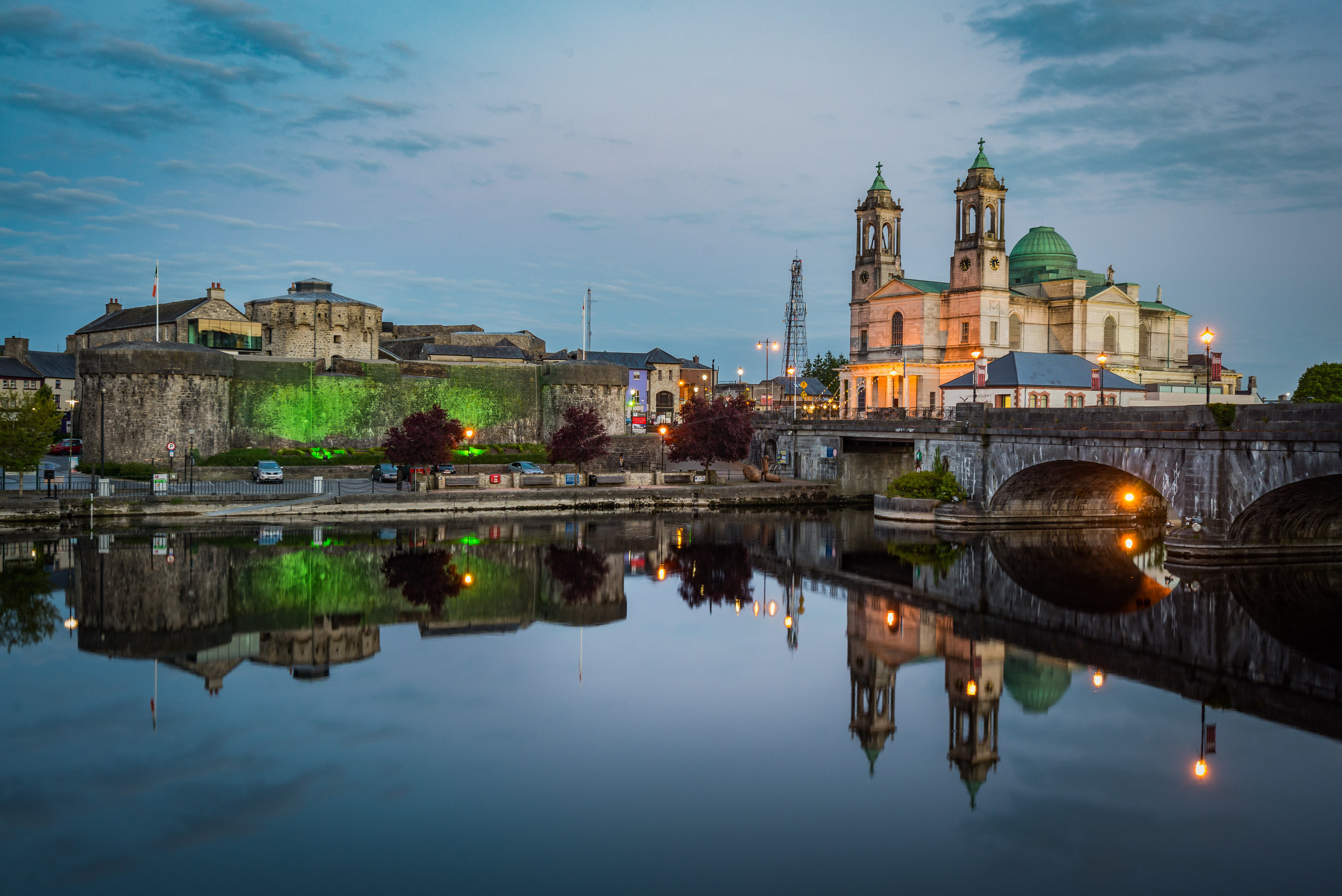 September 15:
Visit Family in Athlone
This morning, you'll check out of your hotel and drive east to Athlone.

This is your last day in Ireland, and what better way to spend it, than spending time with family!

Enjoy the day recapping your visit and catching up together!

You'll stay the night in Athlone.
September 16:
Depart for CLEveland
Today you will bid farewell to Ireland. You'll return your rental car at the Dublin airport and board your flight home.
DEPARTING September 2, 2018:
CLE (midnight flight)
ARRIVING September 2, 2018:
DUB (arriving in the afternoon)
DEPARTING September 16, 2018:
DUB (afternoon flight)
ARRIVING September 16, 2018:
CMH (arriving in the late evening)
Staying at these hotels or something similar
Dublin:
Temple Bar Hotel
Cork:
Muskerry Arms Hotel
(breakfast included)
Kilarney:
Old Weir Lodge
Ennis:
Hotel Woodstock
Galway:
The Jurry's Inn Hotel
Athlone:
Sheraton Athlone Hotel
Vehicle is manual, economy level
Picking up in Dublin, Ireland:
September 2, 2018 at 4pm


Dropping off at DUB (Dublin Airport):
Dropping off September 16, 2018 at 4pm
Registration form
*Price per person based on double occupancy
**If you are waiting for an updated passport number please provide this as soon as you receive it
Please type Carefully! Inaccurate information will result in travel delays and/or airline change fees.
After downloading the pdf above, please do one of the following:
EITHER
print out the document,
sign
scan
email back to us (christian@zone-travel.com)
OR
CLICK HERE to electronically fill out and sign the document.

(while this can be done on smart phones and tablets, it is easier on a desktop)

Please be sure to email this form back to us (christian@zone-travel.com)
Pricing details
package price (total for 2 people):
$5737
*Prices and availability are subject to change and are not guaranteed until completed through the booking process.
INCLUDED IN THE QUOTE
Round trip airfare
Car rental*

Economy (Ford Fiesta or similar)

Hotel accommodations**

Dublin (2 nights)
Cork (2 nights)
Kilarney (3 nights)
Ennis (2 nights)
Galway (4 nights)
Athlone (1 night)

Tours

Guiness Storehouse
Titanic Experience
Jameson Experience
Skellig Michael Landing Tour
Aran Islands Ferry

Most taxes and fees

Airlines taxes and fees
Tour taxes and fees
Service fees and commissions
*Car rental is payable onsite only
**Some hotel reservations require you to pay taxes, VAT and resort fees onsite onsite
NOT INCLUDED
Access fees to most historic sites (payable onsite only), unless included in a tour/experience
Fuel/extras for car rental
Most meals/beverages (unless included in hotel and/or tour)
Some hotels may require payment of city taxes, VAT and resort fees onsite
Tips to guides, drivers and hotel staff
Optional Travel Insurance

Basic ($106/ea)
Trip+ ($182/ea)
Cancel for Any Reason ($188/ea)
SUGGESTED PAYMENT SCHEDULE
There are two payment options available to you.
*payment schedule does not include insurance costs. Insurance is due within 10 days initial payment.

Option 1:
(most secure, least likely to change in price and availability)
Full payment due now (plus insurance)
(car rental and one hotel is paid onsite)
Option 2:
(prices and availability are subject to change and are not guaranteed until completed through the booking process and payment is in full)
(an additional 3% processing fee per payment is applicable with this option, additionally there is a $100/pp fee added to the bill for this delayed payment option)
Ask for pricing breakdown.
REGISTRATION
A completed registration form (per person)
Photo copy of picture/information page of each traveler passport emailed to: christian@zone-travel.com
Credit Card Authorization form with copy of credit card and Government issued photo ID (like a drivers license or passport)

Please make sure the credit card belongs to the driver of the rental car
FINAL PAYMENT
Payments not received on time will result in reservation cancellation without refund.
Additional bookings after the final payment deadline may result in higher prices, less availability and additional administrative fees.
Fee amounts imposed are at the discretion of Zone Travel.
CANCELLATION
Cancellation in writing must be received by Zone Travel prior to departure for appropriate refund on the land tour cost minus the following fees. Airline penalties are not part of the percentages below and vary based on each individual airline policy.
30 Days Prior or less: 100% of tour cost
Commissions and Travel insurance are non-refundable.
Travel Insurance
TRAVEL INSURANCE - AVAILABLE FOR ALL PASSENGERS - DUE 10 DAYS AFTER INITIAL DEPOSIT
Zone Travel LLC strongly suggests purchasing Trip Cancellation insurance. Be sure to check with your healthcare provider as most U.S. medical coverage will not cover you outside of the country.
Insurance costs are based on the total package cost, including air taxes and charges listed under "Included."
Approximate amounts can be given at time of reservation in order to purchase the appropriate amount of insurance.
BASIC PLAN:
Your may think you can't afford both the fun and the insurance to protect it. The Basic Plan is so affordable that you can have it all, while still staying in a budget. The plan offers existing medical condition coverage and 24-hour assistance services, allowing you to purchase your trip with complete confidence.
Trip Cancellation: Trip Cost
Trip Interruption: Trip Cost
Emergency Medical/Dental Coverage: $10,000.00
Emergency Medical Transportation: $50,000.00
Baggage Coverage: $500.00
Baggage Delay: $200.00
Travel Delay: $300.00
Travel Delay: $150.00
24-Hour Hotline Assistance: Included
CLASSIC TRIP+:
When you book your family on an international vacation, you want the peace of mind that you purchased the right amount of coverage. Classic Trip+ doubles nearly all the post-departure coverage of the Classic Plan, including Emergency Medical and Dental, Emergency Medical Transportation, Baggage Loss, Baggage Delay, Travel Delay, and Missed Connection.
Trip Cancellation: Trip Cost
Trip Interruption: Trip Cost
Emergency Medical/Dental Coverage: $50,000.00
Emergency Medical Transportation: $1,000,000.00
Baggage Coverage: $2,000.00
Baggage Delay: $600.00
Change Fee Coverage: $250.00
Frequent Flyer Miles Redeposit Fee: $250.00
Travel Delay: $1,600.00
Missed Connection: $1,600.00
24 Hour Hotline Assistance Plus: Included
CANCEL ANYTIME:
You can enjoy the extra flexibility of knowing you can cancel your trip for almost any unforeseen reason that the Classic plan does not already cover at 100% and receive 80% of their non-refundable trip cost back in cash. With features like comprehensive trip cancellation, primary emergency medical coverage and 24-hour travel assistance, the Classic with Cancel Anytime plan is there if life throws an unexpected wrench in your travel plans. Plan must be purchased within 10 days of the first payment date and must cover the full non-refundable trip cost ($10,000 maximum).
Trip Cancellation: Trip Cost
Trip Interruption: Trip Cost
Emergency Medical/Dental Coverage: $25,000.00
Emergency Medical Transportation: $500,000.00
Baggage Coverage: $1,000.00
Baggage Delay: $300.00
Change Fee Coverage: $250.00
Frequent Flyer Miles Redeposit Fee: $250.00
Travel Delay: $800.00
Missed Connection: $800.00
24 Hour Hotline Assistance Plus: Included
F.A.Q.
Is it safe to be "Out" in Ireland?
For anyone in the LGBT community, the classic picture of Ireland as a very religious and generally quite conservative country does not bode well for travel plans. But take heart - most of the time there actually should be no major problems arising, whatever your sexual orientation or identification might be. As long as you are as safety-conscious as you would be in any foreign city or country.
Though generally, the best advice would be "Don't flaunt it too much!", especially in the more rural areas.
When is the deadline to sign up?
We recommend registering and making payments as quickly as possible.
If you choose to wait, you can still book this trip; however, the price may increase and accommodations may change.
How can I make a payment?
You can make a payment (Mastercard, Visa, Discover or American Express) by clicking one of the payment buttons above
or, if you prefer a check, you can make checks payable to "Zone Travel LLC"
Address:
PO Box 44098
Columbus, OH43204