Erin's Holistic Journey
Dates are flexible
Part 1:
Pathfinder: Pre-Trip centering
Pre Trip Goals:
Solidify goals and strategies for exploration prior to embarking on trip
30 minute Chemistry session
Email support while in Bali
Post trip guidance/coaching
A lover of self-exploration and deep personal work, Irene serves as path-finder for her clients on their own journey to self-discovery and fulfillment. She offers a space free of judgment and advice and instead uses compassion and curiosity to help her clients explore their challenges, fears, desires, and hearts longing.
Through this work, clients gain insight and perspective to lead their life with confidence and purpose.
Irene believes that in experiencing and being with what is happening now, the path forward opens with ease. She uses a methodology that equally focuses on who we are in addition to what we do, because one informs and impacts the other.
Irene is a certified Co-Active Professional coach and has completed advanced coaching training with Coaches Training Institute, one of the oldest and most well-known coaching schools.
Irene is also an Accredited Certified coach with the International Coaching Federation.
She has completed advanced trainings in Biodynamic Cranial Sacral Therapy (4 modules), Avatar which focuses on living deliberately, and frequently draws from her own deep soul-searching work of more than 25 years.
Irene holds a BA in Communications and in addition to her coaching business, Irene has more than 7 years of experience working as a facilitator, trainer, and coach in the realms of Leadership Development and Employee Engagement. She helps leaders live their highest potential, create high performing teams and create an environment where employees thrive. She is certified in several leadership trainings including Crucial Conversations, Influencer, and Getting Things Done. She's a professional member of the Association for Talent Development, Toastmasters, and serves on the board for her loving and inclusive church.
Part 2:
The journey begins
For the first week of your stay in Bali, we suggest a resort with strong guided retreat options.

While you can certainly pick and choose which paths you want to take and what sessions you want to participate in, having a structure in place will help you settle in quickly with you main focus and goal of self discovery, healing and finding your center.
Choose between Fivelements Resort (5 OR 7 DAY RETREAT) OR THE Spa Village Resort.
Fivelements, Bali opened in late 2010 as the first of a new genre of wellness destinations bridging the wisdom of traditional healing cultures with innovative wellness concepts. To date, the eco-wellness retreat has been recognized with eighteen international awards spanning across hotel, wellness, spa, culinary and sustainable design industries. Fivelements has earned its position as an innovative leader in wellness concept design, retreats and programs, plant-based innovative cuisine and wellness hospitality worldwide.
The co-founders' intention is to co-create healing and wellness concepts and destinations that share:
A vision for love and its power to transform

An aspiration for bridging the wisdom, philosophies and healing practices of traditional cultures with innovative wellness services

An eco-consciousness linking our mission to inspiring design
By focusing our efforts toward this, we will collectively make a greater impact on the wellness of humanity. Love all, serve all.
A healing retreat for regeneration, replenishment & alignment
Retreats are available in 3, 5, 7, 10, 14 & 21 nights stays
At Fivelements, Bali, we embrace holistic Balinese-inspired therapies administered by traditional Balinese healers using ancient wisdoms passed down through direct lineage. Following the Balinese principal of Sekala-Niskala, which holds that we all live equally in two worlds; the seen or conscious world Sekala, and the unseen or psychic world Niskala, the Balinese healers engage the help of the divine source during each healing session.

Combined with these traditional therapies are Plant-based cuisine nutrition and transformative Sacred Arts programs.

The Panca Mahabhuta (five elements) Retreat is our signature program that comprises a holistic integrative approach designed to tune in on the physical, emotional and spiritual levels, allowing an organic healing process to naturally unfold. This begins by attuning to your authenticity and honoring your highest potential.

Acknowledging and respecting your individuality, we collaborate with you through a personalized Guest Liaison program, which guides and nurtures a healing path combining:

Balinese Healing - rituals for purification, balancing & regeneration

Living Foods - for life invigoration

Sacred Arts - for inner strength, alignment & dedication
10-Nights Accommodation in an exclusive riverside suite
(enclosed rooms)
Gourmet Healing Cuisine Meals (10 breakfast / 9 lunch/ 10 dinner / daily 4 glasses of coconut water)

Wellness Consultation

Balinese Blessing Ceremonies

Healing Journey

4 Healing Massages

3 Healing Energy Sessions

2 Water Healing Sessions

Therapy Combination

4 Yoga & Meditation

Sacred Arts Sessions

2 Embracing Change/Mindfulness

3 Beauty Rituals

Airport transfers
Also, on May 17th 2019 there will be an Agni Hotra Ceremony

Agni Hotra is an ancient fire ceremony originating from the sacred Vedic Hindu texts. Centuries past, the tradition of Agni Hotra in Bali was embraced and fused with animistic rituals; however, following a great fire, it fell out of practice nearly 350 years ago.
Today, there is a revival of the practice of Agni Hotra for its powerful healing effects not only in Bali but worldwide.
Agni refers to fire and Hotra means, healing. This healing fire ceremony is considered one of the highest Vedic rituals. Specially trained priests make offerings of ghee and grains into the fire while reciting Sanskrit mantras to invoke blessings of health and abundance. Participants are also invited to join the priests at specified times with offerings of rice into the fire, as symbol of divine light. The ritual is for energizing and purifying the environment, healing both the participants and those living in the area. There are many anecdotal stories of healing in relation to the Agni Hotra and even evidence of benefits to agricultural areas where Agni Hotra is performed.
We invite you to Fivelements' Agni Hotra ceremony to steep in the atmosphere of this sacred tradition, experience its healing benefits and convene in the spirit of One.
This would be an excellent way to wind down your journey, before returning home.
Spa Village Resort
Tembok, Bali
Situated in Tembok village on the north-eastern edge of Bali
Set amidst a dramatic volcanic landscape on Bali's north-eastern coast, Spa Village Resort Tembok, Bali is where your restorative journey begins. Dedicated to top-to-toe pampering and personalized spa treatments, this uniquely peaceful and tranquil beachfront spot is surrounded by tropical gardens and provides an al fresco restaurant, a spectacular infinity pool and stunning accommodation.
The atmosphere throughout Spa Village Resort Tembok, Bali is that of low-key luxury with intricate Balinese woodwork and neutral fabrics that adds to the peacefulness. A blend of Balinese grace and modern comfort, all the rooms and suites are private havens away from technology and television with terraces or balconies that overlook gardens or a clear blue sea. The villas have their own private entrances, outdoor pavilion and a plunge pool.
Spa programs offer a holistic integration of healthy, whole food cuisine, rejuvenating spa treatments, movement, mindfulness, daily scheduled activities, hands-on wellness workshops and natural health practices. Body treatments, massage therapies, skin, hair and nail treatments are all designed to honor the healing cultures of the region.
Next Availability:
May 6-9, June 3-6, July 1-4, Aug 5-8, Sept 2-5, Oct 7-10, Nov 4-7, Dec 2-5.
Reconnect with your true essence in this all inclusive Yoga & Wellness retreat

This yoga and wellness retreat was crafted by a woman who has been traveling alone for many years to provide solo women travelers or in the company of friends, a nurturing environment to explore regular and speciality yoga classes, expand the mind through guided meditation, indulge in spa treatments, enjoy opportunities to discover Bali, its people, culture, food and natural wonders, and meet new like-minded friends.

Our Return to Yourself retreat will help you reconnect with your true self and regain your vitality. Be fully engaged in the moment and enjoy every minute with a sense of joyful presence. You will leave feeling relaxed and rejuvenated, ready to face life's challenges with a wonderful combination of enthusiasm and serenity.
RETREAT INCLUSIONS:
• Accommodation
• Return airport transfers to and from Denpasar International Airport (DPS)
• Welcome Foot Bath Ritual
• Daily breakfast with green juice, lunch and dinner with fresh coconut water
• Daily lifestyle coaching session using Kundalini Yoga and meditation
• Daily wellness playshop, inclusive of afternoon tea and refreshments
• Les Waterfall Excursion
• Ponjok Batu Temple tour
• All entrance fees for tour activities
• Sunset (or sunrise) cruise in a jukong, a traditional Balinese boat
• Starlight Gazing
• A deluxe 50-minute spa treatment for every night of stay
• Daily scheduled activities within the resort
(as per the Daily Activity Calendar) Balance Walk, Boreh Making, Canang Making, Candle Making, Cooking Class, Creativity Walk, Fitness Circuit, Jamu Making, Lontar Drawing, Nyuwun Yoga, Pencak Silat, Weaving Class, Hatha Yoga, Yoga Swing

A minimum stay of three nights is required with an option to extend your stay for a deeper immersion into this wellness retreat.
Each extension night will include:
• Breakfast with green juice, lunch and dinner with fresh coconut water
• A lifestyle coaching session using Kundalini Yoga, meditation and humanology
• A wellness playshop, with an afternoon tea and refreshments
• A cultural / spiritual tour - excludes the 4th day when a Day of Silence is in effect
• A deluxe 50-minute massage
Spa Village School of Life
Next Availability:
Apr 15-19, May 20-24, June 17-21,
July 15-19, Aug 19-23, Sept 16-20, Oct 21-25, Nov 18-22, Dec 16-20.
A Life Program that supports the path to renewal with an integrated schedule of healthy life practices

More than just a holistic holiday, this Life Program supports the path to renewal through an integrated schedule of activities. Spa, healthy cuisine, physical and mental activities are tailored to introduce guests to healthy and sustainable life practices. Along with laying a foundation, guests are taught how to practice these skills long-term and redesign their daily lives. A complete before and after program ensures that each guest goes home with an indelible relationship with the Spa Village community.
RETREAT INCLusions:
• A complimentary sunset cruise for a couple per room per stay
• Accommodation
• Return airport transfers to and from Denpasar International Airport (DPS)
• Welcome Foot Bath Ritual
• Pre-program consultation for a personalized itinerary
• Customized wellness program itinerary presented upon check in with a personal consultation the following morning
• Daily breakfast, lunch and dinner featuring healthy, nutritious food with green shots, organic coconut water, unlimited herbal teas and water
• Daily movement practice (choice of yoga, a walk or a swim)
• Daily scheduled activity within the resort (Jamu Making, Boreh Making, Canang Making, Candle Making and Weaving)
• Two wellness workshops with Savitri (or replace one workshop with one activity listed: Creativity Walk, Pencak Silat, Balinese Dance, Fitness Circuit or Cultural Ambassador Talk)
• Journey of the Chakra Meditation session and Mandala Coloring with Savitri
• Two Hatha Yoga classes
• A healthy cooking class with the Executive Chef
• Segara Giri pre-treatment spa ritual and a 50-minute Balinese Massage
• A traditional Organic Clay Facial and a Detoxifying Body Scrub
• A traditional Balinese Natural Facial and a deeply cleansing Three Point Massage
• Starlight Gazing
• Three evening herbal baths
• Summary & Aftercare session with Savitri
• A complimentary sunset cruise for a couple per room per stay


A minimum stay of four nights is required with an option to extend your stay for a deeper immersion into this wellness retreat.
Each extension night will include:
• Breakfast, lunch and dinner featuring healthy, nutritious food with green shots, organic coconut water, unlimited herbal teas and water
• An awareness and wellness workshop with Savitri (Meditation, Breath work and Wellness)
• Scheduled activity within the resort
• A deluxe 50-minute treatment
• An evening herbal bath
PART 3:
THE JOURNEY CONTINUES
For your second part of your trip, we encourage you to start using the skills and meditations you learned in the week before, with less structure in your daily schedule.

By staying at REVĪVŌ Wellness Resort, you will still have access to some structured activities, while adding more freedom in your day to slow down and step away from a structured itinerary. This will help as you re-enter your daily life.

(Plus, REVĪVŌ has a phenomenal workout facility- and after fully submerging yourself into the internal focus of self, we know you will want to get back into the gym to begin your usual workout routines.)
Recommended 5-7 days at REVĪVŌ WELLNESS RESORT
At REVĪVŌ our mission is to educate our guests to learn to embrace change and look at our own emotions. Our body treatments, activities and nutrition offers are designed to guide you to develop Life's Most Important Skill: mind training and ultimately mind transformation.
Return home revitalized, ready for changing your life habits & sharing your healthy tips with others.
EMOTIONAL BALANCE & MIND TRAINING RETREAT
After being through difficult times you might feel you don't find your emotional balance anymore. This retreat focuses on holistic treatments to help you cleanse your body of toxins that were created during and as a result of a traumatic event. It will bring clarity and a sense of lightness to your mind so you can reconnect to yourself.
Emotional Balance and Mind training are yogic and holistic practices. These practices will guide you to be your own guru and ignite a renewed sense of resilient health and wellbeing. Here at REVĪVŌ we aim to design a program that will inspire you each day here, and at home. In some sense, you must take on the mindset of a scientist and become curious about your mind and body. Through experimentation you will learn what works for you and as a result, self-correction and emotional balance will become a natural part of your everyday life.
This retreat will help you
Find work-life balance

Clear all traumas, emotions and spiritual blockages

Strengthen your self discipline

Channel your energy productively

Unlock the gateway to peace and tranquility
The Emotional Balance & Mind Training is Revīvō Wellness Resorts' Signature Retreat. Discovering the power of the mind can help you to create beneficial life changes in many areas. Mental and emotional healing can play a big part in supporting changes in your life, including physical changes. Open up energy pathways with holistic treatments, including Reiki and chakra balancing, complemented with personalized yoga and Pranayama breathing sessions. Learn to channel your energy productively during personal training sessions to return home feeling fully revitalized. Our therapists will guide you, provide stress management strategies and healing modalities to suit your individual needs.
Retreat Inclusions:
Accommodation

Complimentary fast track Immigration and airport transfers

Personalized Retreat Journal to keep track of your objectives, program and results

Full board (3 NŪTRIŌ meals per day, nutritional set menu)

One Wellness Consultation with the Retreat Consultant: prior, during and at the end of your stay

REMISSIŌ treatments

MOVEŌ classes

Unlimited, complimentary use of Hydro Pools and Facilities.

Seven Chakra Therapy

Sundara Herbal Infusion

Ayurvedic Shirodhara

Full-body Healing Stone Massage

Reiki

Floating Yoga

Candle Light Meditation

Primordial Sound Meditation (PSM)

Painting
part 4:
the wind-down
As you end your stay in Bali, Como Shambhala Estate is the perfect place to put to practice the full array of techniques you've learned.
This property is almost entirely self-lead. It has gorgeous meditating spaces, a Balinese Healer onsite and a gym to keep up with your workout routine.
This will be the practice you need - of balancing your new inner journey with the physical workout, and added in will be the joys of exploring Bali. Finding the balance will be your challenge here, and by the time you end your week, you will have a new path forward and the techniques to help.
This last week will offer exploration around Ubud, cycling/walking the rice terraces, visiting temples and much more.
Recommended 5-7 days at Como Shambhala Estate
Como Shambhala Estate
ubud, bali
COMO Shambhala Estate is a residential 'retreat for change' that combines a deep-rooted approach to wellness with state-of-the-art facilities and remarkable villa accommodation. The location is unique — an auspicious and spiritual enclave of jungle just north of Ubud in Bali, where guests relax to the sounds of the rustling jungle and rumbling Ayung River. Specialists in yoga, Pilates and Qigong work in harmony with the nature-filled surroundings, delivering effective holisitic treatment, designed to restore and revitalise both mind and body.
There are few places that offer such an extensive and immersive wellness experience, combining healthy, energy-giving food for every meal with a dynamic itinerary of activities and treatments created according to your needs. Whether you're looking for a yoga retreat in Bali or a total wellness overhaul, COMO Shambhala Estate offers a nurturing environment in which to progress. Every detail is taken care of by your personal assistant, ensuring a completely hassle-free, restorative trip. The idea is to help guests make informed life changes that will last well beyond their stay..
Pranayama is an art that practices breathing control, enabling optimum health and calm by increasing oxygen flow.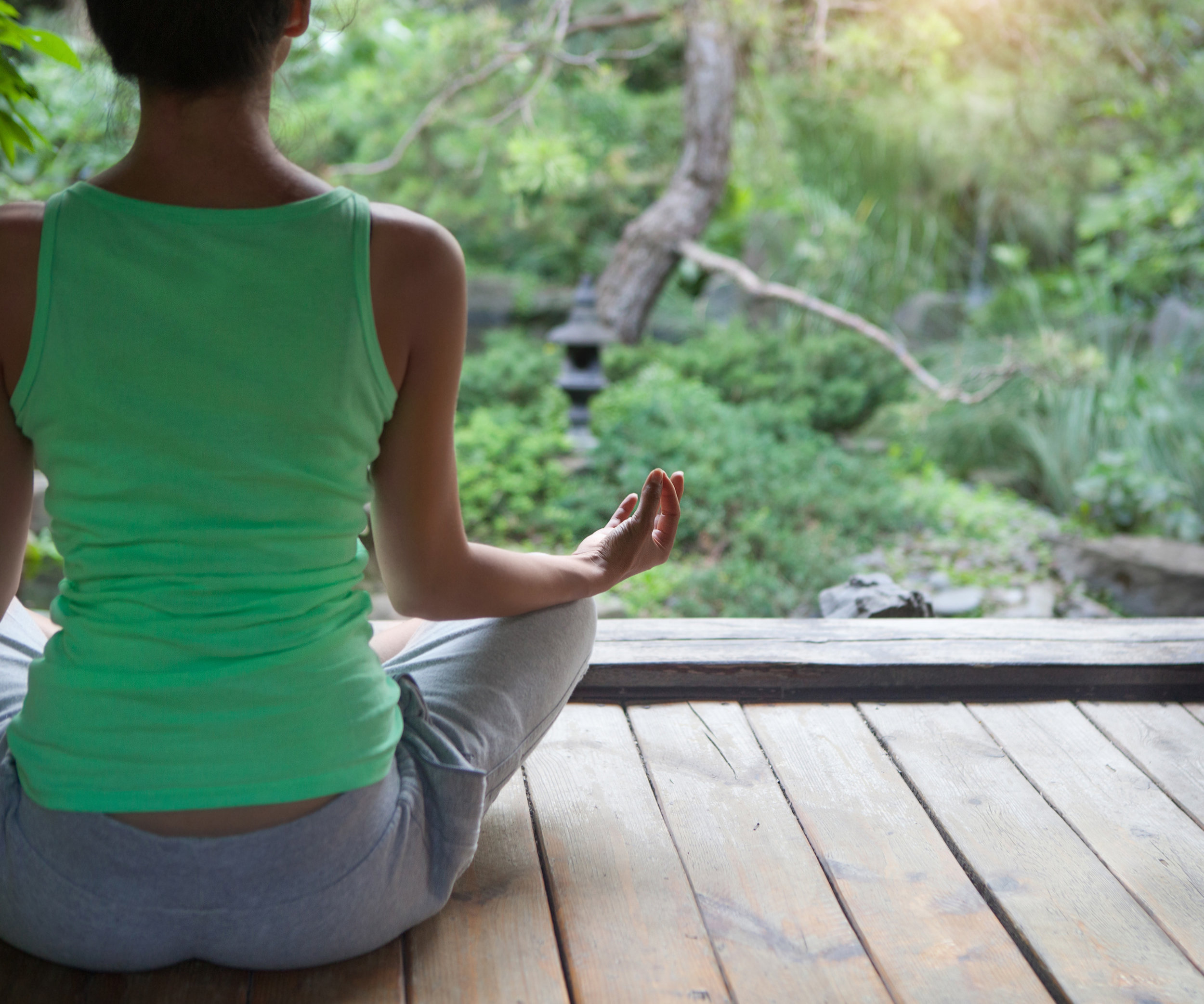 Discover the healing and relaxing power of an ancient therapeutic tradition, through one-on-one sessions.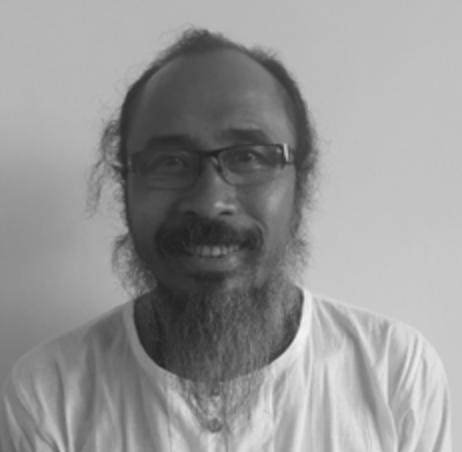 Dewa Sulendra, Chakra Healer
Dewa was born in Tampaksiring, Gianyar. He is a Balinese healer, specializing in Kundalini energy and chakra healing. Traditional healers hold an important place in Balinese life, treating illness through the universal connection and delivering insights that can be catalysts for self-healing.
Chakra healing sessions with Bapak Dewa will activate and balance the body's seven energy centers. He will scan the body for problem areas and help them heal and balance their chakras. If he receives any insights during the session he will share them with the guest, ensuring the healing process continues.
The 'Bespoke' package option is for those who are looking for a wellness program designed according to their individual needs, from stress management or rejuvenation to moving through a life transition. Guests can build their own experience with the benefit of consultation with our wellness experts, who will recommend personalized diet, therapy and activity plans.

Classes will range from informative, expert-led lectures to meditation and rice-field walks, with massage, body care treatments and healthful COMO Shambhala Cuisine supporting your progress.

You will leave The Estate relaxed and inspired, with takeaway tools and actionable advice to continue your wellness journey at home.
RETREAT INCLUSIONS:
Consultation with a COMO Shambhala wellness expert — one every seven nights

Individual treatment plan, prescribed diet and activities schedule for the duration of stay

One wellness treatment per day

Participation in The Estate's daily schedule of activities

Accommodation

Daily breakfast, lunch and dinner

Services of a personal assistant
part 5:
The follow-through
You will have met with Irene O'Neill prior to your trip and set up goals and strategies.
She will be available to you via email, while you are in Bali.
Now that you have returned home, you are not alone- your journey will continue.
4 months coaching to resume upon your return.

Two 1hr sessions each month with email support in between and exploratory assignments for accountability to help deepen the learning from each session.

Resources for further exploration
Food/rooms/gyms
Fivelements Food:
To celebrate "aliveness," Fivelements provides a unique cuisine of plant-based, raw vegan living foods. The exciting tastes, pure flavors, and fresh textures are complemented by the sheer beauty of these artful, colorful dishes. All dishes are made with locally sourced ingredients supporting local farmers and sustainable agriculture, and every bite is a gesture of self-care for mind, body and soul.
Fivelements Accommodations:
Fivelements offers a range of suites right on the banks of the Ayung River. Relax in a private pool, enjoy complimentary breakfast or sit by the balcony and admire the lush green views.
Each riverside suite is housed in a private pavilion fashioned after a sacred spiral and embellished with traditional Balinese 'Songket' textiles and antique touches. Each has a spacious terrace overlooking Bali's sacred Ayung River, with a healing alfresco bathhouse including chromotherapy lighting, air-conditioning, sound system with iPod dock, wifi Internet access, safety box, hairdryer and a generous array of amenities.
Fivelements workout facilities:
N/A
SPA VILLAGE Food:
With captivating views of the Bali Sea, set above the slate-hued beach, the unique setting of the resort's only restaurant offers exciting, flavorful regional Balinese and international cuisine. Resting beneath a thatched roof, the restaurant has no walls, allowing the wind to billow gently through as diners relax and feast on a variety of fresh and tasty cuisine showcasing the best of Bali. Traditional artwork combines with rattan furniture and teakwood tables created by local craftsmen provide a comfortable dining environment, where the dress code is casual.
WANTILAN
Rotating à la carte menus are presented daily for meals with Indonesian fusion and light Western cuisine selections. The versatile menu is constantly refined, adapting dishes to the catch of the day and the seasonal ingredients sourced from local farmers. Organic products, as available, are the first choice ingredients. The plethora of indigenous fruits and flavors is the basis for an extensive exotic drinks menu, not to be missed.

We are happy to accommodate your non-medical dietary needs such as vegetarian, vegan, gluten-free, raw and high protein.
SPA VILLAGE ACCOMMODATIONS:
KAMAR ROOM:
Echoing with the gentle traditions of Balinese culture, each room blends exotic grace with modern comfort. Against the vibrant landscape of the spa resort, rooms are transformed into private havens with each bedroom connecting to marble bathrooms. Beyond the sliding doors of every room lie wide terraces or balconies that open up to views of the tropical gardens.
SURYA AND PURNAMA SUITE:
These spacious suites occupy the upper levels of the spa resort. Surya Suite lies close to the luminescent pool while Purnama Suite fronts the lush garden. Both one-bedroom suites feature a generous living area with stunning balcony views that range from the vibrant bougainvillea and frangipani blooms in the landscaped gardens to the clear blue waters of the Bali Sea.
BARUNA AND SAMUDRA VILLA:
Nestled beneath the shade of palm trees, these one-bedroom villas are sanctuaries of peace, each with their own private entry, outdoor bale pavilion and plunge pool with unobstructed ocean views. The beds in the light and airy bedrooms were lovingly crafted by local artists in a traditional Balinese design with woven ceilings covering the underside of peaked roofs creating an environment of contemporary luxury imbued with serenity.
SPA VILLAGE WORKOUT FACILITIES:
N/A
REVĪVŌ WELLNESS RESORT Food:
Our healthy, local, western and Ayurvedic kitchen, colorful, tasty and flavorsome, is one of our greatest assets and the dishes we prepare will surprise and delight your sense of taste every day of your stay. With recipes based on ancient wisdom and experiences, the meals will be mainly made of organic, seasonal food from the region. Our integrative philosophy means, everything in moderation, as the body loves balance. Let us show you how to turn your everyday food and drinks into - it's easy!
REVĪVŌ WELLNESS RESORT Accommodations:
REVĪVŌ Wellness Resort offers 16 Balinese-style suites with easy access to the facilities of our wellness resort: reception, Remissiō SPA, Moveō Hybrid Fitness area & shop, Nūtriō dining outlets and many more superlative facilities. Our suites include a voile-draped four-posters bed, desk and day bed lounge areas, a sunken bathtub and shower with garden views as well as outdoor dining facilities within either: a private verdant garden, a private courtyard, or a private pool.
GARDEN SUITES
Each Garden Suite is 126 square metres in size and has a private garden where guests can enjoy peaceful meals away from the main restaurant. Each Suite features a voile-draped four-poster bed, desk and day-bed lounging area, while the bathroom features a sunken bathtub.
COURTYARD SUITES
The Courtyard Suites, beautifully designed with alang-alang roofs, are identical in design to the Garden suite with an additional private outdoor shower and their own courtyard with canopied daybed. Guests can enjoy 142m2 of seclusion with panoramic views of the surrounding greenery. There are 2 Courtyard Suites in each 4-suite villa and 2 more at the main villa of the resort.
PRIVATE POOL SUITES
The Private Pool Suites, set at the main villa of the resort, offer exceptional garden views and are all designed with traditional alang- alang roofs.

The spacious bedroom and living area opens onto an outdoor terrace and a private 8.5-metre-long swimming pool.
REVĪVŌ WELLNESS RESORT Workout Facilities:
The MOVEŌ fitness center is spread out among 8,000 square meters of verdant and peaceful land and encompasses: a Yoga Barn, an Aerial Yoga outdoor space, a Meditation Room, a Pilates studio, a Fitness Room with TRX, boxing and kinesis equipment, a 50 meter lap pool for aqua workouts, Jacuzzis, Sauna & Hammam and a 500 square meter landscaped park for outdoor exercises. We believe lifestyle changes require support, perseverance and a balanced and receptive body. MOVEŌ's active programs blend numerous training techniques and therapeutic practices, with both private and small group classes, to cultivate physical, mental and spiritual well-being.
Como shambhala estate Food:
COMO Shambhala Cuisine takes its unique inspiration from the living foods tradition. This maintains the nutritional integrity of the original foods' essential enzymes, vitamins and minerals and allows you to benefit from the 'life force' of specific ingredients—many of them raw, brought from field to table with minimum delay.
Meat based protein is also available at this property.

Como shambhala estate Accommodations:
Unique among Bali wellness resorts, COMO Shambhala Estate feels truly residential, like a home away from home. All of the individual rooms and suites at our Ubud spa resort sit within one of our freestanding Residences. Every room is different, but has access to its Residence's pools, lounge areas and shaded pavilions. For this reason, it appeals not just to those with specific wellness goals in mind, but the dramatic accommodation in villas and suites is suited to couples, independent travelers, groups and families seeking a peaceful holiday.
Como shambhala estate WORKOUT FACILITIES:
A gym is available at Como Shambhala, although it is likely very meager as the focus for physical workouts is more on yoga and pilates.
I have called the property, though, and have confirmed that they do have free weights available for use.
Ubud's monkey forest is certainly the town's most popular tourist attraction. As the name suggests, the forest is a natural reserve, home to some 600 monkeys that climb its trees, as free as monkeys can be. Many monkey species live there but each one has its own territory in the reserve.
You'll most probably melt into the crowd of tourists visiting the forest but we think it's one of Ubud's must-visit attractions nevertheless. There's also a set of rules you need to be mindful of at the reserve so among other things, be sure to:
-Do NOT look the monkeys in the eyes because they think you're provoking them.
-Keep your things with you and make sure to close your backpack, purse, etc. Monkeys are curious creatures; if they spot something lying around, or if they see something shiny or that has a bright color, they will steal it.
-Avoid touching the monkeys, especially young ones. You might think it's obvious but it's something people need to be reminded of. Mother monkeys can be around and will barge in to protect their young.
-Avoid giving monkeys food, apart from the bananas that are sold on the spot. It disrupts their wilderness and they can become aggressive or even dependent upon external food sources.
Located in Ubud, this ridgewalk is a nice way to start a morning.
The Campuhan Ridgewalk is just 10 to 15 minutes away from most resorts in Ubud. This walk involves a short staircase to reach the top of the ridge and that is the most difficult part of the entire walk.
Once on the ridge, you stroll along the rolling hills with views of green around. The walk only takes about an hour to complete as it is not more than maybe a 1.5-mile round trip.
However, in the heat and humidity that is found in Bali, this walk may be a bit gruelling so make sure to pack some water and sunscreen for this stroll.
Pura Tirta Empul is built around a sacred spring with inscriptions dating the holy grounds back to 926 AD. The temple and two sacred bathing pools have been used by the Balinese for over a thousand years for religious ceremonies.
Holy water, or Tirta as the Balinese call it has three important purposes.
The first is Tirta Gering for cleansing evil spirits
Second is Tirta Merta which brings prosperity
Third is Tirta Sudhamala for the purification of mind, body, and soul
Both locals and visitors are welcome to take part in this self-cleaning process, though you should make sure to abide by the rules and do your best to perform the ritual correctly.
-Everyone must wear a sarong
There are also lockers and a changing area available. Women should wear a shirt, preferably one that covers the shoulders and is not see through when wet.
Tirta Empul is located near the small village of Tampak Siring located approximately 15 KM (~9 miles) outside of Ubud.
Ubud Swing at Zen Hideaway
Zen Hideaway is a perfect place if you are looking for serenity and peace, enabling you to enjoy the fresh air and view of Ubud.
The swing is hanging between coconut trees, high atop a hill, which offers you spectacular experience.
As well as Ayung River view, a mini waterfall, rice fields and Mount Agung makes your swing ride thrilling yet addictive.
The price for entrance fee usually is 250.000 IDR per person (about $18).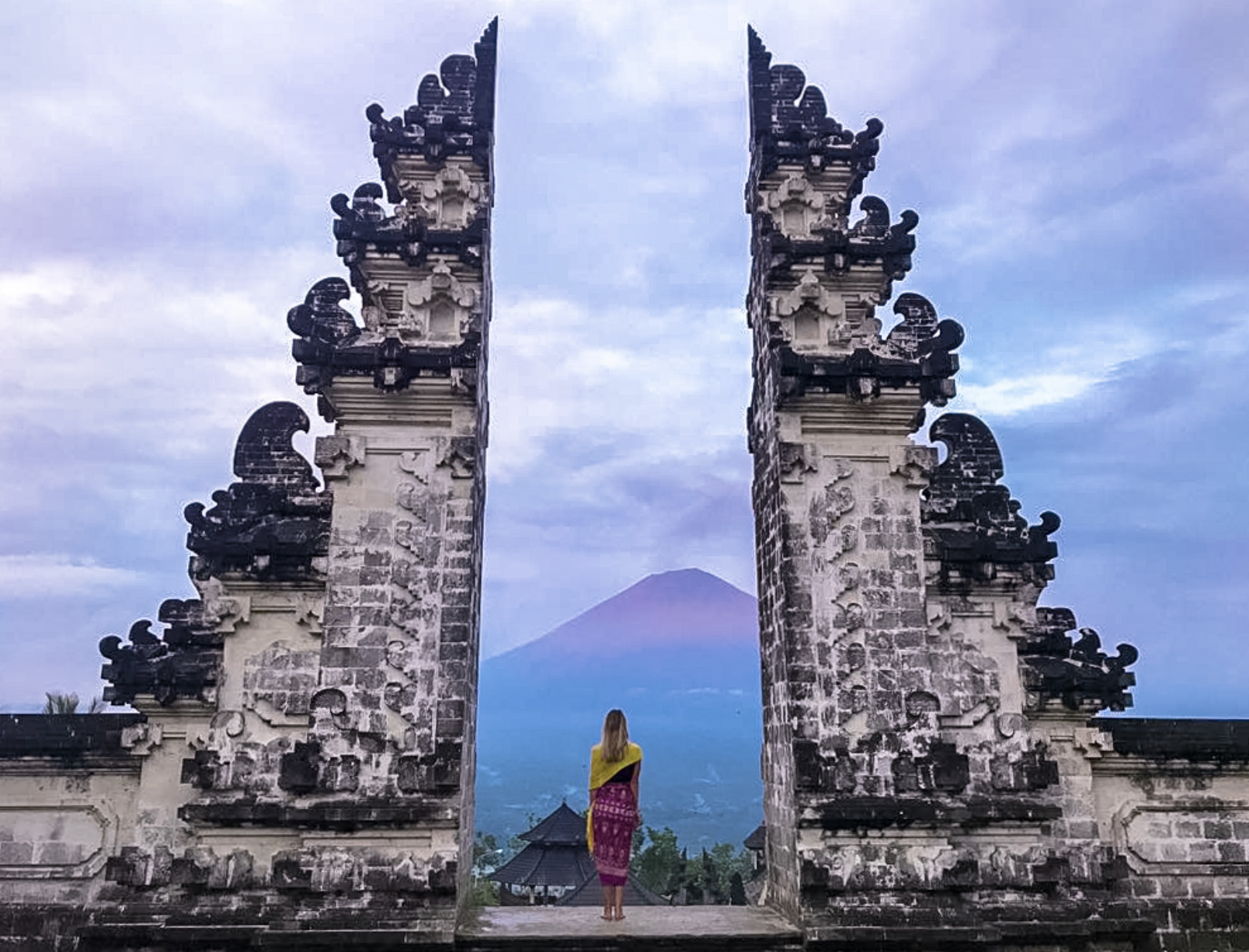 Lempuyang Temple is an older temple in East Bali and located on Mount Lempuyang.
There are a total of seven temples in this complex yet everyone tends to go to the first one, the "Gateway to Heaven." We can see why as you're high up on the mountain overlooking the area!
If you have the time and endurance, consider visiting all of the temples for the full experience.
-Everyone must wear a sarong.
-Women who are on their menstrual cycle cannot enter the temple.
-Yoga poses and kissing is not allowed in the temple.
Lempuyang Temple is located approximately 70 KM (~44 miles) outside of Ubud.
Goa Gajah's name is slightly misleading, lending the impression that it's a gigantic dwelling full of elephants. Nevertheless, Goa Gajah 'Elephant Cave' is an archaeological site of significant historical value that makes it a special place to visit.
Located on the cool western edge of Bedulu Village, six kilometres out of central Ubud, you do not need more than an hour to descend to its relic-filled courtyard and view the rock-wall carvings, a central meditational cave, bathing pools and fountains.
Goa Gajah is located approximately 6 KM (~4 miles) outside of Ubud.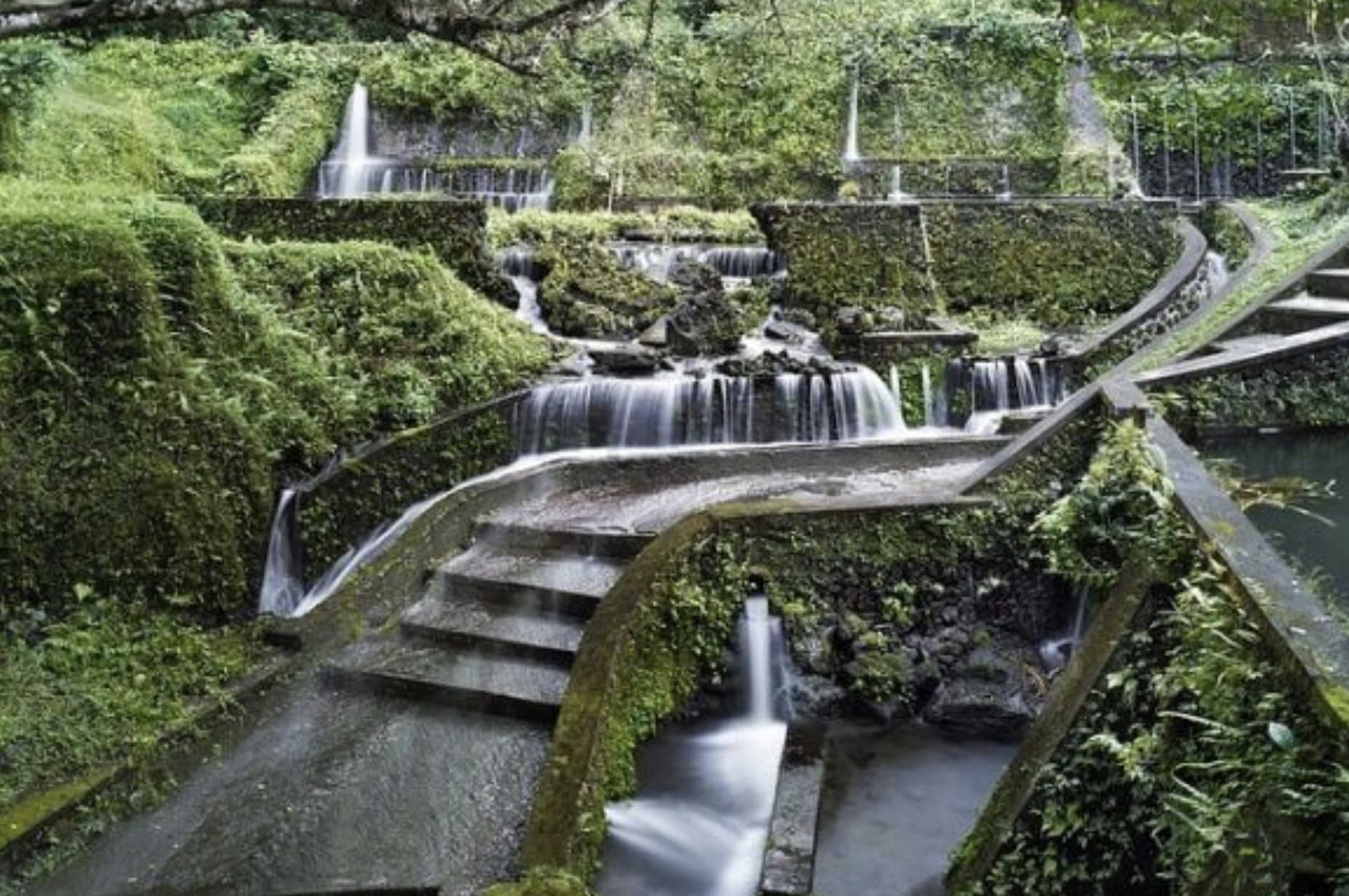 Pura Mengening Tampak Siring
One of Bali's best-kept secrets, Mengening temple is a natural wonderland that every traveler to Bali should explore.
Pura Mengening Tampak Siring is near to the more popular Tirta Empul, however is much quieter and sees very few tourists.
The serenity of the temple makes a welcome respite from the busier, more popular ones. This temple with its' local people, including the children who visit to quietly socialize, clean their bodies and purify their souls displays the joy of life that you so often see among the Balinese people.
The women's pool is separate to the men's pool, each having their own set of purifying spouts plus a natural fall of water. In the men's pool however it is worth a quick visit to see the waterfall they are required to stand under for their final stage of the cleansing process.
-Everyone must wear a sarong (bring your own- this temple does not provide sarongs for rent)
Pura Mengening Tampak is located near the small village of Tampak Siring located approximately 15 KM (~9 miles) outside of Ubud.
Gunung Kawi Temple complex, locally referred to as Pura Gunung Kawi, is one of Bali's most unique and most awe-inspiring archaeological sites, comprising a collection of ancient shrine reliefs carved into the face of a rock cliff.
This Balinese temple is built into a steep valley overlooking the Pakserian River. Just up the road, this river also snakes its way past the sacred Pura Tirta Empul.
More than 100 steps will lead you through the temple where you will find dozens of ancient shrines and alters dating back to the 11th century.
The lush landscape is made even more spectacular by the green rice paddies and moss covered statues that dominate this temple complex.
Gunung Kawi is located near the small village of Tampak Siring located approximately 15 KM (~9 miles) outside of Ubud.
Visiting a Healer in Bali
For several years it has become the "in thing" for tourists to pay a visit to a healer during their holiday in Bali. With the release of the film based on the wildly popular book, "Eat Pray Love," in August 2010, the demand exceeded all boundaries. I have been told that the top hotels in the Ubud area are expected to know directions to the home of the person featured in the book. But how many of these tourists bother to learn even the protocol regarding such a visit, or learn even the most basic Indonesian language in order to greet them?
I have been asked to translate for visitors to Balians by those who landed in Bali two days prior, with no background in Bali-Hindu culture or religion, something the anthropologists and historians have written volumes about. The challenge is how to present what they are hearing and experiencing into a larger context?
Basic Facts about Balians

Balinese trade information about Balians with skill and charisma, because they do not believe in anyone who is a self-proclaimed "healer." There are bogus practitioners, some of whom are quite famous. Most Balians were "chosen," and it is not something they chose. Most discovered their gifts in the course of trying to heal themselves. Balians do not advertise, draw attention to themselves or like to be addressed as a Balian, as this can invite jealousy and bad feelings.
Balian Etiquette
Balians receive their gifts from the spirit, as well as through study based on Bali Hindu philosophy. They credit this spirit with giving them their gift of healing. Others become Balians through a very long and intensive study and initiation from a well-known healer or high priest or priestess. They are the Balinese equivalent of a "doctor," who has to follow an etiquette and moral code, not so different from a modern Western doctor.

Healers are not regarded as movie stars or celebrities (so don't treat them like one).

There are so many types of healers who work on specific problems, from broken bones to broken hearts, mental disorders to "mysterious" problems, so choose one that is appropriate for you.

Expect that it will be a process, and expect to receive several treatments at least and that you might have to change Balians if one does not work. (It is not an instantaneous process, so don't expect to be healed on your way to the airport.)

Typically, Balinese bring an offering to a healer, with a donation of appreciation inside. At the conclusion of the day, the healer dedicates this offering to their spirit in the family temple. Be generous.

Balians are regarded a status similar to priest. Consequently, if you visit one, you should show respect by dressing in a sarong and temple scarf.

Remember always to give your offering with your right hand, and never point the bottom of your feet at Fe.the healer. Never ever touch their head or face, which is the most sacred part of the body.
Dos and don'ts when visiting a balian
1. Ask yourself first if you actually need to be healed
The internet is littered with blog accounts of those who have gone to see a Balian because they are "curious" or as one woman writes, "A medicine man on the side just seemed unique and adventurous". Balians are not a side show, and it is unfair to take up their valuable time unless you are genuinely in need of healing.
2. Dress respectfully
A skimpy sun frock or tattered Bintang singlet is not appropriate attire. Depending on who the healer is, you may need to wear a sarong and temple sash, or at the very least cover your arms and legs. Find out before you go. And don't point your feet at a Balian, as feet are considered unclean.
Balians are not a side show, and it is unfair to take up their valuable time unless you are genuinely in need of healing.
3. Make an appointment
Some Balians will only be seen by appointment; others you can just turn up and wait. Again find out before you go.
4. Payment
Never hand money direct to a healer. Inquire first if payment is by donation or a fee, and place it in an envelope or a canang (flower offering) and leave it with a member of the family or in the family temple.
5. Choose your Balian wisely
Balians work with different maladies, so it is best to find one that specializes in your particular ailment, and follow personal recommendations. Healing is a booming industry in Bali, and one which has its fair share of charlatans.
Some of the island's better-known balians
Pak Sirkus: Not for the faint-hearted! As the saying goes, "First he hurts you and then you feel better." Pak Sircus specialises in problems associated with muscles and bones.
Jalan Subak Sari, Berawa + 62 361739538.
Pak Made Partha: Generally works with vigorous deep-tissue massage, ideal for sports injuries, back problems and sprains. He can also set broken bones.
Banjar Bantan Buah, near Ubud + 62 81338430224.
Cokorda Bagus Astawa: A traditional Balinese healer who specialises in readings and mystical illnesses. He works with herbal tinctures and massage and energy healing to remove blocks.
Singapadu, Gianyar +62 81338533037.
Pak Man: One of the island's better-known energy healers, Pak Man mostly works with healing massage and makes his own medicinal oils. He treats everything from depression to diabetes, drug addiction, black magic and broken bones.
Ubud, + 62 81338935369.
Ida Resi Alit: Bali's youngest high priestess can be found in Bangli and offers ritual water purification ceremonies that will leave you feeling spiritually cleansed.
Ibu Jero: A high priestess descended from five generations of healers, Ibu Jero specialises in energy cleansing and Balinese shamanic massage. She also offers a healing melukat ceremony which includes a blessing, offering and chakra clearing ritual to cleanse the mind body and spirit. A minimum of five people are required.
Jimbaran
, +62 81337649367.
Fivelements: A serene eco resort in Mambal with several powerful Balinese healers on site, each descended from a long line of healers. Chakra balancing sessions with Pak Dewa are particularly powerful.
Mambal +62 361 569206.
Floating Leaf: Specializes in customized retreats, including a five-day transformational healing retreat that incorporates a purification ritual, healing blessing ceremony, and session with a Balinese healer specifically chosen according to your particular ailment.
Sukawati +62 8113891842.
FAQ
Best Time to Visit Ubud, Bali
The high season for tourist to Bali is in July and August. The second busiest period to visit in then from Christmas to New Year's Eve.
The best time to visit Bali is May, June, September therefore around the busy period, but avoiding the rainy season which is October to April. The rain season is typically a monsoon season which can mean strong winds and heavy rain.


Language
Bali is a part of Indonesia; for this reason, the official (and dominant) language is Indonesian. However, you'll still hear Balinese (a Malayo-Polynesian language) being spoken by some locals. Because international tourism plays a key role in Bali's economy, English is widely spoken in larger towns and cities. That means you shouldn't have a problem getting around, purchasing souvenirs or ordering food.
Currency
The currency in Bali is the Indonesian rupiah. Since the rupiah to U.S. dollar exchange rate fluctuates, be sure to check what the current exchange rate is before you go. Also, keep in mind that because the large numerical difference can be confusing for foreigners, locals sometimes ask for unreasonable prices and can trick travelers into coughing up more cash than they need to. For reference, $1 is equal to approximately 14,330 rupiah.
Cash
Cash is still an important form of payment in Bali. So make sure you carry enough with you to pay for your small shopping, transportation and food & drinks. The 100,000 bills are only useful if you intend to buy a high-priced item or spend a lot of money at the same place. Most small shops and street sellers will struggle to make change, so 50,000 and 20,000 Rp notes will be the way to go.

Cash Tips
Most resorts and hotels accept credit cards but most times smaller places like guesthouses or homestays do not.

Check before hand if a store or restaurant accepts credit cards and if indeed their card swipe machine (EDC) is working.

Hold on to a few Rp. 500 and Rp. 1,000 coins and forget about the smaller ones. They take up space and are hardly worth their weight. Don't be surprised if at a supermarket your change of money includes a few pieces of candy instead of Rp. 50 or Rp. 100 coins.

Always carry a bit of cash with you. It will come handy when you decide to buy a coconut, grilled corn on the cob or a sarong on the beach. Tipping the staff at the hotel, spa and restaurant is also usually done in cash.

Your cash is king at markets, food stalls and small shops. Do not expect to be able to use your credit cards here.
Credit Cards
More and more restaurants and shops do accept credit cards nowadays - particularly in the touristic areas it's gaining ground a lot. But do not rely on your credit card as you would in a western country. Cash is in many cases the only acceptable way of payment. Particularly in remote areas a credit card will be of little use to you.

Visa and MasterCard are the most accepted credit cards in Bali. Some hotels and restaurants do take Amex, Diners Club even less.

Keep in mind that very often there will be a 3 to sometimes even 5% surcharge on credit card transactions. This is, because the credit card companies keep that percentage for themselves, and the vendors on Bali will charge that fee back to their customer.

ATMs
Read the article above for important information.
Also- Always put your hand above the keypad when typing your code. ALWAYS!
Tipping
Tipping in Bali is considered to be a foreign concept. Although it isn't mandatory to tip for every service you avail, the tips are nevertheless appreciated. On the other hand it is important you understand that workers in the service industry are paid extremely low wages, with the bulk of the earnings going into the owner's pocket. You might just make someone's day by tipping him/her for the services offered when you're visiting Bali. In light of this mentioned below is a detailed tipping guide highlighting what you need to know about how to tip for different services.
TIP $2-$4 at a hotel

At a restaurant TIP 2%-5%

TIP $1-$5 at a Spa

Tip your tour guides $5-$10

Round up your taxi fare

Entry & Exit Requirements
Your U.S. passport must be valid for at least six months from when you enter the country and have at least two blank passport pages.
Upon arrival, you must obtain a visa exemption or a 30-day visitor visa upon arrival at the airport in Bali for $35. The visa exemption allows tourists in the country for up to 30 days (and absolutely no longer); the temporary visa applies to tourist and short business trips only and can be extended if necessary.


Vaccinations
While there are no required vaccinations to visit Bali, we do recommend reviewing this link and considering some vaccinations.
ELECTRICITY
220 Volts, 50Hz. Electrical plugs are two-pronged 'Europlug' type.

Getting to Ubud, Bali
Most resorts in the area organize transportation from the airport (DPS) to the resort. If not, we will arrange transportation on your behalf.
The transportation from DPS to Ubud takes approximately 1 hour, but upwards of 2 hours if the traffic is bad. Which, more than likely it will be.


Dress Etiquette
Dress modestly before entering a temple in Bali. Temple guests are expected to wear shirts that cover shoulders and part of the upper arms. The waist and legs should be covered by a temple scarf (known as a selendang) and a sarong (known locally as kain kamben) respectively.

Environment & People
Bali is a fragile island. Trash, Water and Traffic are big problems, like in any other part of the developing world. Help by being a conscious consumer

Try to take short showers and avoid wasting water.

Everything you throw away stays on Bali or will be washed into the sea. Affective rubbish management in this part of the world is not really existing.

Plastic is problem no. 1. Avoid plastic bottles, straws, plastic bags when shopping.

Most workers you will meet have a salary of around 130 to 150US$ per month and work hard for their money, travel long distances and share their income with other family members.

Balinese are super friendly and welcoming. They are also proud and are happy if you respect their customs and island.

Being angry and shouting is not appreciated. If you have a complaint, be polite, calm and insist on a solution in a friendly manner if you wish to get any result.





bartering
If you're shopping at any one of Bali's markets, bargaining with street vendors is a must. But it's also nice to respect and value their work, effort, and services, and to pay fair prices. Live and let live!


Travel In Ubud
Private Driver
We can certainly arrange private transportation and driver for you throughout Bali, and even for your day trip excursions.
We've found this to be a safe and secure option, leaving little to question including where and how to find a driver on the spot, and how to calculate driving fees.

Taxi
The most honest taxis in Bali are the blue taxis marked "Bali Taxi" (known as Blue Bird Taxis); everybody else is hit or miss.
They're so honest, other taxi operators hate their guts and collude with some hotels to exclude Bluebird taxis from their area. Catch a Bluebird taxi in Bali if you can.
Bali Taxi Tips
Riding a taxi in Bali works the same way as everywhere else—you hail a cab, get in, and tell the taxi where you're headed. But here are a few tips you may want to keep in mind:
Take the traffic situation into account. Bali's traffic seems to get worse by the week, particularly fares from the airport. Look up possible detours before getting in the taxi.

Ask the driver to repeat your destination to you, or otherwise ensure that he knows your destination.

Explain your preferred route to the driver, if you have one.

Make sure the driver uses the meter; say so at the beginning of the trip. If he doesn't use the meter, he may just be getting ready to gouge you at the end of the trip. If he refuses to use a taxi or makes an excuse, get out and hail another cab.
If the taxi driver offers to wait for you at your destination, consider it. Some places do not get a lot of taxi service, so it might be handy to have a ride ready for you when you're set to leave. Agree beforehand if you want him to keep the meter running while he waits, or if he's willing to settle for an hourly fee. IDR 50,000 (about US$4) is a good upper limit.

Keep spare change handy. Drivers often claim not to have any change for the fare, so they can then pocket the excess.

Scooter
Scooters are really popular in Indonesia, and you can rent one for a day for around 30,000-50,000 IDR (just a few dollars!) Lots of tourists ride them and no one travels all that fast. Saying that, there are accidents frequently and police crack down on tourists who aren't obeying the rules.




Uber- AVAILABLE BUT NOT RECOMMENDED
The taxi service, Uber works in Ubud and generally works out significantly cheaper than local taxis. Locals haven't embraced the service, and as a result they're not permitted in some areas. You may have to choose a pick up location away from major hotels or shops.
WE DO NOT RECOMMEND GETTING INTO UNMARKED CARS WHILE TRAVELING

Drinking Water
Drink a lot of water to avoid getting heatstroke… just don't get your water from the tap. Bali tap water is often blamed for many a bad case of "Bali belly," so avoid it entirely. Stick to canned drinks or bottled water.

I can highly recommend the Grayl Purifier. This is what I use when I travel - and I travel to some pretty out of the way places. This is hands down the best (and easiest) filter on the planet.
REMEMBER- even the water you brush your teeth with, needs to be purified or bottled water. Most resorts have a purification system, but I never trust that it's clean enough.

Ice cubes in restaurants are generally safe and government controlled.
Don't Do Drugs- Don't even TALK about Drugs
Bali's drug laws are very strict and should not be trifled with. Indonesian Law No. 35/2009 lays down harsh penalties for drug users caught with Group 1 drugs like marijuana, heroin, and cocaine: you can get life imprisonment for possession or the death penalty if you've been convicted of trafficking in drugs.
Pro Tip: Parts of Kuta (in the south of Bali) are still rife with drug dealers, or narcotics officers pretending to be dealers. Tourists walking through often get whispered solicitations for drugs. If you get one of these whispered sales pitches, walk away. You might end up a hapless victim of a drug sting!
Caution
When it's raining the sidewalks can be extremely slippery

Sidewalks can have large and deep holes, that can't be seen at night.

Currents in the sea can be dangerous, and change depending on the weather and wind conditions; also good swimmers have drowned on Bali

Night swimming (under the influence of alcohol and drugs) seems like fun, but will most likely lead to Bali being your last destination.

Kuta and Legian Clubs and Bars can get rough at times. Some security guys here might not be as calm and objective as you expect at times. Don't trust the security guys. They are often part of the problem and not part of the solution

Balinese are open-minded but they don't like disrespectful and loud behavior, somebody touching their head, overly public display of affection.
Mosquito Repellent
Use mosquito net and repellent when possible. Dengue fever is widespread.
I highly recommend Sawyer Picardin lotion (not the spray). This can be purchased online or at REI or Cabella's.
We found that 1 bottle (when applied once, daily) lasted about 2 weeks.

EMERGENCIES
In case of emergencies, dial 110 for police and 118 for ambulance.


Safety and Security
Since 2002, Indonesian police and security forces have disrupted a number of terrorist cells. Although extremists in Indonesia continue to aspire to carry out violent attacks against Indonesian and Western targets, police have arrested more than 1,700 individuals on terrorism-related charges since 2002 and have greatly reduced the capacity of domestic terrorist organizations. Extremists may target both official and private establishments, including hotels, bars, nightclubs, shopping areas, restaurants, and places of worship. Whether at work, pursuing daily activities, or traveling, you should be aware of your personal safety and security at all times.
Recent incidents of extremist violence include the May 2018 bomb attacks against three churches in Surabaya that killed 15 civilians and injured 50 more, and an attack in January 14, 2016, by terrorists using guns and explosives attacked near the Sarinah Plaza in Central Jakarta, which killed four civilians, including one foreigner, and injured 17 others. In 2002, more than 200 foreign tourists and Indonesian citizens were killed by a bomb in Bali's nightclub district.
Demonstrations are very common in Jakarta, Surabaya, and other large cities, but less common in Bali. You should avoid demonstrations and other mass gatherings, since even those intended to be peaceful can become violent. Demonstrations may become more frequent ahead of the Indonesian general elections scheduled for April 2019.
Currently, travel by U.S. government personnel to the provinces of Central Sulawesi and Papua is restricted to mission-essential travel that is approved in advance by the Embassy security office.
Crime: Pick-pocketing, theft, armed car-jacking, and residential break-ins are common. Avoid traveling to isolated areas late at night. Beware of your surroundings, particularly vehicles or individuals that might be following you.
Use a reputable taxi company or hire a taxi either at a major hotel or shopping center. Travelers have been robbed in taxis that have been painted to look like legitimate taxis.
Credit card fraud is a serious and growing problem in Indonesia. Avoid using credit cards when possible. Criminals have "skimmed" credit/debit cards to access and drain bank accounts. Use an ATM in a secure location and check the machine for evidence of tampering. Monitor your account statements regularly.
Tourists and Indonesians have suffered from serious illness and have even died from "drink-spiking" and drink poisoning incidents, particularly in clubs and nightspots in urban and tourist areas.
See the Department of State and the FBI pages for information on scams.
Victims of Crime: Victims of sexual assault should seek prompt medical assistance, contact the Embassy, and call the local police at 112. For a criminal investigation to be initiated by the police, the victim must make a full statement to the local police, in person.
See the webpage on help for U.S. victims of crime overseas.
The US Government can:
help you find appropriate medical care.

assist you in reporting a crime to the police.

contact relatives or friends with your written consent.

explain the local criminal justice process in general terms.

provide a list of local attorneys.

provide our information on victim's compensation programs in the U.S.

provide an emergency loan for repatriation to the United States and/or limited medical support in cases of destitution.

help you find accommodation and arrange flights home.

replace a stolen or lost passport.





U.S. Consular Agency Bali
Jalan Hayam Wuruk 310, Denpasar, Bali
Telephone: +(62)(361) 233-605
Emergency After-Hours Telephone: Please contact the U.S. Consulate in
Surabaya:+(62)(811) 334-183
Fax: +(62)(361) 222-426
Email: CABali@state.gov
Registration form
*Price per person based on double occupancy
Please type Carefully! Inaccurate information will result in travel delays and/or airline change fees.
Travel Insurance
TRAVEL INSURANCE - AVAILABLE FOR ALL PASSENGERS - DUE WITH FIRST PAYMENT
Zone Travel LLC strongly suggests purchasing Trip Cancellation insurance. Be sure to check with your healthcare provider as most U.S. medical coverage will not cover you outside of the country.
Insurance costs are based on the total package cost, including air taxes and charges listed under "Included."
Approximate amounts can be given at time of reservation in order to purchase the appropriate amount of insurance.
BASIC PLAN:
Your may think you can't afford both the fun and the insurance to protect it. The Basic Plan is so affordable that you can have it all, while still staying in a budget. The plan offers existing medical condition coverage and 24-hour assistance services, allowing you to purchase your trip with complete confidence.
Trip Cancellation: Trip Cost
Trip Interruption: Trip Cost
Emergency Medical/Dental Coverage: $10,000.00
Emergency Medical Transportation: $50,000.00
Baggage Coverage: $500.00
Baggage Delay: $200.00
Travel Delay: $300.00
Travel Delay: $150.00
24-Hour Hotline Assistance: Included
CANCEL ANYTIME:
You can enjoy the extra flexibility of knowing you can cancel your trip for almost any unforeseen reason that the Classic plan does not already cover at 100% and receive 80% of their non-refundable trip cost back in cash. With features like comprehensive trip cancellation, primary emergency medical coverage and 24-hour travel assistance, the Classic with Cancel Anytime plan is there if life throws an unexpected wrench in your travel plans. Plan must be purchased within 10 days of the first payment date and must cover the full non-refundable trip cost ($10,000 maximum).
Trip Cancellation: Trip Cost
Trip Interruption: Trip Cost
Emergency Medical/Dental Coverage: $25,000.00
Emergency Medical Transportation: $500,000.00
Baggage Coverage: $1,000.00
Baggage Delay: $300.00
Change Fee Coverage: $250.00
Frequent Flyer Miles Redeposit Fee: $250.00
Travel Delay: $800.00
Missed Connection: $800.00
24 Hour Hotline Assistance Plus: Included