Everett Family Vacation
10 days through Iceland, England and Copenhagen
June 4-14, 2018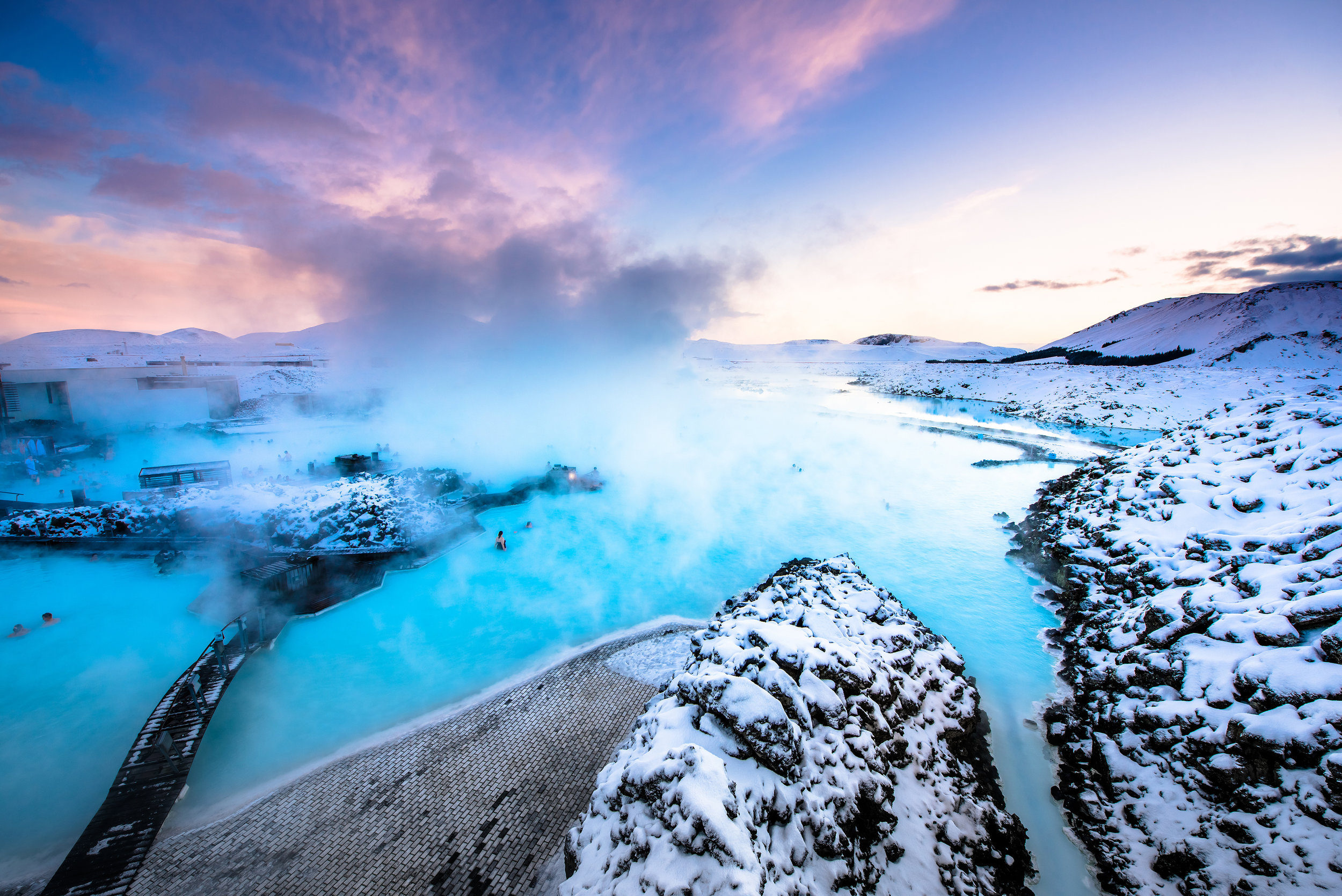 Price per person:
PAID IN FULL
Includes airfare, car rental, hotel accommodations, tours and more.
Beautiful landscapes, amazing adventures, history and culture await you on this European journey!
Today you embark on your journey to Europe!

First stop... Iceland!
Your flight leaves just after midnight, so be sure to make your way to the Cleveland airport on Sunday evening.

You'll arrive in the afternoon, so check into your hotel and explore the Golden Circle!
Your bungalows will be perfectly situated across from the entrance to the geyser!
Geysir Strokkur
All other geysers are named after Strokkur!
See the lively geyser erupt roughly every 5-10 minutes and reach a height up to 25 meters along with observing the other geothermal features of the area.
One of the great benefits of this location, is the ability to watch the geyser erupt in the evenings, after the crowds have gone. Witness this unique sight all on your own!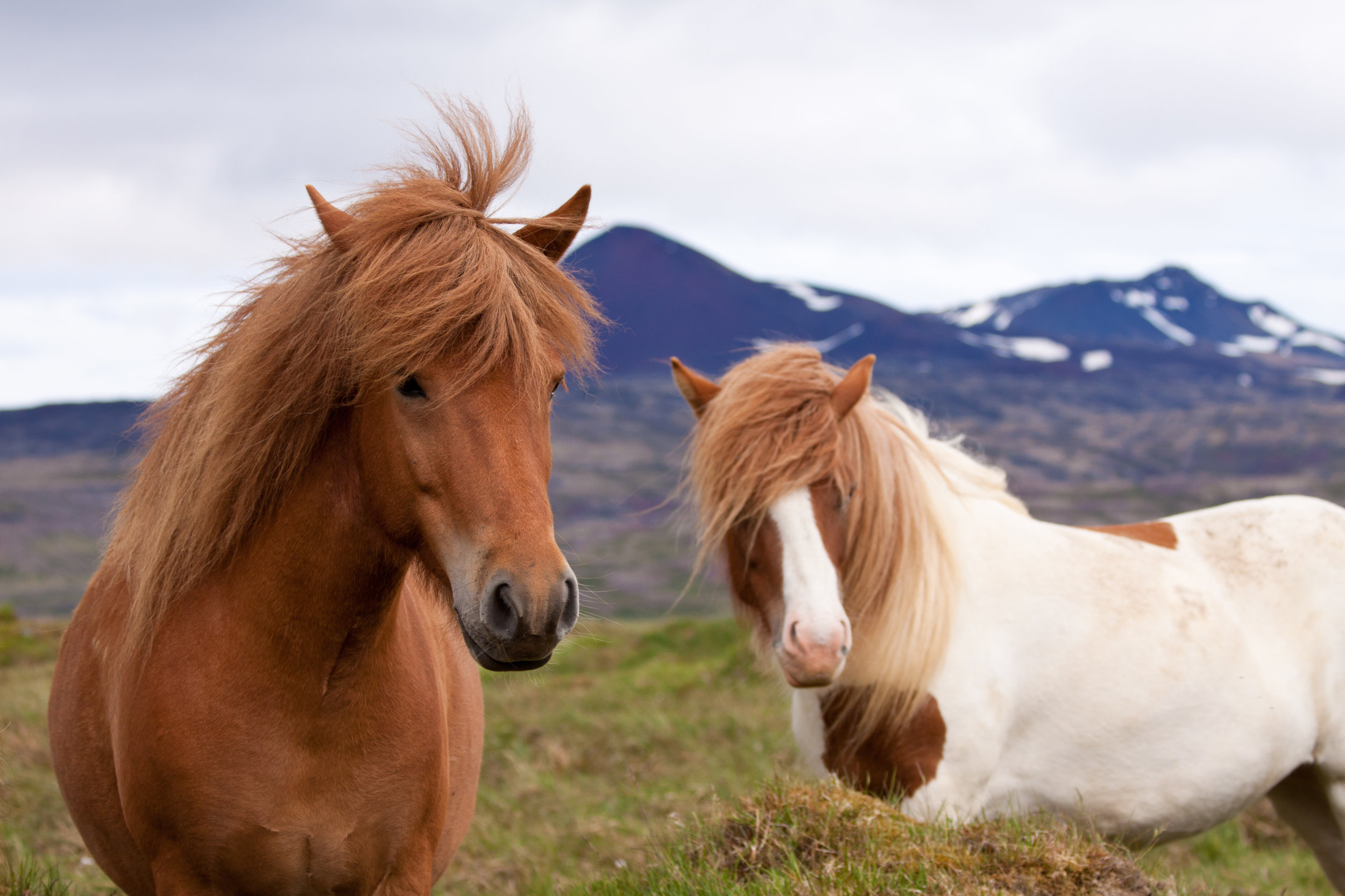 June 5:
Icelandic Horseriding
Gullfoss Waterfall
For all those interested in trying the Icelandic horse, a trek on the hardy, sure-footed Icelandic horse is an experience to remember.
Whether you are a beginner or expert, these friendly horses with their alert and willing nature are indeed a pleasure to ride in their natural surroundings.
Riding to Gullfoss waterfall can give an ultimate satisfaction if you're looking for nothing but the best panoramas. First, this ride goes along the majestic canyon of Hvítá river, then takes to the waterfall itself.
At Gullfoss horses have a little break while our guests can admire the waterfall or have a cup of coffee in Gullfoss Cafe.
After your horseback riding adventure, use your rental cars to explore the Thingvellir National Park before returning home to soak in the natural hot springs close to the resort!

Thingvellir National Park and UNESCO Heritage site
Get a close look at how the tectonic plates drifted apart and on where the first settlers of Iceland founded the world´s oldest parliament Althingi (Alþingi) in the year 930.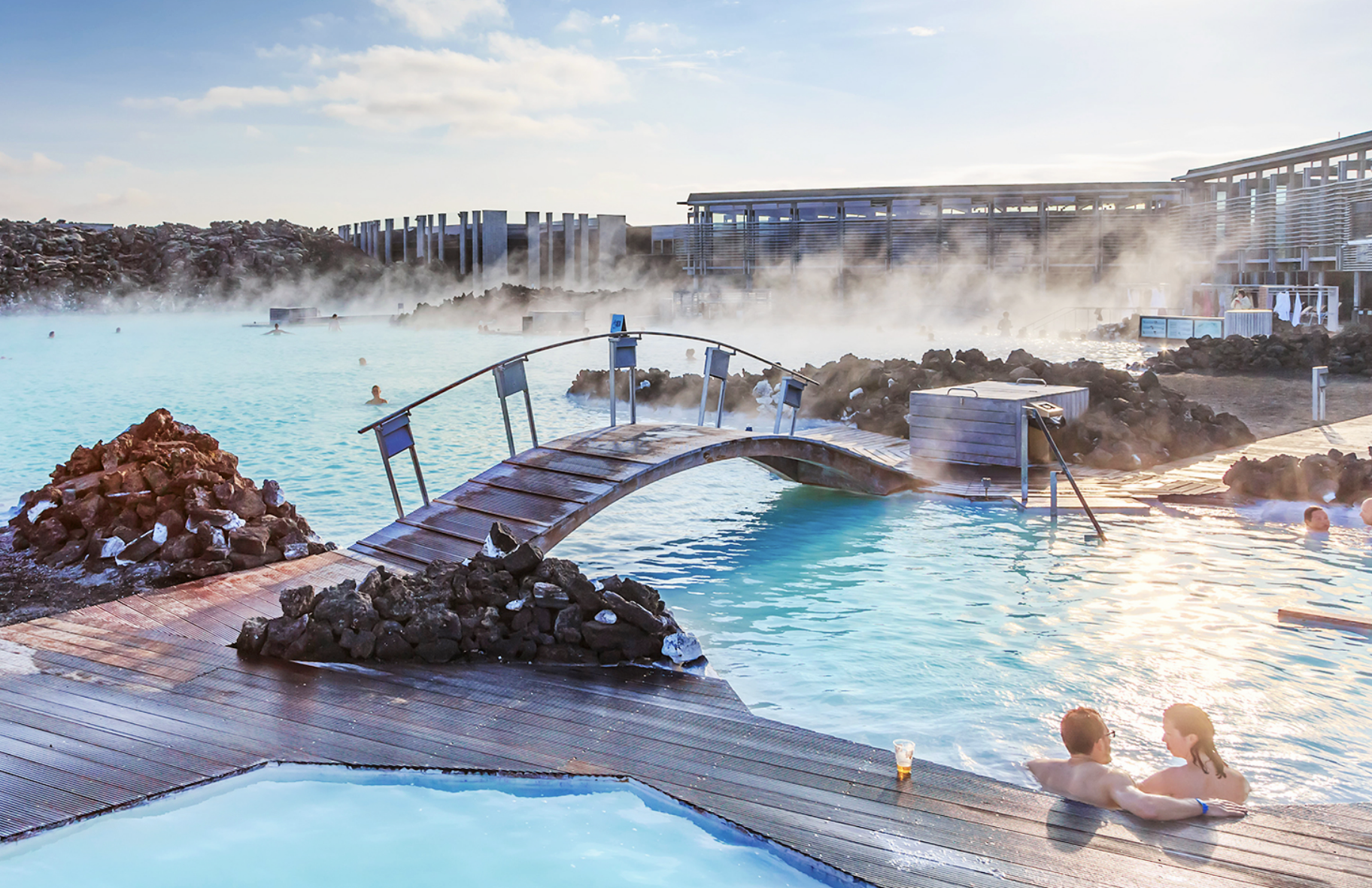 june 6:
Explore Reykjavik
Blue Lagoon
Today is your day to explore Iceland!
Your rental cars will allow you to drive at your own pace.

While we do have tours available if you would prefer a guide to help you navigate... we suggest making sure that you see these major destinations at your doorstep!

Hallgrímskirkja is a Lutheran (Church of Iceland) parish church in Reykjavík, Iceland.
At 74.5m high, it is the largest church in Iceland and among the tallest structures in Iceland. The church is named after the Icelandic poet and clergyman Hallgrímur Pétursson (1614–1674), author of the Passion Hymns.
Click Here for more information on Hallgrimskirkja.
Sun Voyager is a sculpture by Jón Gunnar Árnason, located next to the Sæbraut road in Reykjavík, Iceland. Sun Voyager is described as a dreamboat, or an ode to the sun. The artist intended it to convey the promise of undiscovered territory, a dream of hope, progress and freedom.
Click Here for more information on the Sun Voyager.
The Settlement Exhibition Reykjavík 871 +/- 2 is an exhibition on the settlement of Reykjavík, Iceland, created by the Reykjavik City Museum. The exhibition is based on the archaeological excavation of the ruin of one of the first houses in Iceland and findings from other excavations in the city centre. The focus of the exhibition is the remains of a hall from the Settlement Age which was excavated in 2001. The hall was inhabited from c. 930–1000. North of the hall are two pieces of turf, remnants of a wall which was clearly built before 871±2, hence the name of the exhibition.
Click Here and Here for more information on The Settlement Exhibition.
Aurora Reykjavik - where the Northern Lights are always on display!
Aurora Reykjavík is Iceland's first educational and recreational Northern Lights Center.
Myth and Stories
Take a walk through history and learn how people and cultures around the world saw the Northern Lights via legends and myths connected to this amazing phenomenon.
Click Here for more information on Aurora Reykjavik.
After you have enjoyed Reykjavik, continue to Iceland's famous Blue Lagoon, a geothermal spa surrounded by lava-sculpted countryside.
Choose the type of entrance package you desire
(at your own expense)
(Comfort Ticket is the basic package)
Then, enjoy a long soak in the warm, therapeutic waters, lying back in the steam and admiring the lava fields as you bathe.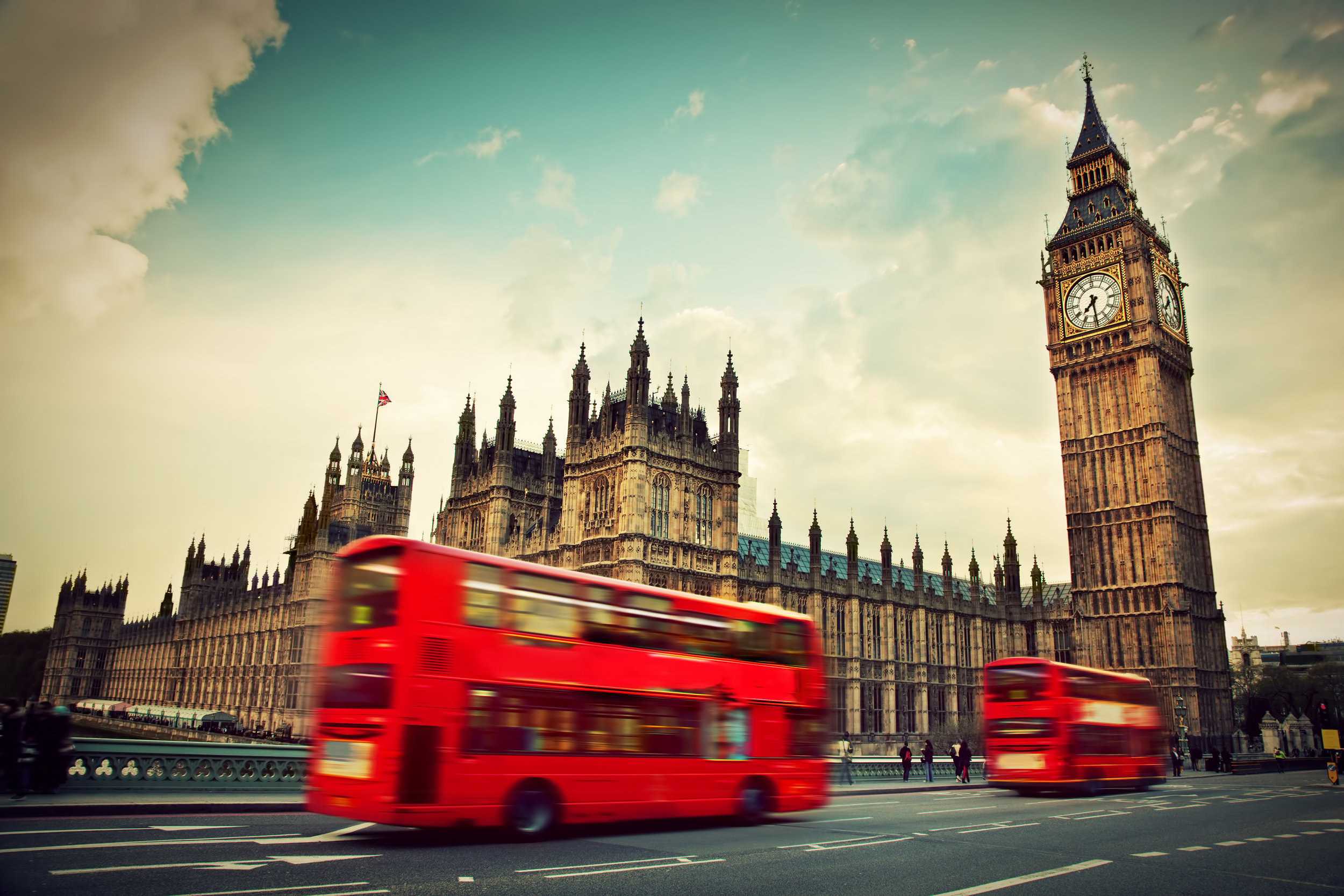 june 7:
Depart/ Arrive in London
This morning, you'll check out of your accommodations, and drive to the airport for your flight to London.

When you arrive, check into your central London hotel and begin exploring the city!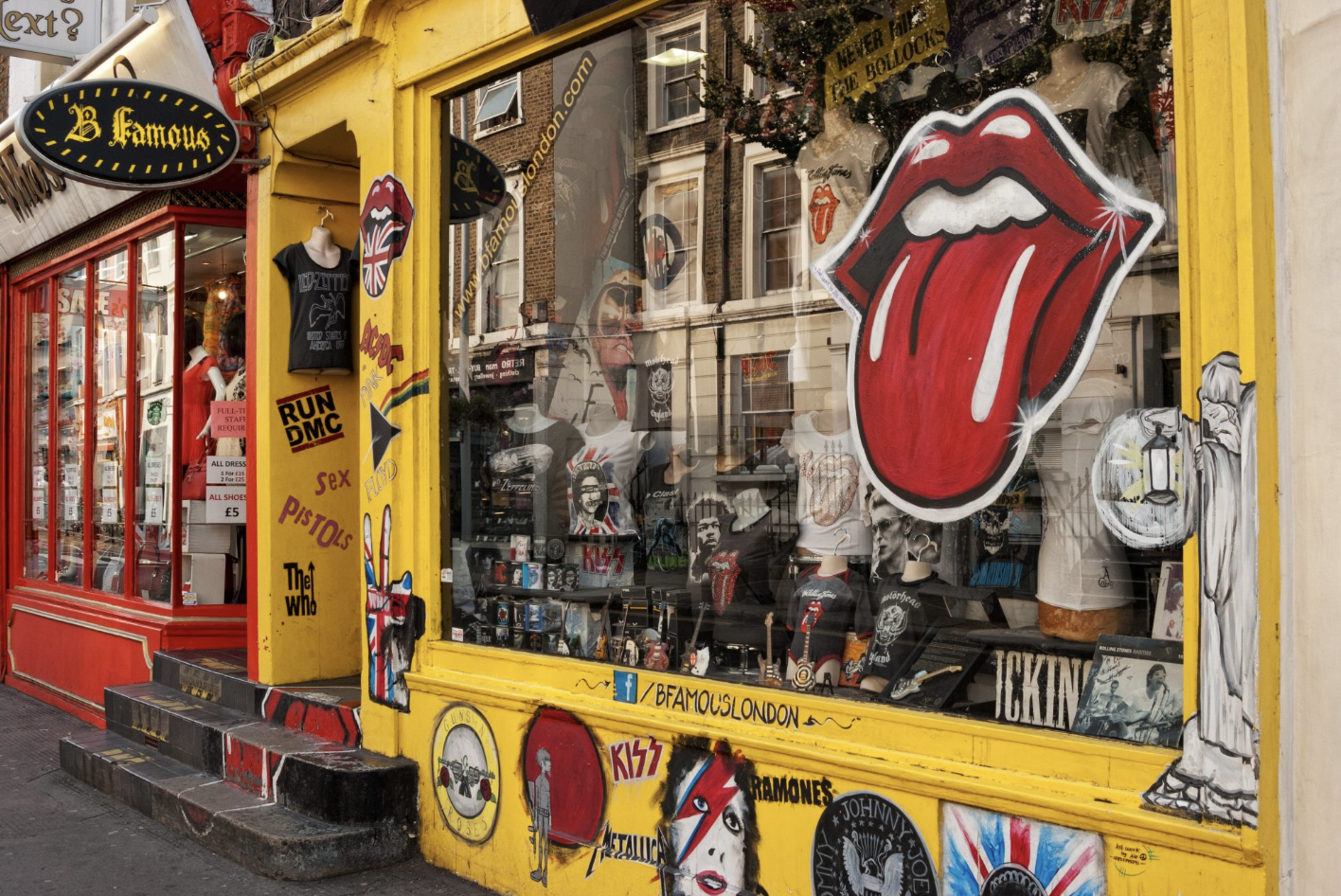 june 8:
London Rock Music Tour
and/or
Beatles Evening Tour
Music lovers! This is the ideal way to discover London's rock music history.

Your small-group tour (maximum 16 people) will cover everything from rock 'n' roll landmarks in bohemian Soho to the north London neighborhoods of Camden Town, Hampstead Village and Heath, Muswell Hill, Archway and Islington.
Itinerary:
9am Morning Tour (3.5 Hours):
Take a tour through historic London neighborhoods including Soho, Islington and Camden Town, and discover where many of the wild adventures in the history of rock 'n' roll took place. Pass Paul McCartney's Golden Disc-covered office and the flat where he wrote the Beatles hit song 'Yesterday.' You'll also see the flat shared by the Fab Four and walk across the famous Abbey Road crossing outside the recording studio.

Stop by 'Tin Pan Alley,' where the Rolling Stones cut their first disc, and check out the Pink Floyd studios. Sites of other famous events include the place where Jimi Hendrix burned his first guitar, where Jimmy Page cut his first disc and where Amy Winehouse lived and died. Pass more than 50 additional sites connected with U2, The Clash, the Sex Pistols, Queen, The Who, Zombies, Madness, Elton John and more.
june 9:
745a - 8p: Stonehenge, Windsor Castle, Bath, Pub Lunch in Lacock
Start with a pickup in central London, and travel out of the city to visit majestic Windsor Castle. Be one of the first visitors of the day, and beat the crowds as you explore the elegant State Apartments and St George's Chapel with your guide. The castle is one of the Queen's weekend retreats, and is the perfect place to experience some 900 years of pageantry at your own pace.

Continue onward to the UNESCO World Heritage site of Stonehenge, one of the most famous prehistoric monuments in the world. Stonehenge is thought to date back nearly 5,000 years, and very little is known of its origins. Was it a place of pagan sun worship? Could it have been an ancient burial ground? Decide for yourself as you explore the site.

Your next stop is the pretty village of Lacock, one of the most picturesque settings in the country. Lacock dates back to Saxon times, and has been used more recently as the setting for movies and television dramas such as Harry Potter and the Philosopher's Stone and the adaptation of Jane Austen's Pride and Prejudice. Take the weight off your feet and sit down for lunch at the George, a traditional English pub built in the 14th century. On rare occasions, when the George is closed, a carefully selected alternative pub may be visited for lunch instead.

Continue to your final stop in the charming Georgian city of Bath, once home to the famous British author Jane Austen. Start the visit with a coach tour of the city, and see top Bath attractions such as Pulteney Bridge and the Royal Crescent as well as the honey-colored Georgian architecture for which the city is famed. After getting your bearings, set off on a short stroll with your guide and scout out the Roman Baths and beautiful Bath Abbey. Walk around the city's cobbled streets, shop for souvenirs and take time to pose for photos in front of the beautiful buildings.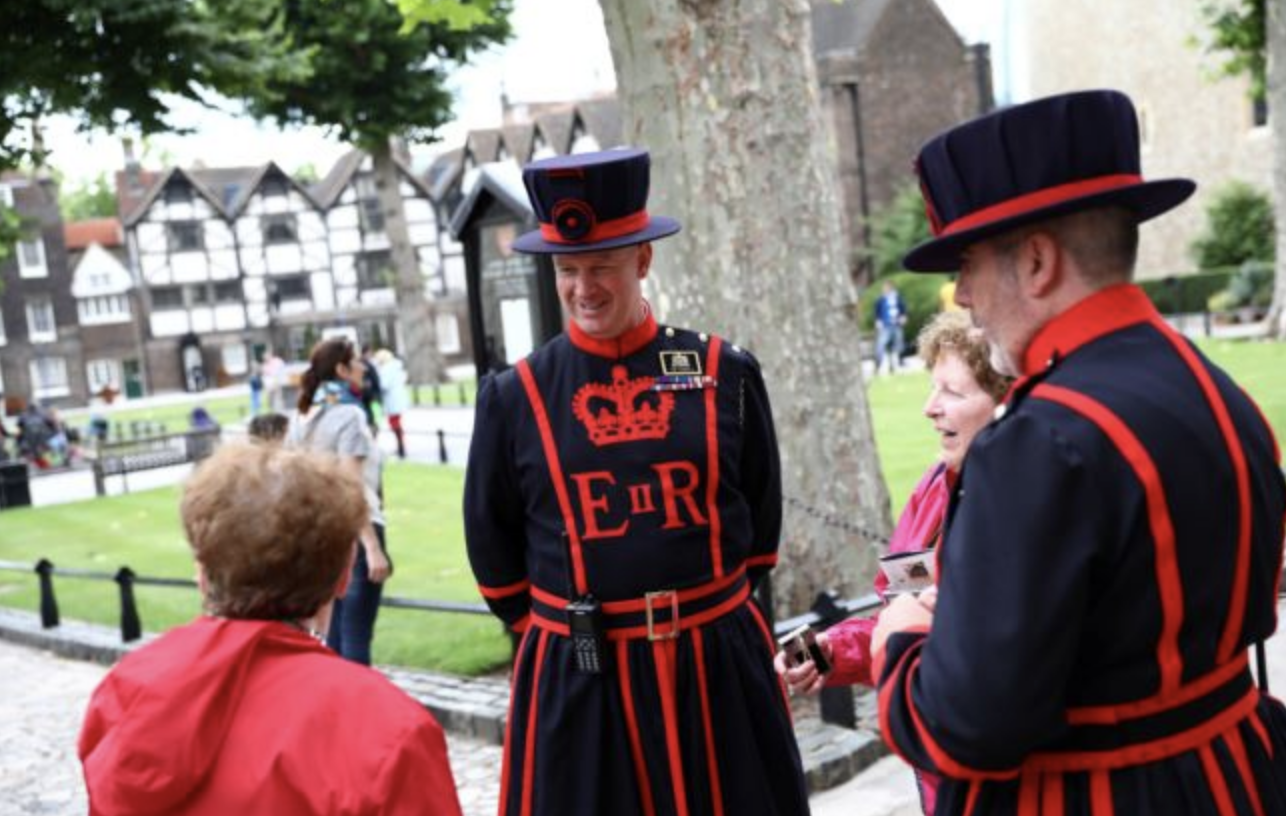 june 10:
Tower of London Entrance Ticket Including Crown Jewels and
Beefeater Tour
Make your own way to the Tower of London on the banks of the Thames River. With your entrance ticket, bypass the long lines at the main ticket office, and head through the group entrance and security into this imposing palace-fortress.

Built by William the Conqueror in 1066, the Tower has a dark 1,000-year history as a royal palace, prison and execution place, as well as a royal mint and armoury. Today, it still stores the British monarch's Crown Jewels, just as it has done since 1303.

Once inside, explore independently or choose to take an optional audio-guided tour (own expense) or complimentary tour led by a Yeoman Warder or 'Beefeater', one of the ceremonial guards. The 1-hour Yeoman-led tours leave from inside the entrance every 30 minutes until the mid-afternoon, and offer a compelling insight into the tower's history and sites.

See the brooding ravens as you walk around and be swept up by the grim but fascinating stories of the turrets, chambers and buildings around you. Visit the main, White Tower, to see its Royal Armouries exhibits, and enter the Bloody Tower, reputed to be where the 'Princes in the Tower' were murdered by an unknown hand in around 1483.

See Traitors' Gate, through which the arrested Anne Boleyn was brought by boat from the Thames River. Then, walk to Tower Green where she was beheaded in 1536 on the orders of Henry VII, and where a string of monarchs and traitors also met a grisly end.

Step back to Tudor times at the Medieval Palace, where recreated medieval interiors detail comfortable lifestyles of Tudor monarchs such as Henry VIII, and stretch your legs with a Wall Walk, strolling along the massive encircling walls to discover more sites.

Lastly, don't miss the Crown Jewels, the royal regalia and gems that symbolize the British monarchy. Join the separate queue to gaze at these sparkling exhibits, including St Edward's Crown, used at coronations since 1661, and the legendary Koh-i-Noor diamond, the 105.6-carat diamond given to Queen Victoria in 1849.
june 11:
Depart/Arrive in Copenhagen
Copenhagen Canal Tour
You'll check out of your London hotel and transfer to the airport for your flight to Copenhagen.

Upon landing, you'll then make your way to your central Copenhagen hotel.

With time left in your day, get acquainted with Denmark's wonderful capital from the water on a
1-hour Copenhagen boat tour.
Make your own way to the cruise jetty in central Copenhagen in time for your preferred departure slot.
Step aboard your boat and find a comfortable spot in the saloon or on the outdoor deck for your 1-hour journey. Then, sit back and take in the picturesque sights as you glide along Copenhagen's canals and harbor waters. These pretty waterways weave through the history-steeped center, so every turn and twist reveals a new, photo-worthy sight.
Watch for must-sees such as the Little Mermaid statue, inspired by the Hans Christian Andersen fairy tale; and as you cruise, learn about Copenhagen's rich history from the onboard guide, who will share illuminating facts and background on the sights.
Drift by the Amalienborg Palace – the winter residence of Denmark's royals since the 1700s – and pass Copenhagen Opera House, a stunning contemporary building that stands imperiously on the harbor-side.
Cruise around the pretty canals of Christianshavn, with its cobbled streets, pastel-colored houses and old warehouses. Admire the area's lovely landmarks, such as the Church of Our Saviour with its winding-staircase spire, and hear how King Christian IV established the district in the 1600s as part of his plans to fortify Copenhagen.
Pass a host of other famous buildings, and snap pictures of the Old Stock Exchange, famous for its unusual spire, as you sail by the island of Slotsholmen in the city center.
Finally, return to the starting jetty at either Nyhavn or Gammel Strand, where your cruise finishes.
june 12:
Explore Copenhagen
Today is your day to see Copenhagen... or perhaps even get out of town a bit...
Consider visiting the Frilandsmuseet Museum!
On the northern outskirts of Copenhagen, at Kongens Lyngby, you'll find a picturesque Open Air Museum showcasing centuries of Danish history and culture.
Over 100 preserved farmhouses and buildings are on display, including many half-timbered houses with thatched roofs that typify 18th century style. Folk dancers, horse drawn carriages, museum exhibits and blacksmith demonstrations give you the feeling like you've stepped back in time.

It'll cost you nothing to visit the Frilandsmuseet, but you'll come away richer for the experience.
Or ... for a TRULY unique experience, go Giant hunting in the woods just south of Copenhagen!
Called The Six Forgotten Giants, the whimsical structures can be seen in the areas of Rødovre, Hvidovre, Vallensbæk, Ishøj, Albertslund and Høje Taastrup.
The project was inspired by the idea of bringing art out of museums and showcasing the beautiful and often overlooked nature spots in the western part of Copenhagen, while at the same time providing an exciting experience for children, families, locals and tourists alike.
CLICK HERE for a treasure map and description for each of the hidden Giants!
If you want to stay in town... check out the Torvehallerne Market!
If you want to hang with the hipsters and food lovers of Copenhagen, head to Torvehallerne.
This atmospheric marketplace features over 60 stands of organic produce, artisanal breads, gourmet chocolates, local cheeses, sustainable coffee, a range of bars and restaurants and more. The smørrebrød open-faced sandwiches alone are like works of art.
With street entertainment and cultural events, its a bustling haven for people-watchers and foodies, with plenty of free and tasty samples on hand.
It's also a great place to gather elements for a picnic or self-catered meal, thereby cutting down your costs of eating out in pricey Copenhagen.
Join a day dedicated to the Vikings. An English-speaking guide will take you along to all the sights and tell you all you need to know.
At the Viking Ship Museum in Roskilde you can really follow the Vikings footsteps, you will learn how they lived and get an insight into the their craftsmanship. At the museum you can also see the beautiful and impressive original ships they used to travel to faraway places.
At the remarkable UNESCO listed Roskilde Cathedral, the famous Viking kings of Harald Bluetooth and Sweyn Forkbeard are buried alongside almost 40 Danish kings and queens. The Cathedral is one of the earliest examples of gothic architecture in Northern Europe and you will hear stories of how Sweyn Forkbeard conquered England as well as tales of Harold Bluetooth.
You will not only follow in the footsteps of the Vikings, you will be at the cradle of Danish civilization in Lejre, one of the most important power centers during the Viking Era and Iron Age dating from 500-1000 AC and home to a unique complex of long houses. At Lejre Museum, located in the national park Skjoldungernes Land, you will learn about ferocious myths, and taste a glass of the legendary Viking drink mead, which legend has it "he who drinks mead is ensured eloquence and knowledge".
Today, you'll leave Europe and travel home.

Your driver will meet you at your hotel to take you to the airport.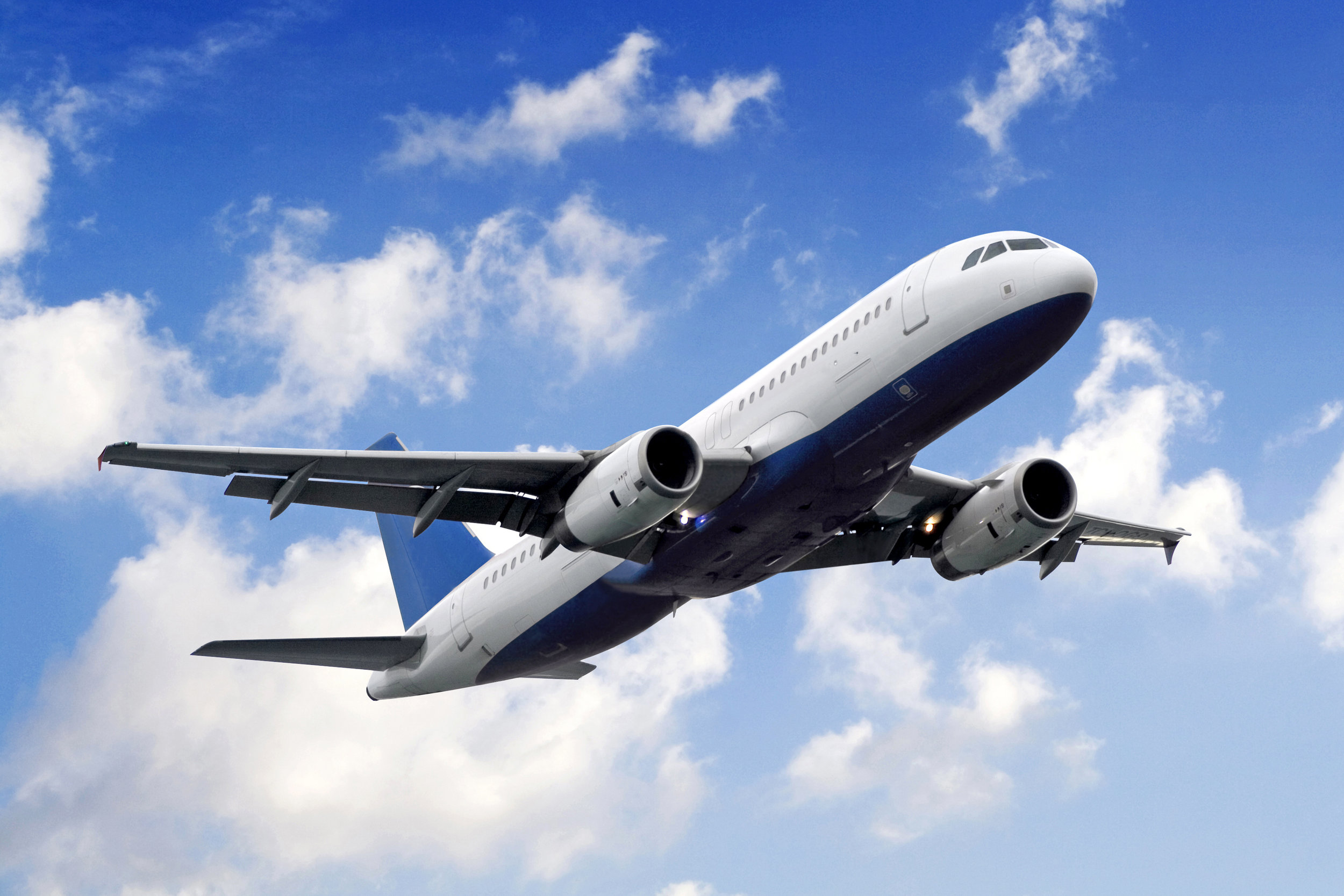 Cleveland to Reykjavik
DEPARTING and ARRIVINGJune 4, 2018:
WOW Airline Confirmation: SACTDQ
Flight: 114
Departing:
Cleveland, OH (CLE) at 12:30am
Arriving: Reykjavik (Keflavik Airport) (KEF) at 10:35am
Reykjavik to London:
DEPARTING and ARRIVING June 7, 2018:
EasyJet Confirmation: ETZZGL7
Flight: EZY2296
Departing:
Reykjavik (Keflavik Airport) (KEF) at 8:45am
Arriving: London (Luton Airport) (LTN) at 12:40pm

London to Copenhagen:
DEPARTING and ARRIVING June 11, 2018:
Ryanair Confirmation: LZR9YG
Flight: FR7384
Departing:
London (Stansted Airport) (STN) at 9:00am
Arriving: Copenhagen (CPH) at 11:45am
•Checked Bag (20kg)
•Priority & 2 Cabin Bags
•Plus

Copenhagen to Cleveland:
DEPARTING and ARRIVING June 14, 2018:
WOW Airline Confirmation: HONEHS
Flight: 903
Departing:
Copenhagen (CPH) at 12:35pm
Arriving: Reykjavik (Keflavik Airport) (KEF) at 2:00pm

Flight: 113
Departing:
Reykjavik (Keflavik Airport) (KEF) at 9:00pm
Arriving: Cleveland, OH (CLE) at 11:30pm
Fullsize Van, manual transmission, unlimited mileage
(like a Chrysler Town & Country or similar)
Europcar Reservation #: 1080646578
Due at pickup: approx. $512
(will be charged in ISK, not USD)
Picking up at the KEF (Keflavik) airport:
June 4, 2018 at 1130am

Dropping off at the same location
June 7, 2018 at 9am
These hotels or something similar:

Geysir, Iceland
Litli Geysir Bungalows
3 Standard Bungalows, 2 single beds/ea
Mountain View
Everett Confirmation #: 2621210
Everett Confirmation #: 2621211
Whitehouse Confirmation #: 2621212
London
London Marriott Hotel, Marble Arch
2 Deluxe Rooms, 2 Double beds/ea
Everett Confirmation #: 2620265
Whitehouse Confirmation #: 2620266
Copenhagen
Copenhagen Plaza
2 Superior Double Rooms, 1 Double or 2 twin beds/ea (and 2 extra beds for the Everetts)
Breakfast included
Confirmation #: HQ04CZ
Pricing details
price Per Person:
PAID IN FULL

(after deposit has been applied)
(If you did not pay a deposit yet, then there will be a $100 per person fee added to this price at payment)
*Prices and availability are subject to change and are not guaranteed until completed through the booking process.
INCLUDED IN THE QUOTE
Round trip airfare

CLE-KEF (Cleveland to Reykjavic)
KEF-LON (Reykjavic to London)
LON-CPH (London to Copenhagen)
CPH-CLE (Copenhagen to Cleveland)

Car Rental

Picking up and dropping off at the KEF airport
Fullsize Van (like a Chrysler Town & Country or similar) -Due at pickup

Hotel accommodations**

3 nights in Reykjavic, Iceland
4 nights in London
3 nights in Copenhagen

Tours/Shows/Passes

Icelandic Horseback Riding
Stonehenge, Windsor Castle, Bath, Pub Lunch in Lacock
London Rock and Roll Tour
Tower of London Tickets
Copenhagen Canal Tour
In the Footsteps of the Vikings (A Day Trip from Copenhagen to Roskilde)

Most taxes and fees

Airlines taxes and fees
Train taxes and fees
Tour taxes and fees
Service fees and commissions
**Most hotel reservations require you to pay taxes, VAT and resort fees onsite onsite
NOT INCLUDED
Airport to hotel (to airport) transportation
Rental car insurance, extras (GPS, car seats, extra drivers) etc.
Local taxis
Most meals/beverages (unless included in hotel and/or tour)
Some hotels may require payment of city taxes, VAT and resort fees onsite
Entrance into Blue Lagoon
Tips to guides, drivers and hotel staff
Optional Travel Insurance

Basic (starting at $146/ea)
Trip+ (starting at $162/ea)
Cancel for Any Reason (starting at $168/ea)
SUGGESTED PAYMENT SCHEDULE
Prices and availability are subject to change at any time and are not guaranteed until completed through the booking process.
Payment can be made in full to avoid additional administrative and processing fees
(This is also the most stable for pricing. Although prices and availability can change at any time, paying in full reduces that risk.)
If needed, a payment schedule can be set up, with additional fees (3% processing and 3% administrative fees per payment).
Payments not received on time will result in reservation cancellation without refund.
Additional bookings after the final payment deadline may result in higher prices, less availability and additional administrative fees.
Fee amounts imposed are at the discretion of Zone Travel.
REGISTRATION
A completed registration form (per person)
Photo copy of picture/information page of each traveler passport emailed to: christian@zone-travel.com
Credit Card Authorization form with copy of credit card and Government issued photo ID (like a drivers license or passport)
CANCELLATION
Cancellation in writing must be received by Zone Travel prior to departure for appropriate refund on the land tour cost minus the following fees. Airline penalties are not part of the percentages below and vary based on each individual airline policy.
Travel insurance is non-refundable.
Travel Insurance
TRAVEL INSURANCE - AVAILABLE FOR ALL PASSENGERS - DUE 10 DAYS AFTER INITIAL DEPOSIT
Zone Travel LLC strongly suggests purchasing Trip Cancellation insurance. Be sure to check with your healthcare provider as most U.S. medical coverage will not cover you outside of the country.
Insurance costs are based on the total package cost, including air taxes and charges listed under "Included."
Approximate amounts can be given at time of reservation in order to purchase the appropriate amount of insurance.
BASIC PLAN:
Your may think you can't afford both the fun and the insurance to protect it. The Basic Plan is so affordable that you can have it all, while still staying in a budget. The plan offers existing medical condition coverage and 24-hour assistance services, allowing you to purchase your trip with complete confidence.
Trip Cancellation: Trip Cost
Trip Interruption: Trip Cost
Emergency Medical/Dental Coverage: $10,000.00
Emergency Medical Transportation: $50,000.00
Baggage Coverage: $500.00
Baggage Delay: $200.00
Travel Delay: $300.00
Travel Delay: $150.00
24-Hour Hotline Assistance: Included
CLASSIC TRIP+:
When you book your family on an international vacation, you want the peace of mind that you purchased the right amount of coverage. Classic Trip+ doubles nearly all the post-departure coverage of the Classic Plan, including Emergency Medical and Dental, Emergency Medical Transportation, Baggage Loss, Baggage Delay, Travel Delay, and Missed Connection.
Trip Cancellation: Trip Cost
Trip Interruption: Trip Cost
Emergency Medical/Dental Coverage: $50,000.00
Emergency Medical Transportation: $1,000,000.00
Baggage Coverage: $2,000.00
Baggage Delay: $600.00
Change Fee Coverage: $250.00
Frequent Flyer Miles Redeposit Fee: $250.00
Travel Delay: $1,600.00
Missed Connection: $1,600.00
24 Hour Hotline Assistance Plus: Included
CANCEL ANYTIME:
You can enjoy the extra flexibility of knowing you can cancel your trip for almost any unforeseen reason that the Classic plan does not already cover at 100% and receive 80% of their non-refundable trip cost back in cash. With features like comprehensive trip cancellation, primary emergency medical coverage and 24-hour travel assistance, the Classic with Cancel Anytime plan is there if life throws an unexpected wrench in your travel plans. Plan must be purchased within 10 days of the first payment date and must cover the full non-refundable trip cost ($10,000 maximum).
Trip Cancellation: Trip Cost
Trip Interruption: Trip Cost
Emergency Medical/Dental Coverage: $25,000.00
Emergency Medical Transportation: $500,000.00
Baggage Coverage: $1,000.00
Baggage Delay: $300.00
Change Fee Coverage: $250.00
Frequent Flyer Miles Redeposit Fee: $250.00
Travel Delay: $800.00
Missed Connection: $800.00
24 Hour Hotline Assistance Plus: Included
F.A.Q.
When is the deadline to sign up?
We recommend booking as soon as possible.
Prices and availability are always subject to change and are never guaranteed until completed through the booking process.
How can I make a payment?
You can make a payment (Mastercard, Visa, Discover or American Express) by clicking one of the payment buttons above
or, if you prefer a check, you can make checks payable to "Zone Travel LLC"
Address:
PO Box 44098
Columbus, OH43204
Please ensure checks are mailed early to arrive by the required payment deadline.
Is baggage included in my flight?
Yes, while your ticket will be in the economy class, we did upgrade your ticket to save you money on checked bags.
Your ticket will cover 1 checked bag per person of no more than 20kg.
Please visit the applicable airlines' website for more information on baggage fees, weights and sizes.