Julie and Lisa's trip to italy
10 DAYs throughout Rome, tuscany and venice
Nov 20-30, 2017
"The Creator made Italy by designs from Michelangelo." – Mark Twain
Total package price:
$6894*
Includes airfare, car rental, trains, hotel accommodations, tours and more.

*PAID
Beautiful landscapes, amazing culinary delicacies, fashion, arts and history, culture, and La Dolce Vita…
Italy — the enchanting country — has it all!
November is dedicated to the typical flavours of autumn in Tuscany: bottling of the new wine begins, usually referred to as vin novello, the olive harvest has begun with pressing of new olive oil, chestnuts and mushroom hunting are in full force.
Today you embark on your journey to Italy! It will be full of unforgettable sights, smells and some of the most delicious foods you'll ever experience!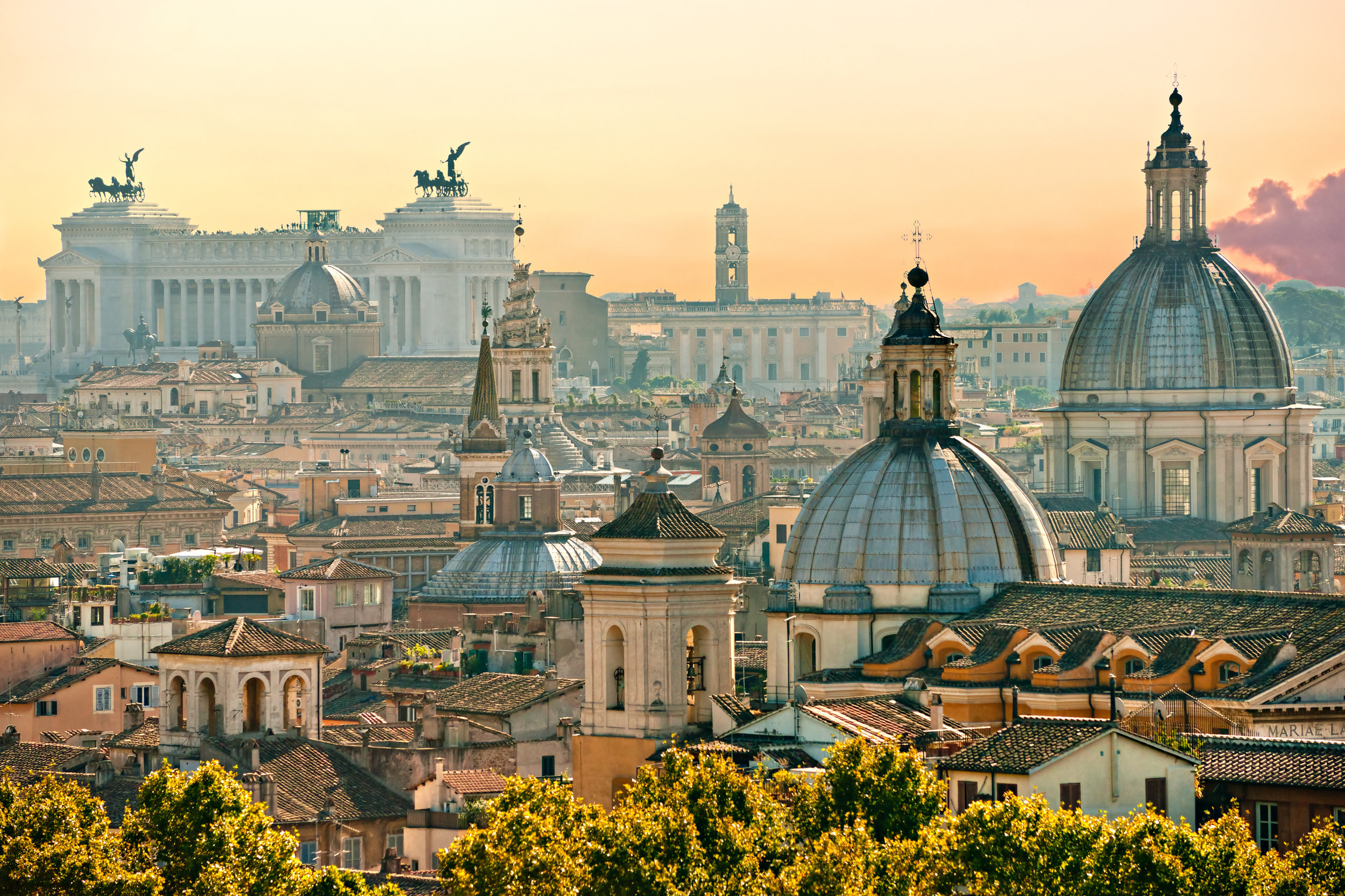 Nov 21:
ARRIVE in Italy
Explore Rome
When you arrive in Rome you will be welcomed to Italy by our driver. They will take you to your hotel, central to all the historic sites in Rome.

Spend this day settling in and exploring "The Eternal City" on your own.
Nov 22:
Explore Rome
2:30p-6p: Roman crypt and catacombs
Today, you'll go deep into the unusual history of Rome, far below its busy streets and towering monuments to the concealed side of this ancient city. The itinerary includes three unforgettable stops with one thing in common – they are some of the most uncommon, mysterious and outlandish sites the Eternal City has to offer.
The tour begins with a trip to the ancient Roman catacombs. Dating back almost 2,000 years to the 2nd century AD, this extensive network of tunnels snaking underground was once both a burial ground and a place of worship for the first Christians in Rome. With an expert, English-speaking guide on hand, you'll explore these extensive tunnels lined with tombs carved right out of the rock, and hear the fascinating history of these sacred places.
From here you will be taken near the Colosseum to the Basilica of San Clemente, easily the best example of exactly how deep you need to go to understand Rome's unbroken history.
It was discovered that the structure we see today sits on top of two millennia of foundations, including 12th and 4th century basilicas, a 2nd century cult temple, and ruins dating back to Nero's Great Fire in 64 AD, with a functioning aqueduct in which water still flows today. Like the catacombs, you will see it all with in-depth commentary from your guide.
The tour ends with the Capuchin Crypt – known locally as the 'Bone Chapel'. Here Capuchin monks used the bones of nearly 4,000 of their brothers to decorate the walls and ceilings in intricate designs. See a real skull and crossbones, vertebrae chandeliers and full skeletons in their robes before drawing your own conclusions on the meaning of this macabre, yet intriguing place of prayer. The museum annex is also home to Caravaggio's 'St. Francis in Meditation'.
Nov 23:
Explore Rome
10a- 1:30p: Roman Colosseum, Roman Forum and Palatine Hill
Venture into restricted areas of the Colosseum Underground where slaves, gladiators and wild animals were held before fighting to the death on the Arena floor that loomed above them. You'll retrace the last steps of a gladiator in another restricted area as you walk out onto the Arena Floor.
After the Colosseum, you'll visit Palatine Hill and the Roman Forum. These two Roman archeological sites are home to amazing sites such as the Temple of Julius Caesar, the Arch of Titus, the Roman Senate House and much more. Your expert guide will rebuild these structures in your imagination through history and legends from the ancient world and with the help of a visual display book that will show you what the ruins looked like in all their glory.
Nov 24:
Travel to Tuscany
This morning, you'll check out of your Roman hotel and board a train for Tuscany!
When you arrive in Florence you will rent your car and drive to your hotel in the Tuscan countryside.

Spend the rest of the rest of your day relaxing and settling into your room and the Tuscan scenery.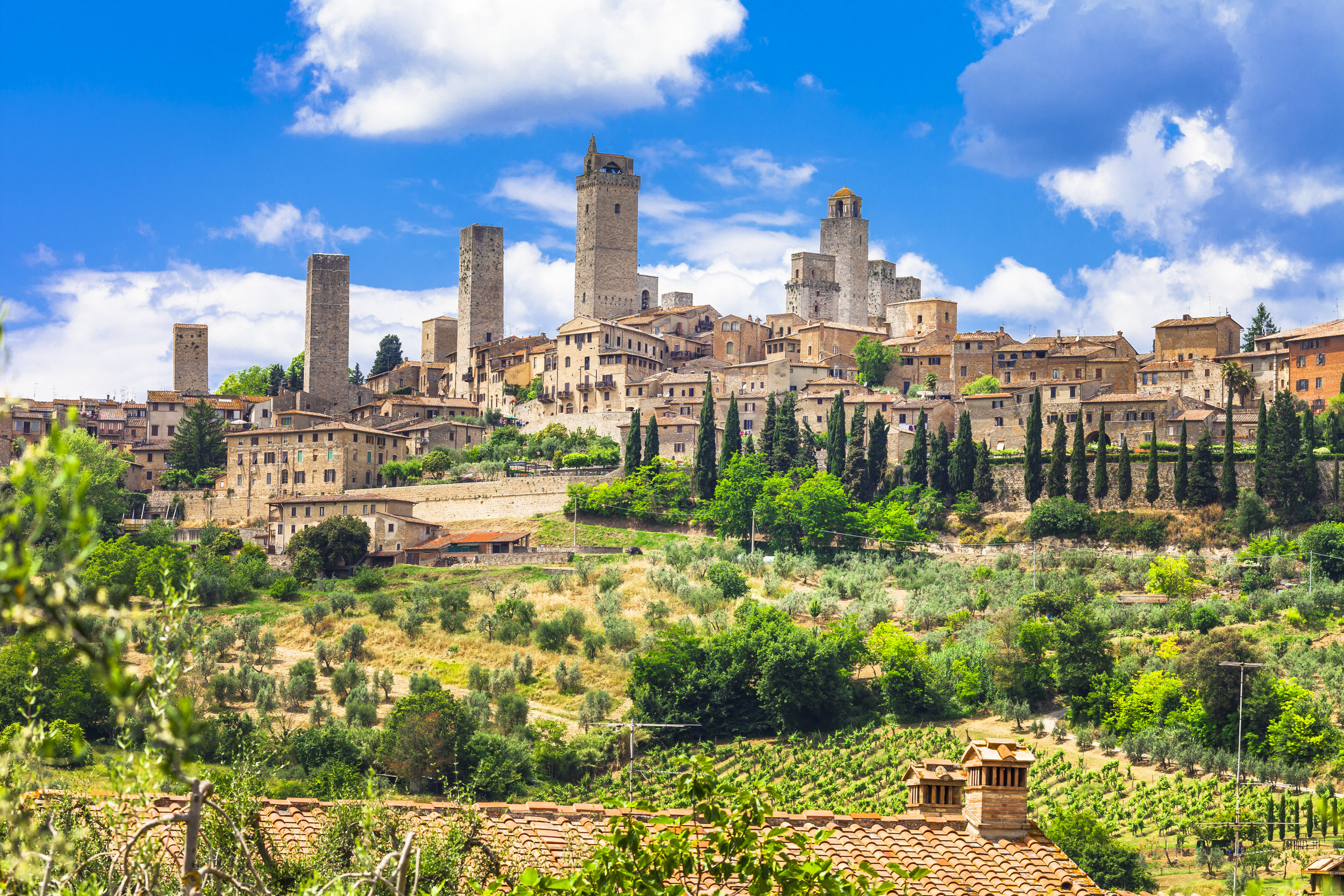 Nov 25:
San Gimignano
Castello Banfi estate
Siena
Begin your day with a visit to San Gimignano, a small walled village about halfway between Florence and Siena. Recognized as a UNESCO World Heritage Site since 1990, San Gimignano offers visitors the chance to step back in time while enjoying its local products including saffron and its white wine, the Vernaccia di San Gimignano.
Continue on to the family-owned vineyard estate and winery of Castello Banfi, in Brunello di Montalcino. Though it's famous for its award-winning Brunellos, syrahs, merlots, cabernets, and blends, you'll want to stay long after the wine tasting to soak in the spectacular surrounds (the estate boasts 7,000 acres of vineyards, olive groves, and cypress trees).
End your day with dinner in Siena. Likely Italy's loveliest medieval city, and a trip worth making, it's been the backdrop in several movies and boasts some of the most beautiful views in Tuscany!
Nov 26:
Greve in Chianti
Azienda Agricola Montefioralle
Avignonesi
(Cortona)
Undoubtably, Chianti classico and the neighboring area of Chianti, just south of Florence, is one of the best known valleys and wine producing areas. Offering a wide selection of labels, production styles and recipes that exalt the Sangiovese grape which date all the way back to 1716 and beyond.

While you're in the Chianti region, spend some time at the small, family-run winery in the medieval village of Montefioralle, near Greve. Azienda Agricola Montefioralle produces only 10,000 bottles of wine a year (it's one of the smallest wineries among the Chianti classico producers) but that's where its charm lies. A member of the Sieni family, who own the winery, will personally take you on a tour through the vineyards and cellars, followed by a tasting of all six wines produced.

If you haven't spent all day eating, drinking and conversing with the Sieni family, head south to the Avignonesi winery.
The stunning Avignonesi winery, located in the village of Valiano near Montepulciano, produces eight red wines (including an award-winning merlot), a chardonnay, and three grappas. The winery boasts one of Italy's most ancient and beautiful wine cellars, allegedly built in the late 16th century.

We recommend the general tour, which takes you through the vineyards, cellar and attic, followed by an excellent four-course meal with wine pairings.

IF you have any time left for the day, stop by Cortona on the way home and take in the history.
Various small shops on the main streets of Cortona offer local handmade items and gastronomical products.
There are many restaurants in the city, most offering traditional local and Tuscan cuisine.
Just outside of Cortona's walls you'll find the Franciscan hermitage Le Celle, the first monastery built by Saint Francis of Assisi in 1211, where a small community of friars still lives today. Through the course of the centuries, the hermitage was restructured and enlarged several times but Saint Francis's small cell has always been conserved in its original state and can be visited today.
This morning you will check out of your Tuscan hotel, return the rental car in Florence and board your train to Venice.
When you arrive, hire a water taxi to take you to your central Venice Hotel!

Spend the day exploring the City of Mirrors, Theatre and Glass. With its 150 canals, 400 bridges and magnificent 16th- and 17th-century palaces and piazzas, it is no surprise that Venice is considered one of the most beautiful cities in the world.
Nov 28:
Explore Venice
1p- 3P: Venetian Mask-making
There are many sites to see around Venice. You may want to consider strolling through the Piazza San Marco, or taking a gondola ride under the Rialto Bridge!

Be sure not to miss St. Mark's Basilica and Campanile or Doge's Palace!
This afternoon, enjoy a private 2-hour mask painting workshop under the guidance of a resident artist. You'll choose two masks each from more than 50 different styles and decorate it according to different techniques. While you work, your guide tells stories of traditional masks and their function in society.
The story of Venetian Masks is totally unique, they began life at the fringes of the Carnival but then proceeded to become a major part of everyday life for the residents who would wear them for more than 6 months a year!
The 'Bautta' was even used in front of the Doge and at other important events in the political and social life of Venetians!
As well as the 'Bautta', there is another influential symbol of the city, they call it the 'Moretta'.
It has a totally different meaning, it is much more playful and was used as a charming instrument of seduction.
This introduction is enough to give you an idea of the strange, diverse and wonderful world that Venice once was.
Furthermore, members of the Ca' Macana team dress up in the Bauta, Volto and Tricorno and explain their traits in depth.
Additionally, you will see a real example of a Moretta whilst explaining its original use and the context behind it.
 
Nov 29:
Explore Venice
7P- Optional Venician Opera
There is a Venician opera playing at Teatro Malibran!

"A Masked Ball" is a work in three acts by Giuseppe Verdi
The original work of this opera is based on the incident about the assassination of King Gustav III of Sweden at the masked ball. Giuseppe Verdi was requested to compose this opera by Teatro di San Carlo in Naples, Italy. But, this opera which is based on the assassination of the King couldn't pass censorship. So, Verdi changed the setting from Sweden to America. In addition, the world premiere of this opera was held in Rome because this had softer censorship than Naples at that time. People in Rome enthusiastically welcomed this outstanding opera.
In the 18th century, a masked ball was becoming popular among the aristocracy. People concealed the identity by a mask at that time, so the ball often became the stage of an assassination. This opera has well-balanced characters, for example, the governor Riccardo and his lover, Amelia. In addition, Riccardo's friend and secretary, Renato, add attraction to this opera. Ulrica who is a fortune-teller and leads the ending of this opera is also one of the most important characters. It would be easy for Verdi to compose this opera based on the script that had enough balanced characters. In act 3, after the love between Riccardo and Amelia is found out, there are three great arias. First, Amelia sings her aria as a mother. Second, her husband, Renato, sings his aria about a vow to take revenge and his lost love. Third, Riccardo sings his aria about giving up his love and his misfortunate future. These three arias express direct feelings of three respective roles.
Today you will bid arrivederci to Italy. You'll travel to the Venice airport and board your flight home.
DEPARTING Nov 20, 2017:
British Airways flight: 174
JFK (645p) - LHR (650a) (arriving 11/21/17)
 
ARRIVING Nov 21, 2017:
British Airways flight: 554
LHR (925a) - FCO (105p)
DEPARTING Nov 30, 2017:
British Airways flight: 2583
VCE (1225p) - GTW (135p)
ARRIVING Nov 30, 2017:
British Airways flight: 2273
TW (135p) - JFK (750p)
Rome:
Le Quattro Dame Luxury Suites
Tuscany:
Castello del Nero
(includes breakfast)
Venice:
Novecento Boutique Hotel
(includes breakfast)
Registration form
*Price per person based on double occupancy (no price difference for more than 2 people in a room)
**If you are waiting for an updated passport number please provide this as soon as you receive it
Please type Carefully! Inaccurate information will result in travel delays and/or airline change fees.
Pricing details
price Per Person:
$6894*

*Prices and availability are subject to change and are not guaranteed until completed through the booking process.
INCLUDED IN THE QUOTE
Round trip airfare

JFK-FCO (NYC to Rome)
VCE-JFK (Venice to NYC)

FCO airport to hotel transportation (in Rome)
Train tickets

Rome-Florence
Florence-Venice

Car rental in Tuscany*

Compact, 4-5 Door, Automatic
Picking up and dropping off in Florence

Hotel accommodations** (most include breakfast)

3 nights in Rome
3 nights in Tuscany
3 nights in Venice

Tours

Colosseum Underground, Roman Forum and Palatine Hill
Rome Crypts and Catacombs Tour
Private Venetian Mask Painting and History Tour

Most taxes and fees

Airlines taxes and fees
Train taxes and fees
Tour taxes and fees
Service fees and commissions
*Car rental is payable onsite only
**Most hotel reservations require you to pay taxes, VAT and resort fees onsite onsite
NOT INCLUDED
Rome hotel to train station taxi
Florence train to hotel taxi
Wine tastings/pairings (payable onsite to winery)
Venice train to hotel water taxi
Venice hotel to airport taxi(s)
Most meals/beverages (unless included in hotel and/or tour)
Some hotels may require payment of city taxes, VAT and resort fees onsite
Tips to guides, drivers and hotel staff
Optional Travel Insurance

Standard ($449)
Cancel for Any Reason ($600)
SUGGESTED PAYMENT SCHEDULE
Full payment due immediately (less any charges due onsite to vendors directly)
REGISTRATION
A completed registration form (per person)
Photo copy of picture/information page of each traveler passport emailed to: christian@zone-travel.com
Credit Card Authorization form with copy of credit card and Government issued photo ID (like a drivers license or passport)
FINAL PAYMENT
Final payment will be due immediately.
Payments not received on time will result in reservation cancellation without refund.
Additional bookings after the final payment deadline may result in higher prices, less availability and additional administrative fees.
Fee amounts imposed are at the discretion of Zone Travel.
CANCELLATION
Cancellation in writing must be received by Zone Travel prior to departure for appropriate refund on the land tour cost minus the following fees. Airline penalties are not part of the percentages below and vary based on each individual airline policy.
91+ Days Prior: N/A
90-61 Days Prior: N/A
60-46 Days Prior: N/A
45-31 Days Prior: N/A
30 Days Prior or less: 100% of tour cost
Travel insurance is non-refundable.
Travel Insurance
TRAVEL INSURANCE - AVAILABLE FOR ALL PASSENGERS
Zone Travel LLC strongly suggests purchasing Trip Cancellation insurance. Be sure to check with your healthcare provider as most U.S. medical coverage will not cover you outside of the country.
Insurance costs are based on the total tour cost, including air taxes and charges listed under "Not Included."
These charges are added to the final billing.
Approximate amounts can be given at time of reservation in order to purchase the appropriate amount of insurance.
F.A.Q.
When is the deadline to sign up?
To ensure the price of $TBD, the deadline to sign up is by the final payment deadline of TBD.
This means that if you sign up on this day, you also need to make full payment on that day.
If you miss this deadline and would still like to join us, you can still sign up; however, the price may increase and accommodations may change.
How can I make a payment?
You can make a payment (Mastercard, Visa, Discover or American Express) by clicking one of the payment buttons above
or, if you prefer a check, you can make checks payable to "Zone Travel LLC"
Address:
235 Binns Blvd
Columbus, OH43204
Please ensure checks are mailed early to arrive by the required payment deadline.
Can I carry my bag into the Colosseum, Roman Forum or Palatine Hill?
To avoid disruptions or possible denied entry, we strongly suggest that you avoid bringing large purses, bags or backpacks on your tours.
The Colosseum, Roman Forum and Palatine Hill do not allow large purses, bags or backpacks to be brought onsite.
terms and conditions
AIR TRANSPORTATION
If needed, Zone Travel will arrange for the best-priced airfare available at the time of booking.
Please Note:
All taxes, fuel charges and security fees are subject to change based on the ticketing date.
Passengers wishing to cancel or change their air reservation may be subject to cancellation penalties.
Airfares quoted by Zone Travel LLC are promotional fares and cannot be combined with other promotional offers.
Airlines involved in tours are not responsible for any act, omission or event during the time passengers are not on board their planes or conveyances.
Zone Travel LLC is not responsible for unforeseen flight delays, charges due to changes required during political unrest, or schedule changes imposed by the airlines.
Air schedules may be subject to change at the discretion of the airline.
PRICING
Quoted tour prices include planning, handling and operational charges and are based on the current rate of exchange and tariffs. In the event of a marked change in foreign exchange rates, fuel costs or tariff rates, tour costs are subject to revision. Such increases will be added to the client's final billing. Zone Travel LLC reserves the right to vary itineraries and prices, and to substitute facilities and hotels of equal or better quality if necessary.
Prices and availability are subject to change until completed through the booking process.
Pricing for each package includes the non-refundable service fees and commissions.
AIRLINE SECURITY
It is the passenger's responsibility to provide valid identification in the form of a passport or other required identification at the time of airport check-in.
DEPARTURE TAXES, SECURITY, FUEL CHARGES, & BAGGAGE FEES
When purchasing air transportation from Zone Travel LLC, various taxes, fuel charges, and airport fees are included in the air ticket expense. Such fees may be subject to increase by governments and/or airlines and will be the responsibility of the client at any time. Baggage weight, size restrictions and fees may change and are the responsibility of the client.
PROOF OF US CITIZENSHIP, PASSPORT, VISA & MINOR CHILDREN REQUIREMENTS
Failure to arrive with proper documentation could result in denied boarding, and no further compensation will be offered.
Minors traveling with either one parent or no parents must have a certified letter of permission from the parent or parents who is/are not traveling.

This letter must be presented at airport check-in.

All international tours require a current passport.
Entrance to most countries requires your passport be valid for 6 months after your return date.
Your passport number must be recorded by Zone Travel LLC when making your reservation.
Names on airline tickets must appear as shown on passport.
Photocopies are not acceptable forms of identification.
Non U.S. Citizens are responsible to fulfill appropriate entry requirements of the destination countries.
Contact the local Consulate of the country or countries you intend to visit for information.
In addition to your passport, a visa may be required. Visa requirements vary by country and are subject to change.
Visas are required for all U.S. and Canadian citizens traveling to many areas around the world including Asia, Australia, South America, India and Brazil. For the appropriate requirements based on your itinerary and nationality please contact your local immigration office.
It is the guest's responsibility to obtain required visas and other documentation prior to sailing, including vaccinations for infectious diseases.
RESPONSIBILITIES
This tour program is operated by Zone Travel LLC (235 Binns Blvd Columbus, OH 43204). In common with other companies, Zone Travel LLC acts only as an agent in arranging vacation services offered, including transportation, sight- seeing, and accommodations through independent contracts. Air carriers, accommodations, and other suppliers (including but not limited to trains, cruises, ferries, motor coaches, hotels, tour guides and restaurants) providing services are independent contractors and are not agents, employees, servants, or joint ventures of the Company or its affiliates. All travel documents for services issued by the Company are subject to the Terms & Conditions specified by the supplier, which are available upon request, and to the laws of the countries in which the services are supplied. Zone Travel LLC reserves the right in its sole discretion to make changes in the itinerary and is not responsible for expenses, loss of time, money or other incidents resulting from a change of tour scheduling made for tour members, including any rescheduling due to political unrest. Zone Travel LLC, and all contracted companies for this trip, are not responsible for any losses or damages of personal property, injuries, thefts or unforeseen expenses incurred by any tour member.
SERVICE FEES
Zone Travel LLC requires payment of a fixed service fee for all guests. The charge is per person and non-refundable; however, there is no charge for children under the age of three. It is our earnest wish that you enjoy your vacation experience and we will provide you with the standard of service for which Zone Travel LLC is known. Therefore, if you have any concerns about the service you receive during your vacation; please bring them to our immediate attention so that we can address any issues in a timely manner before your travels are over. In almost all cases we are able to come up with a satisfactory solution to any issues which are raised and make sure our guests can focus on enjoying their vacation. Our clear priority is to have the opportunity of resolving the issue, when it happens, to everyone's complete satisfaction.
IMPORTANT POLICIES AND PROCEDURES