Spain and Portugal
Barcelona, Madrid, Toledo, Sevilla, Grenada, Lisbon, Sintra and Porto
September 25- October 5, 2018
Total package price:
$tbd/pp
Airfare not included

This package includes train tickets, airport transfers, accommodations, tours, some meals ...
and more...

*Prices and availability are subject to change and are not guaranteed until completed through the booking process.
Today you embark on your journey to Spain!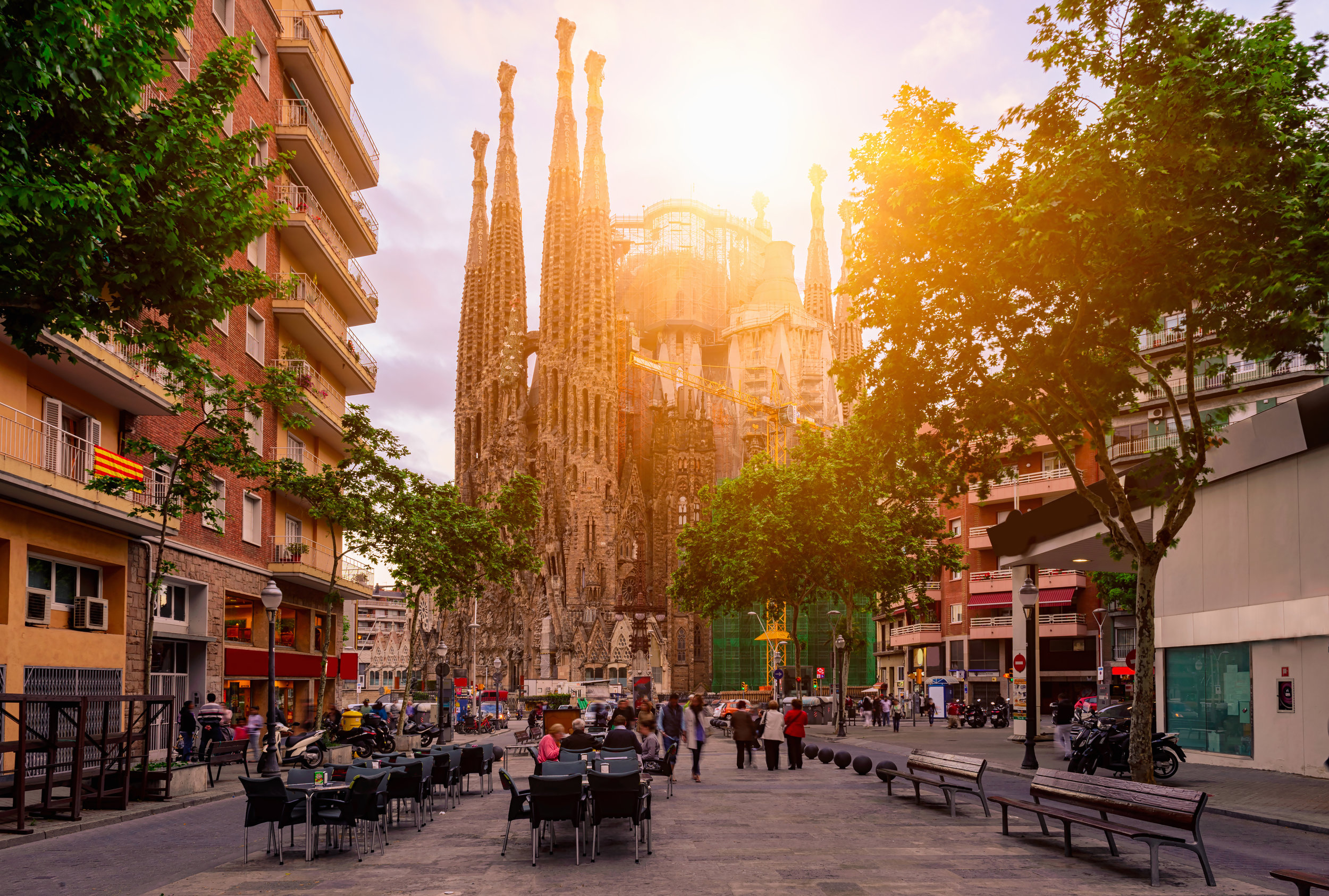 September 26:
Arrive in Barcelona

You'll arrive in Barcelona this morning and be met by your driver at the airport to take you to your hotel.
After checking into your hotel, start exploring the city!
Like many other cities on the Mediterranean, Barcelona was founded by the Romans.
The original settlement, called Barcino, was a small port located on the same spot as today's cathedral.

The town was overshadowed by Tarragona, the capital of the province. Both the Visigoths and the Moors invaded Barcelona; however, their influence was not as important to the future of the city as the arrival of the Franks in the late 9th century.

It was at that point that Barcelona and Catalonia started shaping their own identity, different from the rest of Spain.
September 27:
Explore Barcelona
Barcelona's history is seen everywhere in the city.

The oldest areas are located by the sea, including the shopping enclave Barri Gotic.
On the other side of the main boulevard, La Rambla, lies the legendary Raval district. Until the 1980's this was the slum area, home to the city's own Chinatown (Barrio Chino) and the red light district.

Today, designer shops and cafés have moved in. Further north is fashionable Eixample, the area created as a result of the 19th century expansion of the city.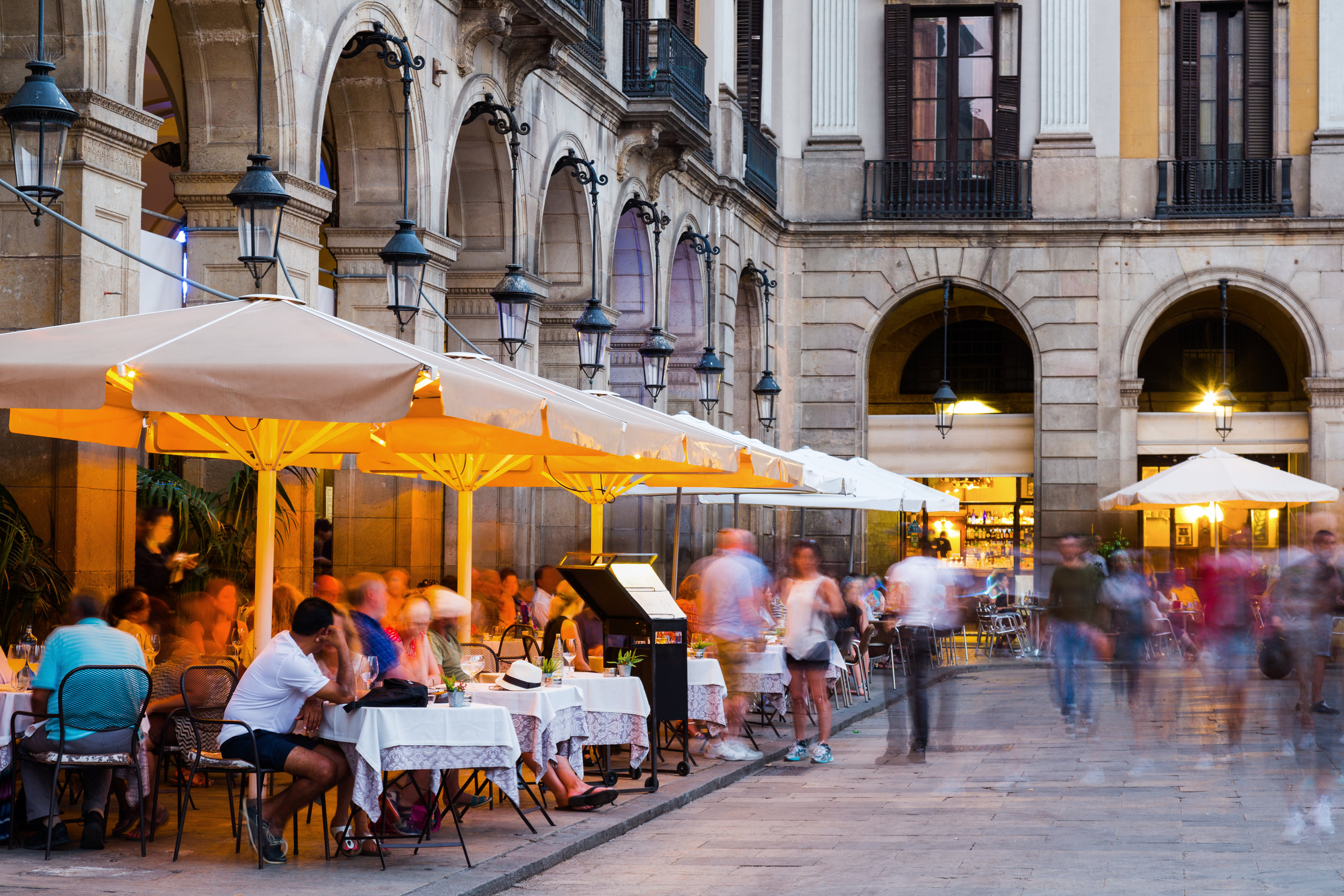 September 28:
Sagrada Familia
Much of the attraction of Barcelona is the city's wide range of sights.

The architect, the design nerd, the football fan, the art historian, the city planner - there is something for all of them in the most self-assured city on the Mediterranean.

A visit to Sagrada Familia, Casa Mila and Casa Calvet is a must when visiting Barcelona.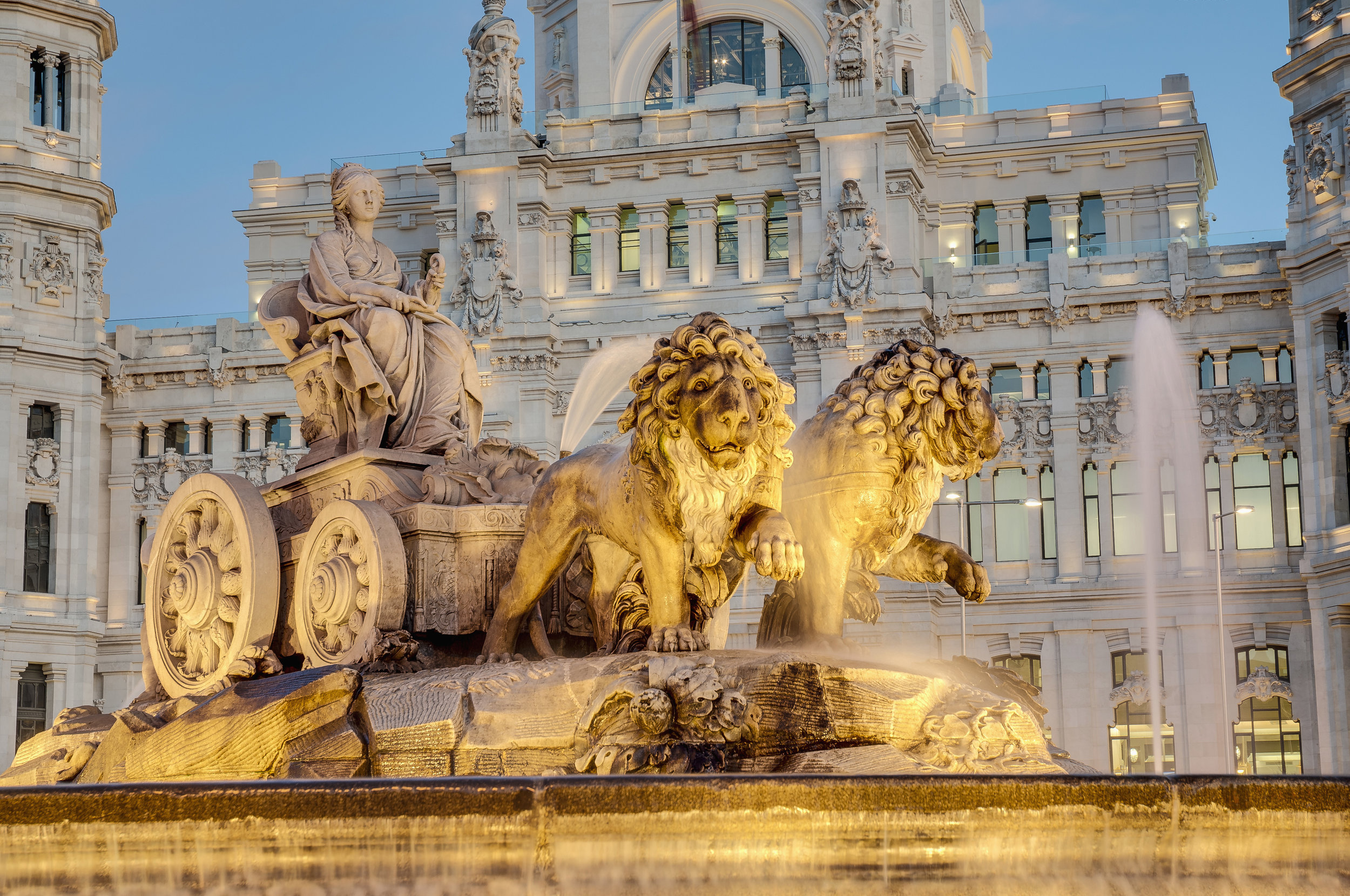 September 29:
Depart for Madrid via train
This morning, you'll check out of your hotel and find your way to the train station.
When your train arrives in Madrid, check into your hotel and explore the city!
Madrid is not as large as it might seem—especially the central districts. Right in the middle of the city lies the Puerta del Sol, a traffic nexus that is the point from which all distances are measured. Also, the house numbering on every street starts at the end nearest the Sol. West and south of the Sol, are the oldest areas of the city, Los Austrias, which contain the royal palace (Palacio Real) and the historic and well-trodden square, Plaza Mayor.
The triangular area to the east and south of the Sol—with the Plaza de Cibeles, Atocha Station and the Sol at its corners—is one of the liveliest districts in Madrid, containing countless bars and restaurants. This is also where the three big museums stand in a row, and beyond them, the largest park in central Madrid, Parque del Buen Retiro.
Directly south of the Sol is Lavapiés: formerly a working class area, but now the most ethnically interesting part of the city thanks to a significant influx of immigrants from Africa and Asia.
North of the Puerta del Sol and the parade avenue of Gran Vía are the Malasaña and Chueca districts. The former is an old residential area that has been cleaned up in the last twenty years, whilst remaining one of the city's most relaxed bar districts. The latter has also undergone a rebirth: today it is Madrid's hippest quarter, a centre for a culture of clubbing, restaurants and clothing shops. Originally a gay district, it is now best described as broad-minded.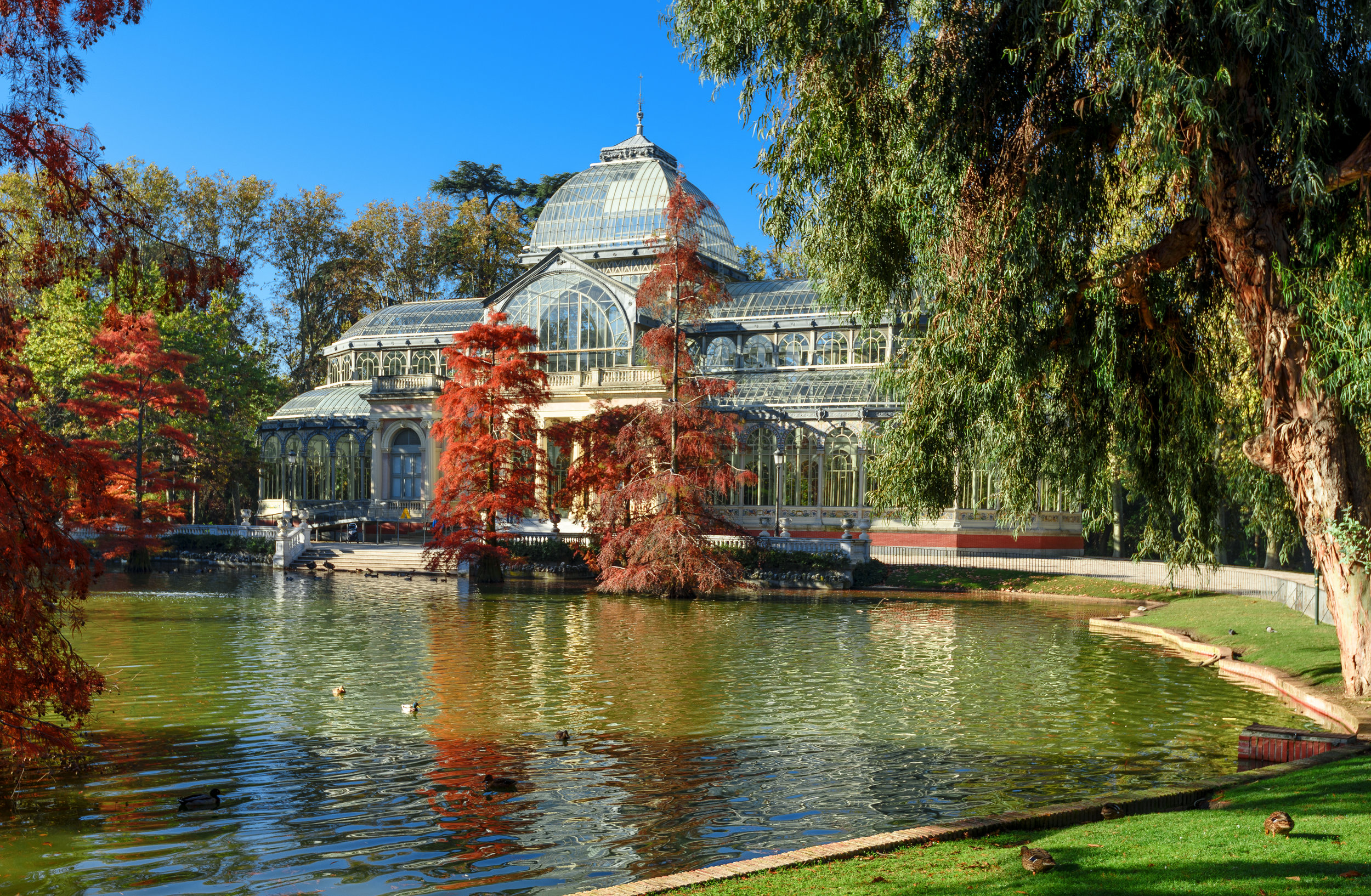 September 30:
Explore Madrid
Madrid is a wonderful city that inspires casual strolls around green areas and frantic nights of adventure.

People fill the streets at every hour of the day and there are impressive buildings, lush parks and picturesque streets in abundance.

Culture is ever-present here, and you don't have to be a history buff to appreciate the architecture and constant reminders of a long and rich history.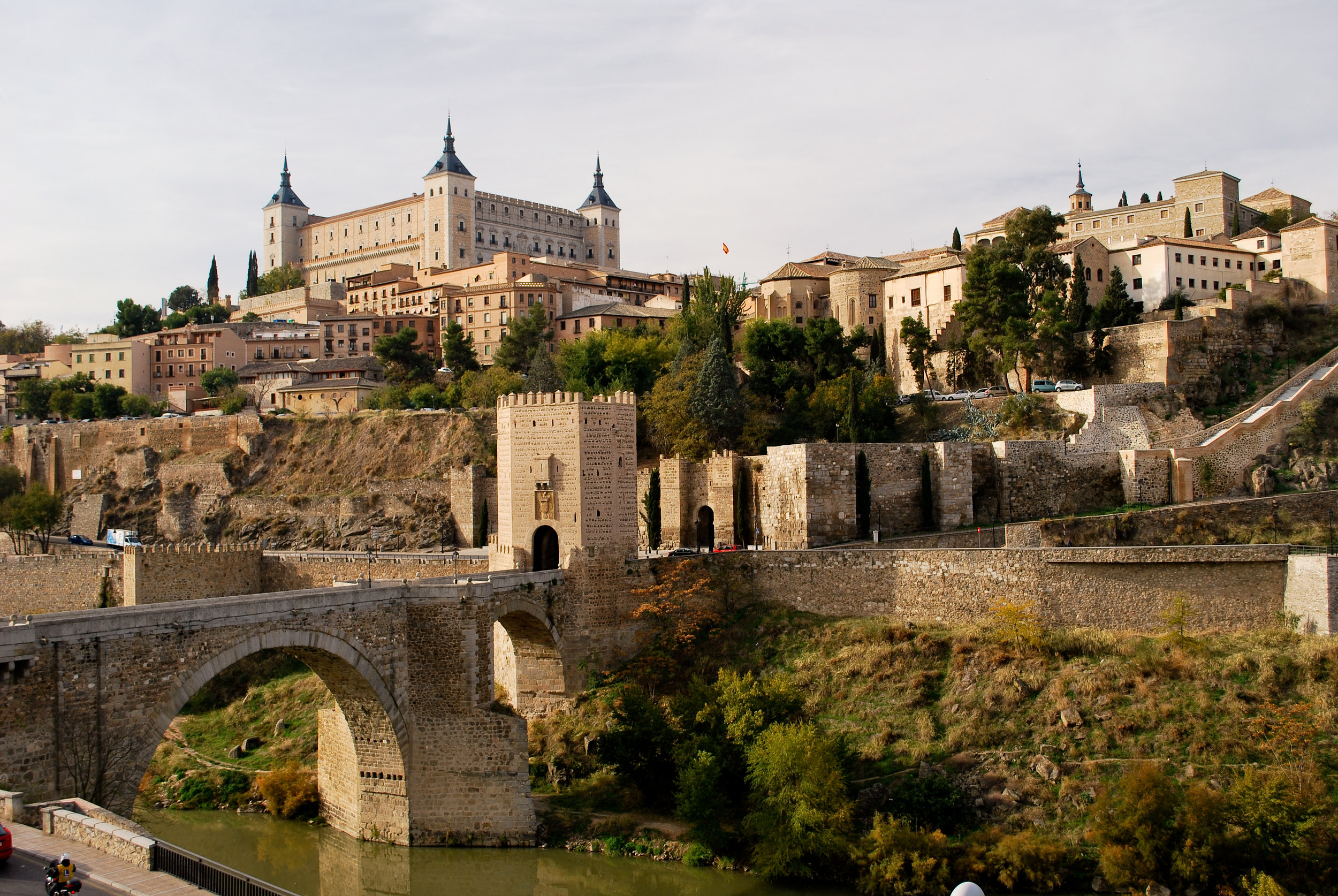 October 1:
Guided (Group) Day trip to Toledo
and Segovia
Greet your courteous guide at a conveniently located pickup point in central Madrid, and climb aboard a comfortable, air-conditioned bus destined for Toledo.

While admiring the scenic Catalonian countryside, receive an interesting introduction to the history of each region before arriving in the UNESCO World Heritage-listed city of Toledo.

Embark on a guided walking tour of the medieval city's arresting landmarks and serpentine streets, visiting the Mirador del Valle, the Cathedral of Toledo and the Monastery of San Juan de los Reyes.

After thorough exploration, return to your vehicle, and continue onward to Segovia, a Roman city shrouded in history.
On arrival, witness the architectural splendor of the ancient aqueduct, a Roman structure.

Next, marvel at the boat-shaped structure of El Alcazar, one of the most distinctive palace-fortresses in Spain, and then absorb the Gothic grandeur of the Cathedral of Segovia.

Suitably impressed, return to your vehicle, and relax during the journey back to central Madrid, where the tour concludes.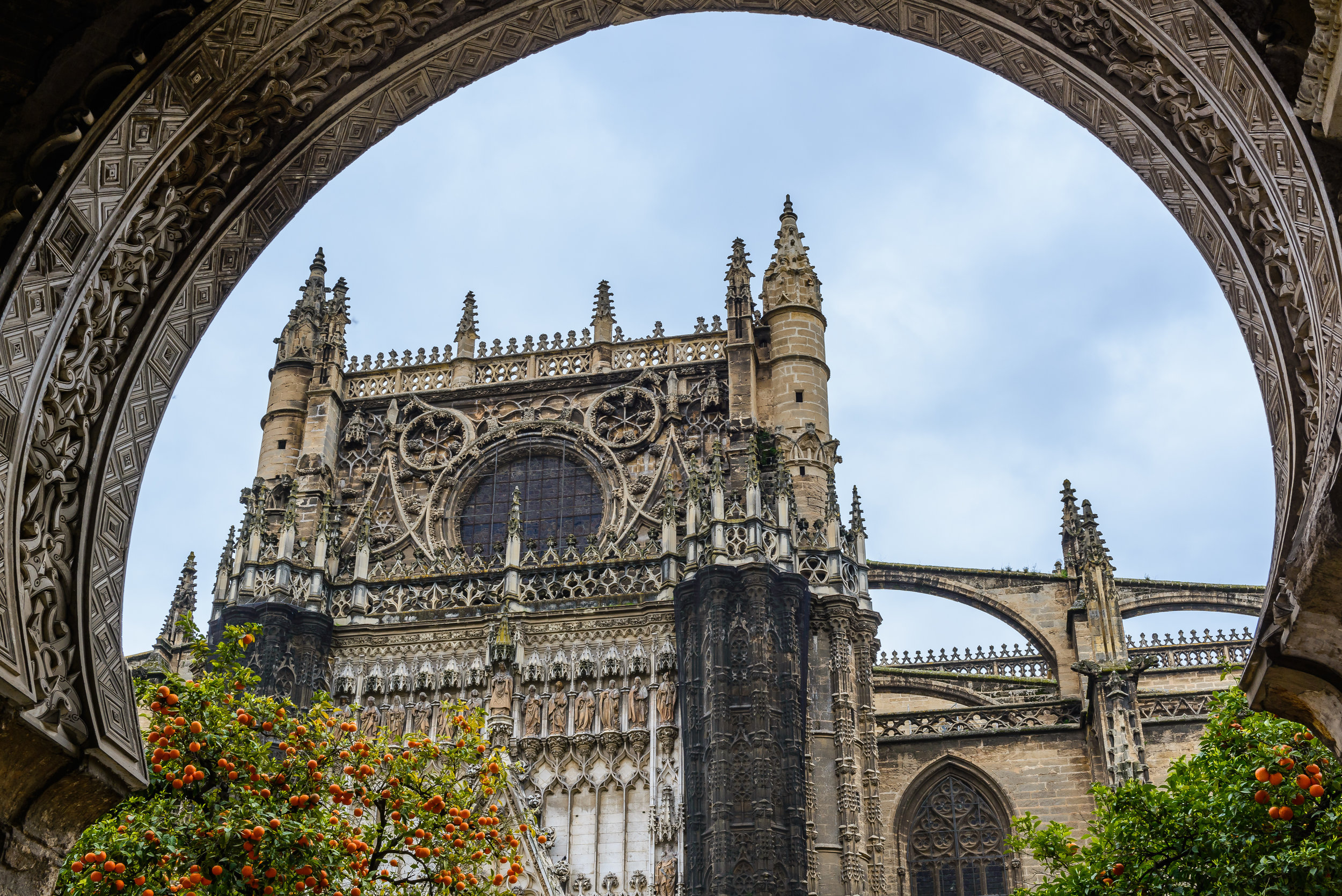 October 2:
Depart for Seville via Train
This morning, you'll check out of your hotel and find your way to the train station.
When your train arrives in Seville, check into your hotel and explore the city!
The Phoenicians arrived in this area first, establishing a number of trade colonies by the river. They taught the locals how to work with iron and created a new way of processing gold.

The Romans came next and founded the town of Hispalis a few hundred years BC. Hispalis grew into a beautiful and prosperous city, but it never managed to emerge from the shadow of nearby Córdoba, until the Visigoths transformed Hispalis into a provincial seat and a centre of learning.

In the 11th century, the Moors captured the city and re-named it Ishbiliya, but they too chose to make the grander city of Córdoba their capital. They even named it the Córdoba Caliphate.
After almost 400 years of civil war battles between Christians and Arabs, the Moors withdrew from their beloved Al-Andalus. Soon after, the inhabitants of Seville finally struck gold.

When Christopher Columbus discovered a new continent in 1492, the exclusive trade rights were given not to Córdoba, but to Seville. The city quickly became the wealthiest and most cosmopolitan city in Europe, and retained that position for several hundred years.

This eclectic mix of influences over the centuries have shaped the city we see today, and Seville's fascinating history is visible at every turn.
October 3:
Private Guided tour of Seville
(with lunch and a flamenco show)
A mixture of culture, monuments, flamenco, narrow streets, The Roman Ruins of Hispalis, bullfights , parks, tapas, etc in resume: All of Seville guided by a NATIVE Licensed Official Tour Guide.

Your guide will provide you with a map of the city and mark the important places (monuments, tapas bars, Workshops, etc) which make for easier the exploration of the city on your own.

You will visit the most important places of Seville:

Ancient Jewish Section
Royal Palaces (Alcazar)
Cathedral including the Giralda Tower
Bullring including its museum
River Bank (including a River Cruise ride ).
Roman Ruins of Hispalis (Anticuarium) right at the wonderful contemporary Metropol Parasol.
Lunch in a local bar (one of those choosen by locals)
The Purest Flamenco Show of the City
The Spanish square
October 4:
Guided (Group) day trip to Grenada and the Albaicin Quarter
Settle aboard your air-conditioned coach and admire the rugged Andalucian countryside as you journey to Granada.

Along the way, hear an introduction to your destination's history, and learn how your route is the same as the one taken by the 19th-century American essayist Washington Irving, author of the famous Tales of the Alhambra.

Catch glimpses of the Alhambra Palace on your approach to Granada and, on arrival, enjoy a guided walking tour of this UNESCO-listed gem.

Bypass the entrance lines with your skip-the-line ticket, and enjoy priority access to its main attractions, including the Alcazaba, Nasrid Palace, Generalife Gardens and Palace of Charles V. A vision of Moorish architecture and art, this exquisite complex dates back to the 13th century, and was built as a royal city, court and retreat for Spain's Moorish rulers.

Admire the Court of Lions and Hall of the Ambassadors, and stroll around the enchanting courtyards, fountains and pavilions as your guide shares details of their history.

Next, drive to the center of Granada to enjoy lunch (own expense).

Then, take a guided walk of the UNESCO-protected Albaicin quarter, Granada's old Moorish district.
Stroll down the narrow streets past whitewashed houses, churches, gardens and flower-filled balconies, and stop to take in the area's spectacular panoramas over the hilltop Alhambra.

Afterward, hop back in your coach and drive back to Seville where your tour finishes at the start point.
October 5:
Depart for Lisbon via private minivan
This morning, you'll check out of your hotel and find your private driver waiting for you in the lobby of your hotel.
When you arrive in Lisbon, check into your hotel and explore the city!
Lisbon's heart lies beside the river, even if the city has grown in all directions.

Sit down at a pavement cafe on Rossio Square and you will see the Baiza, the flat city centre that dates from the 18th century, between yourself and the river bank.

Look up in one direction and you will see the São Jorge on the top of a hill.
Look in the other direction and you will see the ruin of the Carmo Church on another hill.
Walk, or take a tram to one of them and you will discover the quarters of old Lisbon, most of them with a magnificent view of the rest of the city and the river.
Wander north from Rossio, you will soon end up on a stately 19th century avenue, in the part of the city which is still called "Avenidas Novas".
Further north, the buildings become really new, with the city's two large football grounds, Luz and Alvalade, and, lastly, the airport which is twenty traffic-jam-free minutes in a car from Rossio.

Most of the best sights, restaurants and nightlife are situated along the river.
Shopping is good along the Avenidas Novas, but otherwise the rule is to keep close to the river to get the best out of your visit.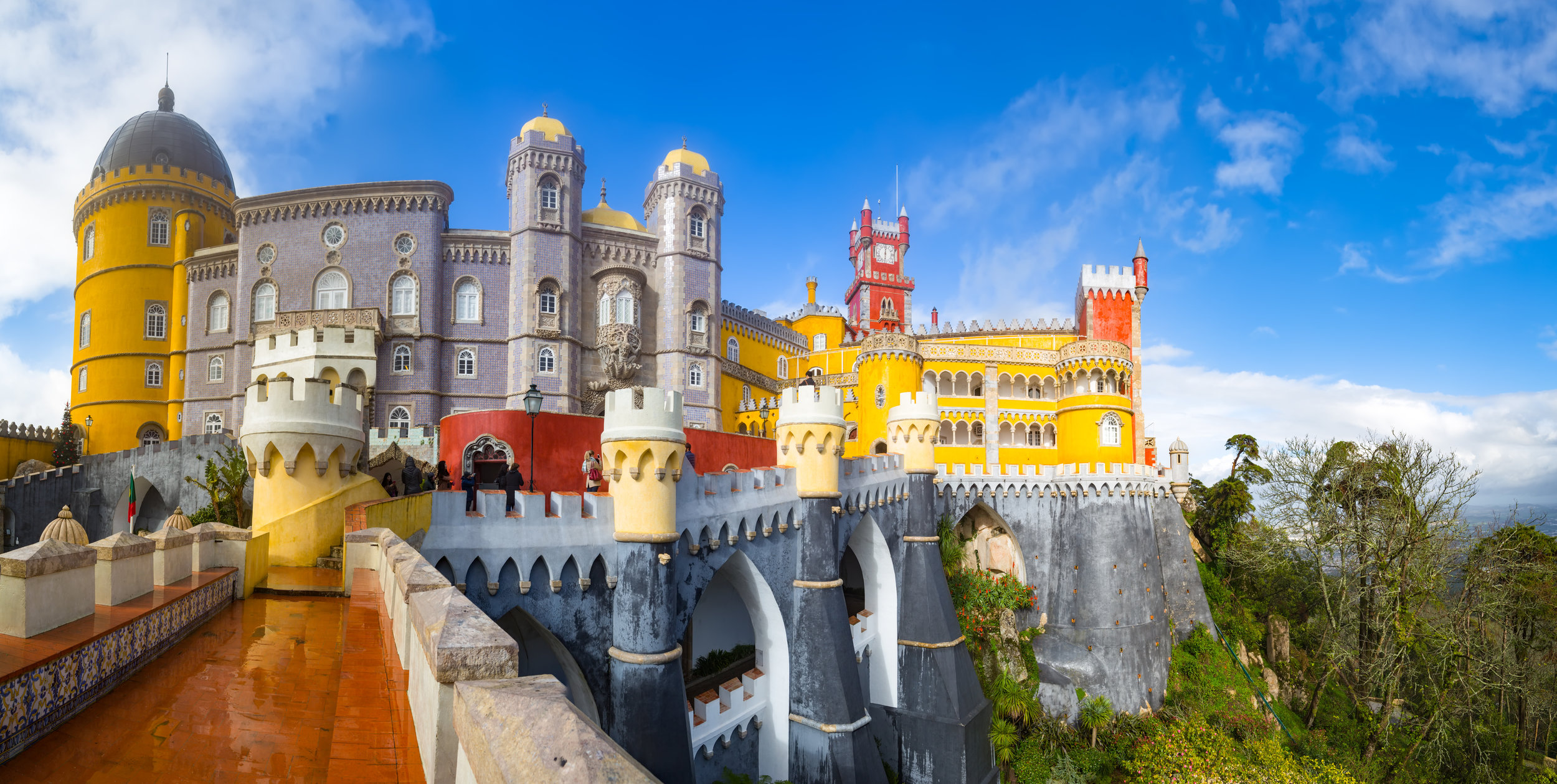 October 6:
Guided (Small group) tour of Sintra
Your full-day tour of the Sintra region begins with pickup at your centrally-located Lisbon hotel, where you'll climb aboard a comfortable tour vehicle and meet your guide for the day.

Head for Pena Palace, which sits on a hilltop with a view of Sintra National Park and the Atlantic Ocean. Learn about the 19th-century Romantic style of the palace, then continue through Sintra National Park to see the flora and fauna, the Chalets, the Montserrate Palace and the Moorish Castle.

Take an optional visit to Quinta da Regaleira (ticket at own expense), stroll through the exotic gardens and hear about the mysticism wrapped up in the secret wells, caves and Masonic architecture.
earn about the alchemy behind the architecture and art, with origins in the Templars, the Rose Cross, and the Masonry.

At Cabo Roca, snap some photos on the westernmost point of Continental Europe and stroll the beaches at Guincho.
Spend some free time in Cascais, a former vacation destination for the Portuguese Royal family.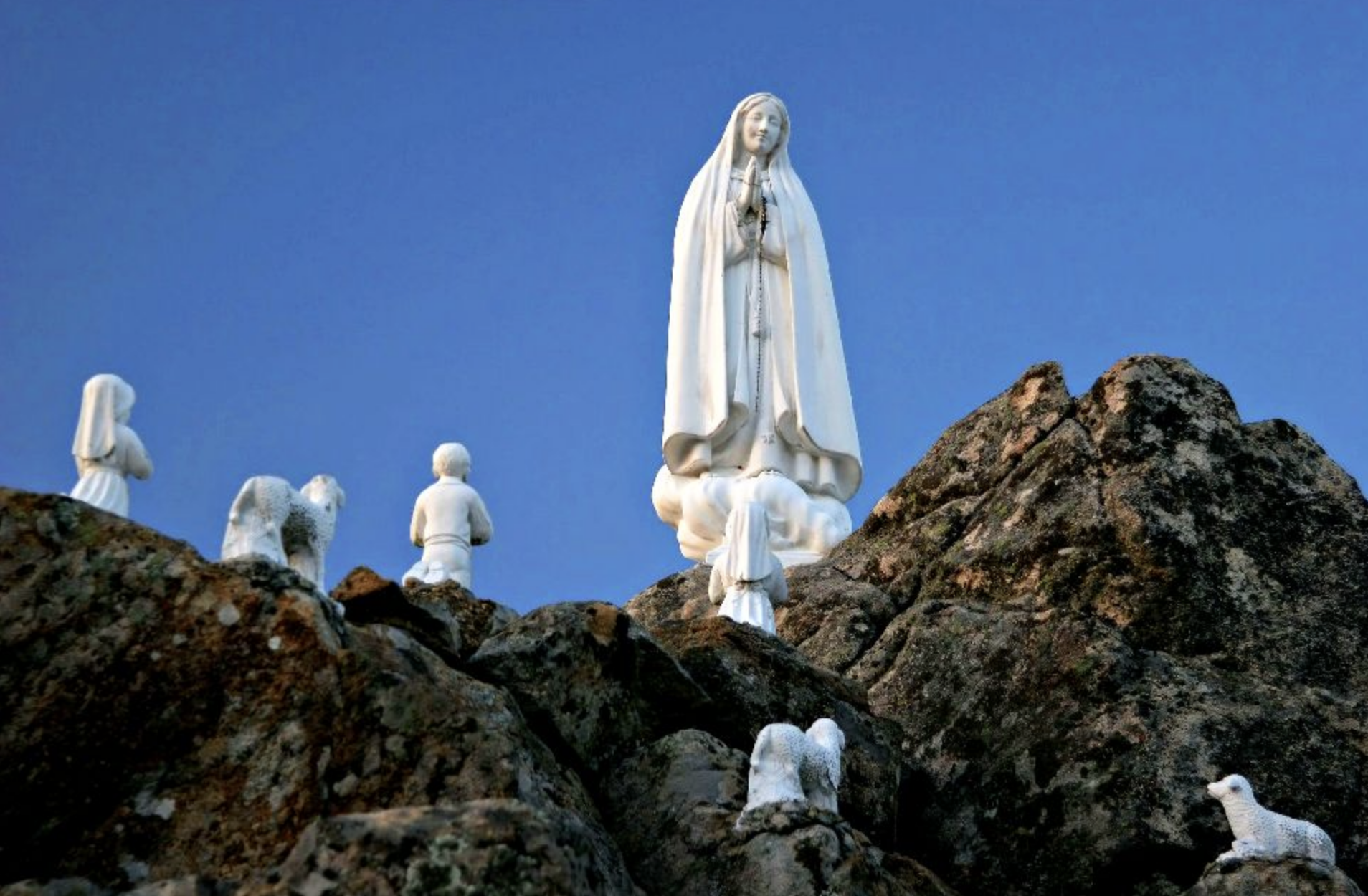 Fatima is a town and Parish located 142 km (88 miles) North of Lisbon. Fatima is one of the most important catholic shrines in the world dedicated to the Virgin Mary. Fatima's Sanctuary welcomes millions of pilgrims and tourists from all over the world. Fatima's fame is due to the Apparitions of Our Lady of the Rosary that appeared to three shepherd children; Lucia dos Santos and her two younger cousins, Francisco and Jacinta. Between May and October of 1917, the three children witnessed several apparitions. The last one, on October 13th, was confirmed by a miracle witnessed by 60,000 people known in the catholic world as "the day the sun danced".
Fatima now attracts thousands of pilgrims from all over the world, particularly on the pilgrimage days in May and October. The large torch-light processions in the evening are particularly impressive, often lead by Cardinals and Bishops. The pilgrims gather in Cova de Iria an enormous plaza where a little chapel was built and where the Virgin Mary is believed to have appeared to the children. Around the plaza are a considerable number of shops and stalls selling various religious articles. On the far side of the plaza rises the great basilica, built in the in neo-classical style, with a central tower 65 meters high, the construction of which was begun on 13 of May 1928. It is flanked by colonnades linking it with the extensive convent and hospital buildings. In the basilica are the tombs of two of the three visionaries, siblings Francisco and Jacinta Marto, who died in 1919 and 1920 respectively, and were beatified in 1970. The third seer, Lucia dos Santos, died in 2005.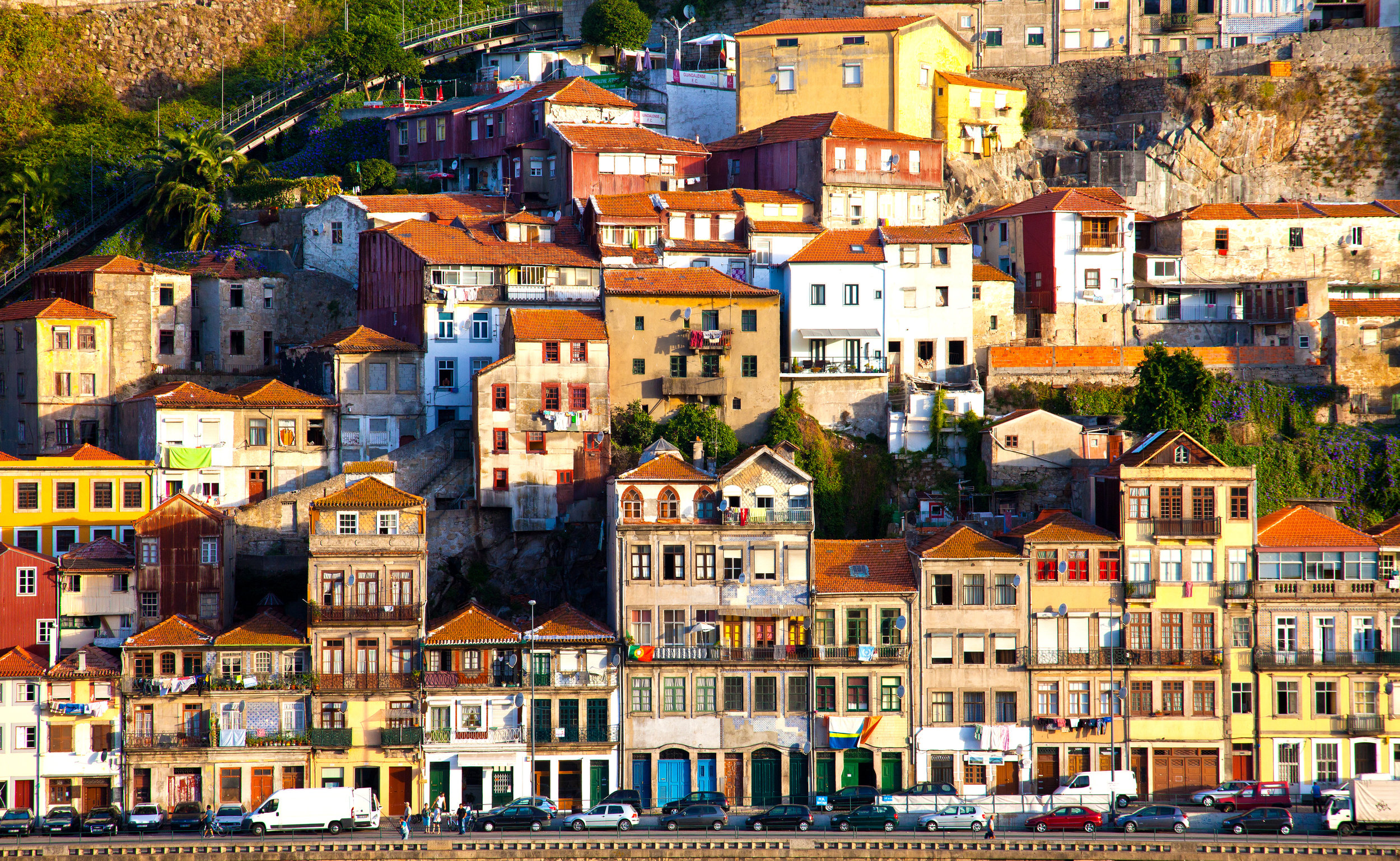 October 8:
Depart for Porto via train
This morning, you'll check out of your hotel and find your way to the train station.
When your train arrives in Porto, check into your hotel and explore the city!
Time has seemingly failed to touch some of the hidden corners of Porto, with many of its typical winding alleys full of shops and restaurants looking like a scene straight out of a medieval history book. The city is so soaked in the past that the historic area of Ribeira has been deemed a UNESCO World Heritage site.
Considering the backdrop of wrought-iron balconies full of flowers, the daily washing and an array of fresh white and blue 'azulejos' tiles, you will have the perfect city for aimless wandering. However, the city does have a few key landmarks that are worth a visit, including the elaborately decorated Palacio da Bolsa (=the Stock Exchange Palace), the medieval Cathedral and Clérigos Tower.
The other big draw for tourists is the tour of the Porto wine cellars at Vila Nova de Gaia on the other side of the Douro River.
The surrounding suburbs of the city are also compelling: Matosinhos offers great seafood eateries and small beaches stretching down the coastline. Amarante invites to a particular colourful shape. Foz do Douro is known as the wealthier area, with nightclubs and restaurants just 5 kilometres northwest of Porto.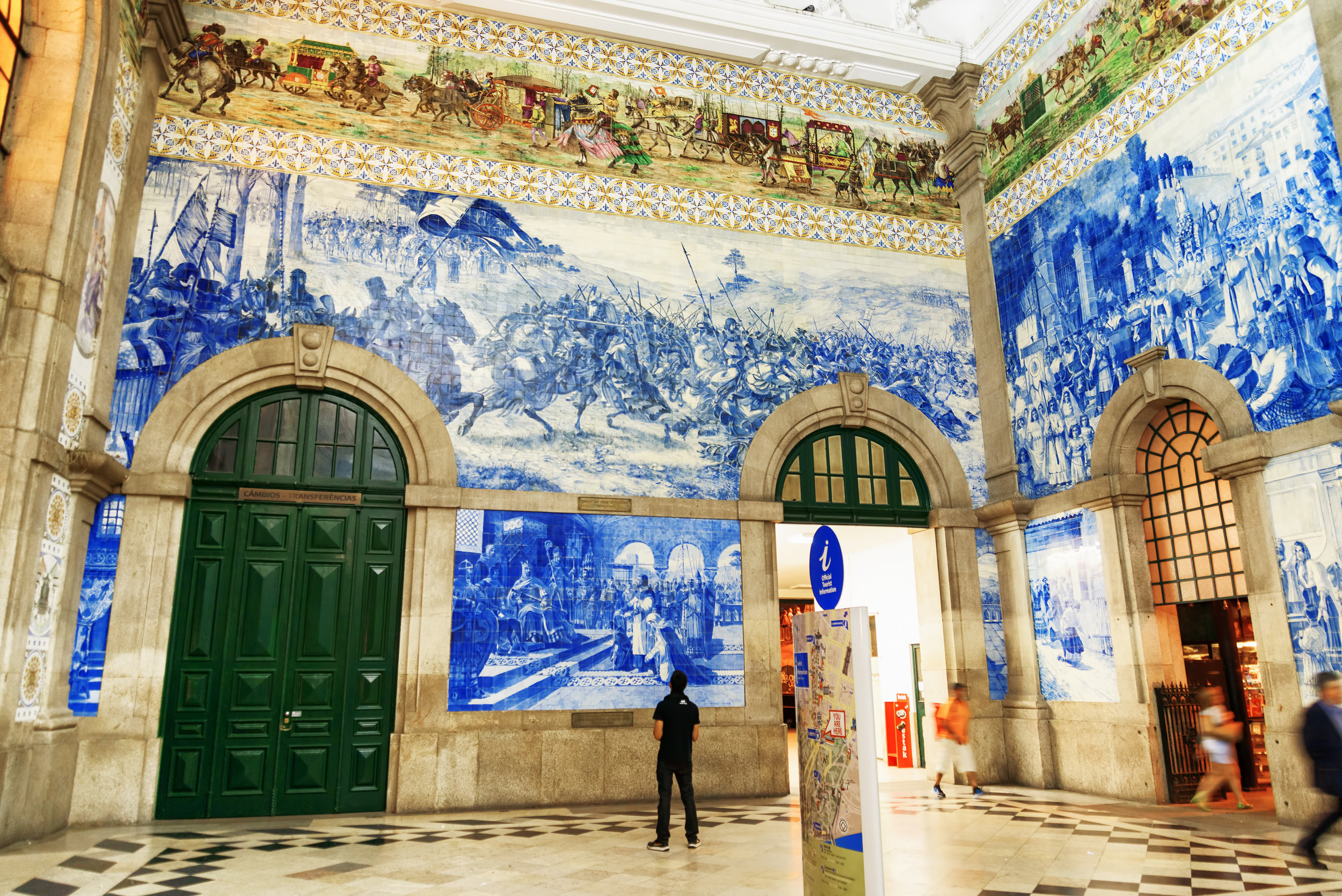 In Porto there is so much to see and do, and its beautiful surroundings are particularly spectacular.

Make sure to visit the port wine caves, different markets and many museums.
October 10:
Depart for Home
Today, you'll depart from Porto and board your plane for home.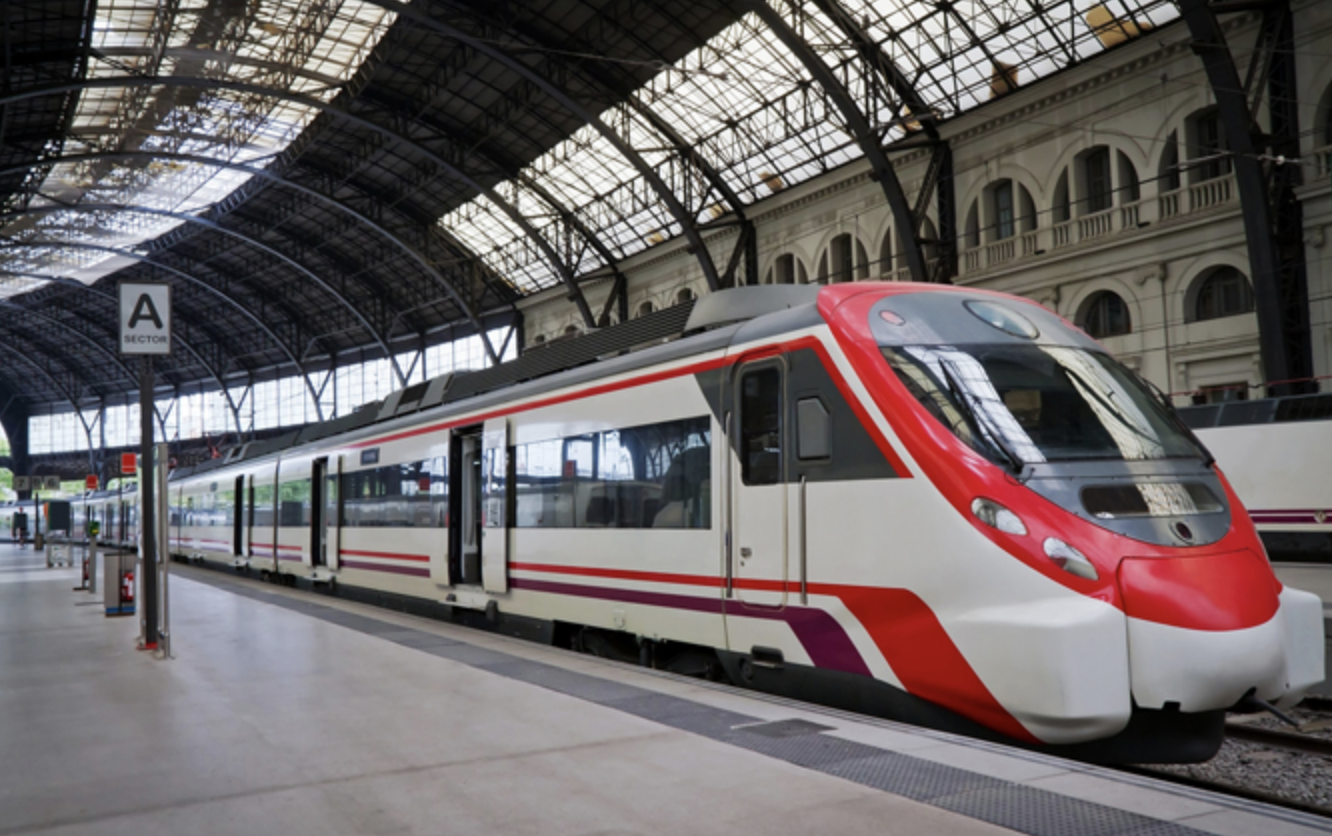 DEPARTING October 2, 2018 at noon:
BARCELONA SANTS
to
MADRID PUERTA DE ATOCHA
(Direct train)
DEPARTING October 5, 2018 at 11:05am:
MADRID PUERTA DE ATOCHA
to
SEVILLA SANTA JUSTA
(Direct train)
DEPARTING October 11, 2018 at 11:39am:
LISBON
to
PORTO
(Direct train)
ARRIVAL Transfer
September 29, 2018:
BCN (Barcelona El-Prat Airport)
to
Hotel Barcelona Colonial
Booking #: BR-664066358
Private Van Transfer
October 8, 2018:
SEVILLE, SPAIN
to
LISBON, PORTUGAL
DEPARTURE Transfer
October 13, 2018:
Pestana Porto – A Brasileira
to
OPO (Porto Airport)
Booking #: BR-667160704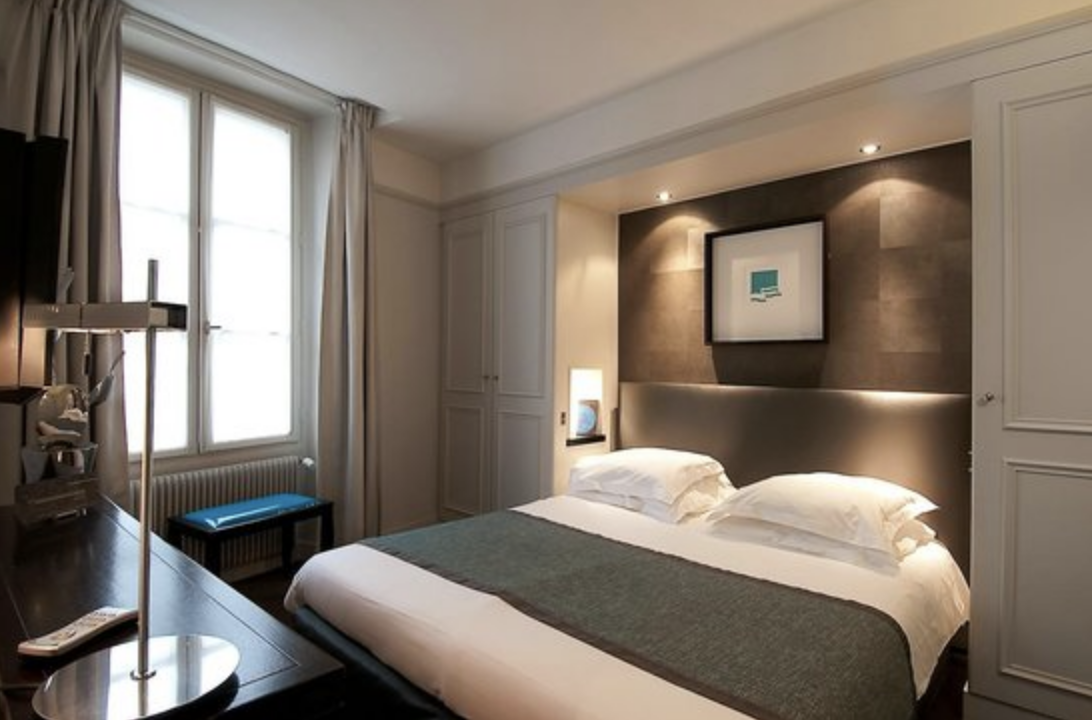 Barcelona, Spain
September 29 - October 2, 2018

Hotel Colonial Barcelona
Vía Laietana, 3 , Barcelona, 08003
Confirmation #: SYN64-13427

Madrid, Spain
October 2 - 5, 2018

Dear Hotel Madrid
Gran Via 80, Madrid, 28013
Confirmation #: MADchristian-1863767
Seville, Spain
October 5 - 8, 2018

Hotel Casa Imperial
Imperial, 29, Old town, Seville, 41003
Confirmation #: 1988574604

Lisbon, Portugal
October 8 - 11, 2018

Solar Dos Mouros
Rua do Milagre De Santo António 6, Lisboa
Confirmation #: 229167
Porto, Portugal
October 11 - 13, 2018

Pestana Porto – A Brasileira
Rua de Sá da Bandeira 91, 4000-427 Porto, Portugal
Confirmation #: 27654451
Pricing details
price Per Person:
$tbd
*Prices and availability are subject to change and are not guaranteed until completed through the booking process.
INCLUDED IN THE QUOTE
Train Transportation

Barcelona to Madrid

Madrid to Sevilla

Lisbon to Porto

Transfers

Airport to hotel transfer

Hotel to airport transfer

Private driver transfer

Sevilla, Spain to Lisbon, Portugal

Hotel accommodations**

3 nights in Barcelona, Spain

3 nights in Madrid, Spain

3 nights in Sevilla, Spain

3 nights in Lisbon, Portugal

2 nights in Porto, Portugal

Dinners/Tours/Shows/Passes

Toledo and Segovia Group Tour

Private Sevilla Tour (MEAL INCLUDED) and Flamenco Show

Grenada and Albaicin Quarter Group Tour

Sintra Small Group Tour with optional Quinta da Regaleira add on

Most taxes and fees

Train taxes and fees

Tour taxes and fees

Service fees and commissions
**Most hotel reservations require you to pay taxes, VAT and resort fees onsite
NOT INCLUDED
Airfare

Train station to hotel transportation (in all cities)

Local taxis

Most meals/beverages (unless included in hotel and/or tour)

Some hotels may require payment of city taxes, VAT and resort fees onsite

Some entrance fees must be paid in person and onsite

Tips to guides, drivers and hotel staff

3% processing fee at assessed at checkout

Optional Travel Insurance *DUE AT TIME OF BOOKING

Basic (starting at $tbd/ea)

Cancel for Any Reason (starting at $tbd/ea)
SUGGESTED PAYMENT SCHEDULE
There are two payment options available to you.
*payment schedule does not include insurance costs. Insurance is due with initial payment.

Option 1:
(most secure, least likely to change in price and availability)
Full payment due now (plus insurance)
Option 2:
(prices and availability are subject to change and are not guaranteed until completed through the booking process and payment is in full)
(an additional 10% fee per payment is applicable with this option, additionally there is a $50/pp fee added to the bill for this delayed payment option)
pricing breakdown tbd
REGISTRATION
A completed registration form (per person)

Photo copy of picture/information page of each traveler passport emailed to: christian@zone-travel.com

Credit Card Authorization form with copy of credit card
FINAL PAYMENT
Payments not received on time will result in reservation cancellation without refund.

Additional bookings after the final payment deadline may result in higher prices, less availability and additional administrative fees.

Fee amounts imposed are at the discretion of Zone Travel.
CANCELLATION
Cancellation in writing must be received by Zone Travel prior to departure for appropriate refund on the land tour cost minus the following fees. Airline penalties are not part of the percentages below and vary based on each individual airline policy.
30 Days Prior or less: 100% of tour cost
Commissions and Travel insurance are non-refundable.
Travel Insurance
TRAVEL INSURANCE - AVAILABLE FOR ALL USA CITIZENS - DUE WITH INITIAL PAYMENT
Zone Travel LLC strongly suggests purchasing Trip Cancellation insurance. Be sure to check with your healthcare provider as most U.S. medical coverage will not cover you outside of the country.
Insurance costs are based on the total package cost, including air taxes and charges listed under "Included."
Approximate amounts can be given at time of reservation in order to purchase the appropriate amount of insurance.
BASIC PLAN:
The Basic Plan is so affordable you can have your fun and protect it too - all while staying within your budget. The plan has a wide-variety of covered reasons for trip cancellation and interruption, and it can also include coverage for existing medical conditions so you can book your trip with complete confidence.
Trip Cancellation: Trip Cost
Trip Interruption: Trip Cost
Emergency Medical/Dental Coverage: $10,000.00
Emergency Medical Transportation: $50,000.00
Baggage Coverage: $500.00
Baggage Delay: $200.00
Travel Delay: $300.00
24-Hour Hotline Assistance: Included
CANCEL ANYTIME:
(NY RESIDENTS-PLEASE ENQUIRE ABOUT SIMILAR OPTIONS)
You can enjoy the extra flexibility of knowing you can cancel your trip for almost any unforeseen reason that the Classic plan does not already cover at 100% and receive 80% of their non-refundable trip cost back in cash. With features like comprehensive trip cancellation, primary emergency medical coverage and 24-hour travel assistance, the Classic with Cancel Anytime plan is there if life throws an unexpected wrench in your travel plans. Plan must be purchased within 10 days of the first payment date and must cover the full non-refundable trip cost ($10,000 maximum).
Trip Cancellation: Trip Cost
Trip Interruption: Trip Cost
Emergency Medical/Dental Coverage: $25,000.00
Emergency Medical Transportation: $500,000.00
Baggage Coverage: $1,000.00
Baggage Delay: $300.00
Change Fee Coverage: $500.00
Loyalty Program Redeposit Fee Coverage: $500.00
Travel Delay: $800.00
24 Hour Hotline Assistance Plus: Included
F.A.Q.
When is the deadline to sign up?
December 1, 2019
Prices and availability are always subject to change and are never guaranteed until completed through the booking process.
How can I make a payment?
You can make a payment (Mastercard, Visa, Discover or American Express) by clicking one of the payment buttons above
or, if you prefer a check, you can make checks payable to "Zone Travel LLC"
Address:
P.O. Box 44098
Columbus, OH43204
Please ensure checks are mailed early to arrive by the required payment deadline.