Escape away, together
September 16-20, 2018
Includes roundtrip airfare, roundtrip CUN airport transfers and all inclusive hotel accommodations.

*Prices are total for 2 people. Prices and availability are subject to change and are not guaranteed until completed through the booking process.
Live Aqua Cancun - All Inclusive: Blending contemporary architecture with sophisticated accommodations, this premiere hotel provides the perfect vacation getaway for active couples and luxury seekers alike.

Enjoy refreshing swims in the unique pools, an extensive, first class spa facility, gourmet restaurants, superior amenities and stylish guestrooms include inspired amenities including Egyptian cotton sheets, flat-screen TVs, aromatherapy and pillow menus, Molton Brown amenities and private balconies with beautiful views.

Next, spice up the night at the hotel's fun-filled selection of bars, including a luxurious seaside lounge equipped with plush beds and stylish chaise lounges.
Early this morning you'll depart for Cancun, getting you on the beach as soon as possible!

Check into your room and start enjoying the weekend together!
September 17:
Relax by the beach
There's plenty to do (or not do) with
7 pools
2 Hot Tubs
7 restaurants
... and miles of beach.
September 18:
Indulge at the spa
Spend the day relaxing on the beach, enjoying a cocktail, and/or treating yourselves to some pampering in the spa!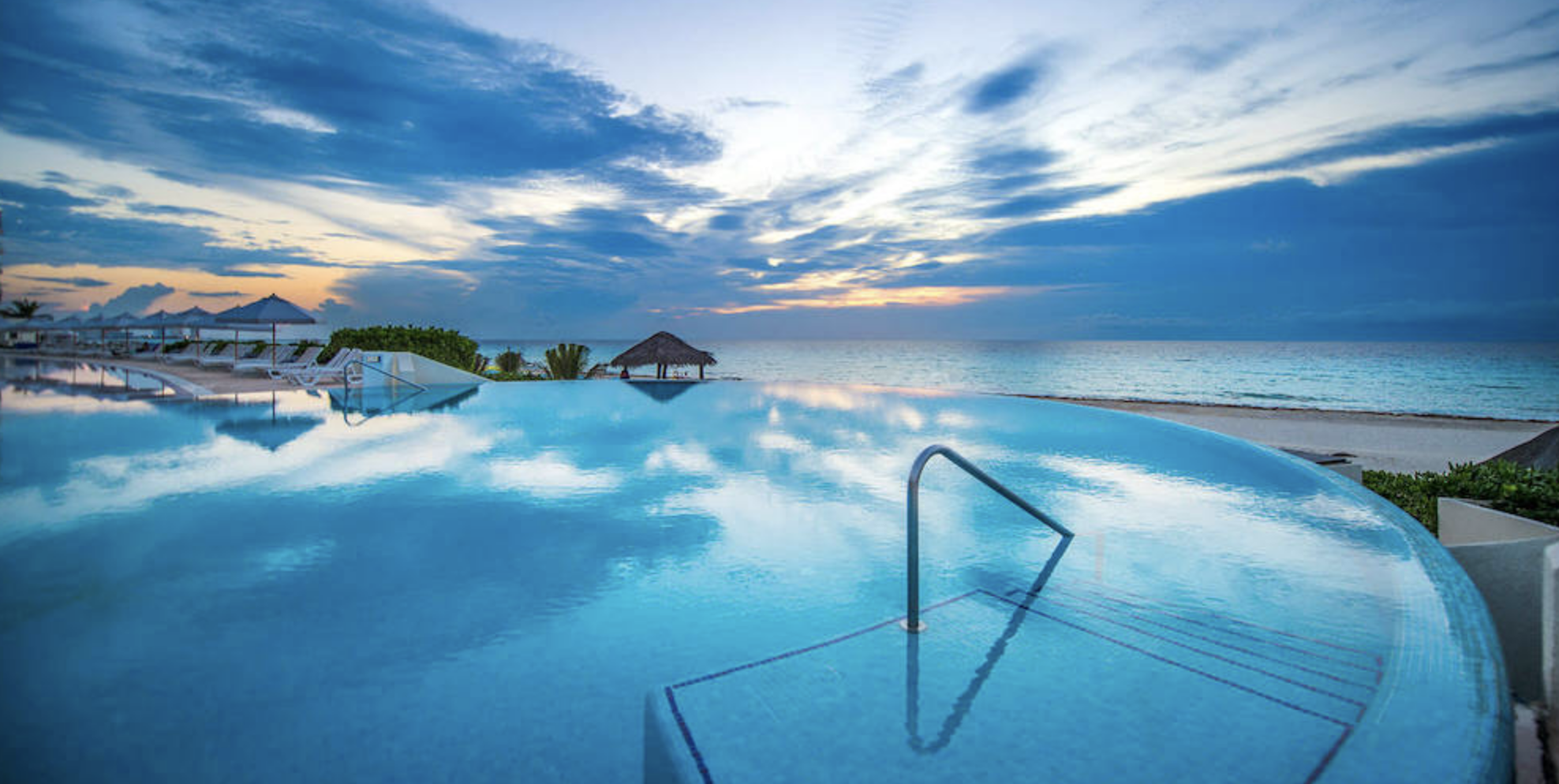 September 19:
Escape reality
Enjoy the beach on your last day of vacation!
After a relaxing weekend together, enjoy breakfast and then gather your things for you flight home.


American Airlines Confirmation:
DHALCF
Departing flight:
American Airlines Flight: AA 2380
CMH-DFW
DEPARTING Sept 16, 2018:
CMH @ 6:14am
DFW @ 7:58am
American Airlines Flight: AA 1190
DFW-CUN
DFW @ 9:05am
CUN @ 11:50am

Returning flight
American Airlines Flight: AA 1536
CUN-MIA
DEPARTING Sept 20, 2018:
CUN @ 12:30pm
MIA @ 3:20pm
American Airlines Flight: AA 5204
(Operated by Envoy Air as American Eagle)
MIA-CMH
MIA @ 7:35pm
CMH @ 10:25pm
Live Aqua Cancun - All Inclusive
Room type
Upgraded to: Deluxe Oceanview King Room
Pricing details
Total Trip Price: 
$PAID*

*Prices and availability are subject to change and are not guaranteed until completed through the booking process.
INCLUDED IN THE QUOTE
Round trip airfare

Airport transportation

All Inclusive hotel accommodations
NOT INCLUDED
Optional Travel Insurance

Basic (starting at $91)

Classic Trip+ (starting at $163)

Cancel for Any Reason (starting at $169)
REGISTRATION 
A completed registration form (per person)

Photo copy of picture/information page of each traveler passport emailed to: christian@zone-travel.com

Credit Card Authorization form with copy of credit card and Government issued photo ID (like a drivers license or passport)
CANCELLATION
Cancellation in writing must be received by Zone Travel prior to departure for appropriate refund on the land tour cost minus the following fees. Airline penalties are not part of the percentages below and vary based on each individual airline policy.

Commissions and Travel insurance are non-refundable.
To protect your investment, we recommend that you purchase travel insurance.
Travel Insurance
TRAVEL INSURANCE - AVAILABLE FOR ALL PASSENGERS - DUE WITH PAYMENT
Zone Travel LLC strongly suggests purchasing Trip Cancellation insurance. Be sure to check with your healthcare provider as most U.S. medical coverage will not cover you outside of the country.
Insurance costs are based on the total package cost, including air taxes and charges listed under "Included."
Approximate amounts can be given at time of reservation in order to purchase the appropriate amount of insurance.
BASIC PLAN:
Your may think you can't afford both the fun and the insurance to protect it. The Basic Plan is so affordable that you can have it all, while still staying in a budget. The plan offers existing medical condition coverage and 24-hour assistance services, allowing you to purchase your trip with complete confidence.
Trip Cancellation: Trip Cost
Trip Interruption: Trip Cost
Emergency Medical/Dental Coverage: $10,000.00
Emergency Medical Transportation: $50,000.00
Baggage Coverage: $500.00
Baggage Delay: $200.00
Travel Delay: $300.00
Travel Delay: $150.00
24-Hour Hotline Assistance: Included
CLASSIC TRIP+: 
When you book your family on an international vacation, you want the peace of mind that you purchased the right amount of coverage. Classic Trip+ doubles nearly all the post-departure coverage of the Classic Plan, including Emergency Medical and Dental, Emergency Medical Transportation, Baggage Loss, Baggage Delay, Travel Delay, and Missed Connection.
Trip Cancellation: Trip Cost
Trip Interruption: Trip Cost
Emergency Medical/Dental Coverage: $50,000.00
Emergency Medical Transportation: $1,000,000.00
Baggage Coverage: $2,000.00
Baggage Delay: $600.00
Change Fee Coverage: $250.00
Frequent Flyer Miles Redeposit Fee: $250.00
Travel Delay: $1,600.00
Missed Connection: $1,600.00
24 Hour Hotline Assistance Plus: Included
CANCEL ANYTIME: 
You can enjoy the extra flexibility of knowing you can cancel your trip for almost any unforeseen reason that the Classic plan does not already cover at 100% and receive 80% of their non-refundable trip cost back in cash. With features like comprehensive trip cancellation, primary emergency medical coverage and 24-hour travel assistance, the Classic with Cancel Anytime plan is there if life throws an unexpected wrench in your travel plans. Plan must be purchased with the first payment date and must cover the full non-refundable trip cost ($10,000 maximum).
Trip Cancellation: Trip Cost
Trip Interruption: Trip Cost
Emergency Medical/Dental Coverage: $25,000.00
Emergency Medical Transportation: $500,000.00
Baggage Coverage: $1,000.00
Baggage Delay: $300.00
Change Fee Coverage: $250.00
Frequent Flyer Miles Redeposit Fee: $250.00
Travel Delay: $800.00
Missed Connection: $800.00
24 Hour Hotline Assistance Plus: Included
Is it safe to travel to Mexico?
Yes. 
Travel holds an inherent risk, but travel to Mexico is no more dangerous (and in some cases, safer) than travel right here at home in the USA. 
Use common sense and be mindful of your surroundings, as always. 

In general, don't do drugs. Don't sell drugs. Don't transport drugs. 
Travel outside the resort is generally safe if you follow these rules. 
Feel free to visit the US Government travel page for up to date advisories and other important information:
https://travel.state.gov/content/travel/en/international-travel/International-Travel-Country-Information-Pages/Mexico.html
Can I drink the water?
No.
Filtered water and bottled water only. 

Ice should be fine, as it is usually filtered.
Is it safe to take a taxi in Mexico?
Yes, 
Be sure to agree upon a set price BEFORE you get into the vehicle. 
Make sure the taxi is a real cab... (i.e.... don't get into just any car, look for a license, a meter and the usual taxi markings on the outside of the vehicle)


 
What does the all-inclusive include?
- Breakfast, lunch and dinner at various restaurants and bars
- 24-Hour Room Service
- Alcoholic and non alcoholic beverages - domestic and international brands in all restaurants and bars are included. - Only "By-the-glass beverages, spirits, cocktails, sodas and beers.
- Minibar including soft drinks, bottled water and beer replenished once a day.
- Gym access
- Hi-speed wireless internet in public areas
 and room
- Daily activities (such as Mayan and yoga rituals, aqua yoga and pilates, cooking lessons and Spanish lessons)
- Parking available
- Taxes and service charge included
 
What restaurants and bars are onsite?
Various Lounges/Bars:
Egos Bar- Located in the hotel lobby. Ambient chill-out and lounge music.

AKA Bar: Spirits and a extense variety of wines and tequilas provide atmosphere to relax and enjoy Aqua to it's fullest.

Various Restaurants:
MB: Avant-garde cuisine offering a concept of New American Cuisine. Resort-chic dress code.
Siete: Pop art fuses with contemporary Mexican high-end cuisine. Open for breakfast (buffet & a la carte) and dinner (à la carte).

Azur: Beautiful view of the ocean and pools. Fresh and varied ceviches. Mediterranean - influenced seafood, pasta and snacks.
Sea Corner: This culinary experience features fresh tropical fruits & traditional flavors of the Mexican Caribbean.  Unlimited ceviche, chips, tacos and tropical cocktails.
Sushi Station: Simple & modern eatery offers Japanese sushi specialties.  An outdoor terrace offers a great view to accompany the freshest fish around.
Cafe Deli Boutique: Open-air terrace provides coffee & tea as well as scrumptious pastry or dessert. 

Inlaa'Kech Lobster & Grill - When the sun goes down and the stars rise over Cancun's famous shores, the scene at this exclusive restaurant starts to heat up. The sublime setting and refined ambiance set the stage for a dreamlike paradise that creates romantic moments you will remember for a lifetime. Menu highlights include fine steaks, lobster, kebabs, fresh salads and seafood, along with homemade sauces and marinades that make each dish a masterpiece.
Enjoy a divine selection of house wines and wines from Mexico with your meal. And finish your evening with a French flambé by our maître, or surrender to the creations of pastry for a delectable dessert. Chef Manuel Sansores and everyone at In Laa'kech will create magical moments under the Caribbean moon. Reservations required.
Sittings: 6:00 pm, 7:30 pm and 9:30 pm
Surcharge of $60.00 USD per person - this is not included on the all-inclusive plan
Some restaurants may only operate on select schedules. Some restaurants may require reservations and expect appropriate dress. Consult the hotel upon arrival for hours of operation, reservation policies and dress codes.
What activities are available onsite?
Fitness center on-site†

Hot tub
2 Outdoor Hot Tubs

Pool
There are 7 pools on site. This Property has Swim up Bars.

Sauna†

Spa†

Steam bath†

Tennis court
There are 2 tennis courts onsite. There are 2 lit tennis courts onsite.