Maine: Self Guided
Summer 2019
Jul 30 - Aug 5, 2019
Total package price:
$3181
Includes hotel accommodations and rental car.

*Price is total for 4 people (based on double occupancy) and both price and availability are subject to change and are not guaranteed until completed through the booking process.
This package is completely customizable and offers much flexibility in the day to day activities!
Ogonquit, ME
As you continue our journey up the coast you discover the Village of Ogunquit - which means "Beautiful Place by the Sea" in the language of the Algonquin Indians. A visit to the lively Perkin's Cove is definitely in order. This miniature working lobster and fishing village is chock full of wonderful little shops, restaurants and art galleriers. There is a walking drawbridge, a beautiful walkway along the ocean (known as The Marginal Way) and numerous boating excursions that sail from Ogunquit harbor's docks. Ogunquit is also home to a 3-mile stretch of near perfect beach sand. Another attraction not to be missed is the Ogunquit Playhouse, one of the last remaining summer stock theaters, which attracts big name stars each season.
Kennebunk, ME
Kennebunkport is a world famous town for vacations. Visitors come from all over the world to see the beautiful Maine coast, the classic seaside village of Kennebunkport, to walk the beaches and watch the boats, to stay and play where Presidents, artists and fishermen all call home. If you are looking for the true charm, history and hospitality of Kennebunkport, staying at a Kennebunkport Inn or a Bed and Breakfast will provide a personal touch, a warm welcome and sense of belonging as you visit this celebrated Maine town.
What's nice about staying at an Inn or B&B in Kennebunkport is that you are likely to meet the innkeeper, often the owner, and learn much more about the town and the best places to go and dine during your stay than you would at a bigger hotel or resort property. Innkeepers love to share their knowledge of Kennebunkport, which is a treasure trove of galleries, boutiques, hidden beaches, boat tours and scenic inspirational walks. You may learn more about Kennebunkport over breakfast from your innkeeper, after all, it is a bed and breakfast, than you would in any Maine guidebook.
Portland, ME
The cosmopolitan city of Portland Maine and its historic Old Port district is brimming with galleries, boutiques and Maine best restaurants. Just outside of town, discover the unique Cape Elizabeth Light. Originally twin lighthouses, the second has been inactive since 1924. The active light, subject of two Edward Hopper paintings, is the most powerful on the New England coast.
Keep your camera ready for the oldest, and possibly the most famous of all Maine lighthouses, Portland Headlight. America's first lighthouse, built in 1787, it was commissioned by America's first President, George Washington, to guard the state of Maine's busiest harbor.
Best of Portland Craft Drink Tour $80.00 PP
Discover Portland, Maine's craft-drink industry on this guided, 3-hour tasting tour. Portland is well known for its beer, but it's also home to other craft beverages. Visit some of the Forest City's finest breweries and distilleries to discover the best beer, wine and spirits it has to offer.

Portland Food Tasting Tour in Old Port $83.00 PP
Uncover Portland's culinary scene as you eat your way through the historic Old Port area with this small-group walking tour. You and your fellow food tasters will get a chance to try cuisine from six of the best area restaurants -- be prepared for everything from Italian fare to locally sourced seafood. You'll also get an insider's look at the local food scene, with the opportunity to meet local chefs at some of your stops

Portland Stage: The theater of Maine $25&up PP
As a leading arts institution in our state, Portland Stage is a hub of creative activity. Our community takes pride in the theater and actively engages in its wide range of first-rate productions and transformative programs. Our nationally known, innovative education programs are built with the same rigor as our professional productions. Acknowledged as a gem by the field, our productions attract outstanding artists as well as a diverse audience, while our artistic programs incubate new work and inspire new artists. Our open and inviting building allows artists and audiences to connect around the work which is relevant to the community in which we live and sparks discussion and dialogue. We have strong financial underpinnings, an effective staff and Board which allow continued innovation and improvement. We are transparent in our objectives and collaborate with other like-minded institutions.
Play TBA
Boothbay Harbor, ME
On Maine's mid-coast, the rugged coastline is so dotted with lighthouses and picture-perfect seaside villages that it's impossible to describe them all here! Boothbay Harbor, Camden, Rockport and Rockland are just a few of the many delightful Mid-Coast Maine towns. Enjoy schooner rides, whale watches, lobster boat tours from any of these spectacular harbors out to beautiful lighthouses like Seguin Island and The Cuckholds, and Penobscot Bay - a true boaters haven.
Rockport, ME
Although smaller than sister town Camden, the town of Rockport has become one of the hidden gems of the mid-coast Maine region. It was even named one of America's Prettiest Towns by Forbes Magazine. The laid-back town atmosphere makes it perfect for visitors looking to enjoy a relaxing and peaceful weekend in a beautifully scenic setting. Rockport's location is also ideal, as it marks the halfway spot between Kennebunkport and Bar Harbor.
The Maine Lobster Festival is five days of fun and feasting on the fabulous coast of Maine! This annual event takes place during the first weekend of August, from Wednesday through Sunday.
What started as an idea for a local marine festival to revive Midcoast Maine communities has turned into an internationally-recognized celebration of local seafood. The Maine Lobster Festival attracts visitors from as near as Owls Head, Maine, to visitors from countries throughout Europe and Asia!
Activities During Festival& Daily Schedule
Seafood Cooking Contest
Arts and Crafts
Steins and Vines
The Great International Lobster Crate Race
The Big Parade
Maine Sea Goddess Pageant& Coronation
Schooner Yacht Heron $90.00 PP
Sail the Maine Coast aboard Schooner Yacht HERON, a 65' John Alden designed Classic Schooner Yacht. Experience the thrill of sailing a classic wooden schooner. HERON is fast and steady as she sails among the pristine islands of Penobscot Bay. The Schooner Yacht HERON is truly the finest day sailer in the fleet. Quality sails offered daily. Enjoy Maine's tastiest Lobster Roll lunch, educational Indian Island Lighthouse/Eco tour or a relaxing Sunset Dinner Sail. Private sails, group and custom charters also available. HERON is family built, owned and operated by the Bower family of Camden, Maine.
Windjammer Classic Sunset Sail $65.00 PP
Enjoy a one-of-a-kind perspective on Maine's picture-perfect sunsets when you embark on an evening sailing tour. Departing from the scenic Camden Harbor, you'll travel in comfort aboard a large, elegant windjammer that was built according to traditional methods. Sail past Curtis Island Light, chart Penobscot Bay, and take in the ruggedly beautiful coastal scenery, with views of mountains in the distance. You can spot local wildlife, enjoy drinks on board (available for purchase), and see the sun set over the water before returning to the harbor.
Bar Harbor, ME
Bar Harbor is known for its stunning coastal beauty, its many yachts and lobster boats, and its view of islands and ocean in settings that can range from glistening sunlight to thick fog and mist. It slows our lives down so we may appreciate nature and the relationships with those in our lives whom we love even more. This is a community where people live in harmony with the land in which they live. Bar Harbor is a lifestyle, an aspiration, and a very special place. It is the center of activity for many island visitors seeking a variety of shops, restaurants, taverns, hotels, or bed and breakfasts as well as easy access to the forests and shores of Acadia National Park.
Acadia National Park
Acadia National Park is an American national park located in the state of Maine, southwest of Bar Harbor. The park reserves most of Mount Desert Island and its associated smaller islands along the coast of Maine. Initially designated Sieur de Monts National Monument by presidential proclamation in 1916, the park was renamed and re-designated as Lafayette National Park in 1919. The park was renamed Acadia National Park in 1929.More than 3.5 million people visited the park in 2017.
Acadia National Park is the oldest national park in the United States east of the Mississippi River.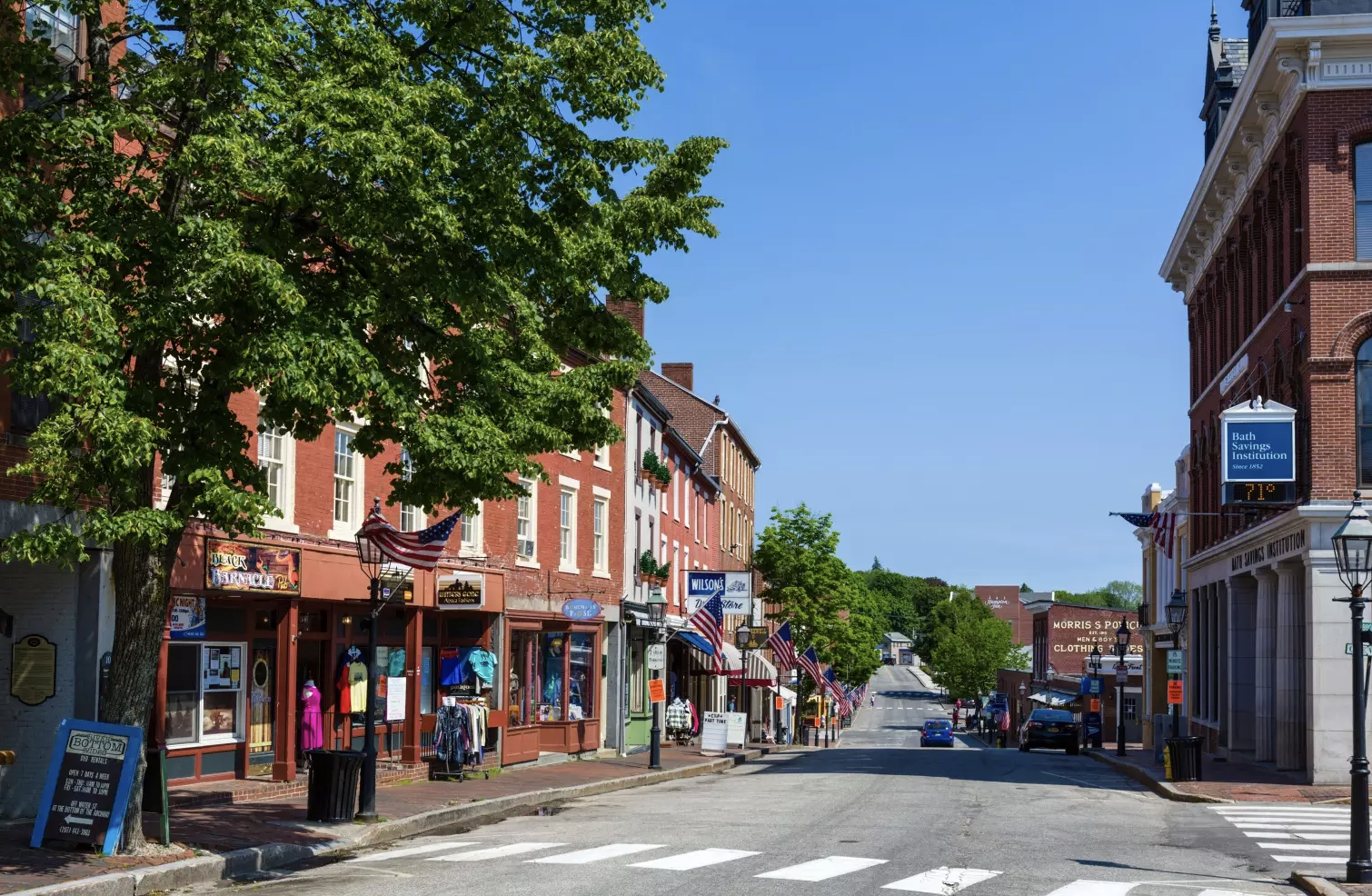 Perfectly situated between Portand and Rockport, is Bath, ME. Travel and Leisure Magazine recently named Bath, ME to have one of America's Greatest Main Streets!
Dry docks and cranes rising from the shipyard along the banks of the Kennebec River just south of downtown speak to the town's nickname, the City of Ships.
Bath itself is compact, brick-solid, and walkable. Explore leafy Front Street, with its brick buildings and an outpost of Reny's, a small discount department store chain that's a throwback to an earlier era. Detour down side lanes for bakeries, restaurants, and variety shops.
The hotel will likely be the Hampton Inn and Suites
Food, Fun and Music
Portland
Food
Harbor Fish Market-best place for seafood especially oysters
Shipyard Brewing Company
Rising Tide Brewing Company
Live Music
Portland House of Music and Events
One Longfellow Square
Bath
Food
Winnegance Restaurant and Bakery
Live Music
Green Park Brasserie
Saint James Wine Vaults
The Thunderbolt
Chocolate Church Arts Center $25.00&up PP
Attend a Play in one of Bath's oldest buildings
The Chocolate Church Arts Center is mid coast Maine's regional performing and visual arts center. For more than 30 years the Chocolate Church Arts Center has been offering a rich program of live music, gallery exhibitions, theatre for young artists, lectures and workshops.
Play TBA
Beech Hill Preserve
The Beech Hill Preserve offers ready access to one of the most scenic and multi-faceted conservation properties in the western Penobscot Bay region.
As the only bald hilltop in the area, Beech Hill is an extraordinary hiking, picnicking and birding destination that offers panoramic views of Penobscot Bay, the Camden hills and the St. George peninsula. The Preserve has the honor of being one of the official stops on the Maine Birding Trail, with over 125 species on its checklist. The conservation program of this Preserve protects nearly 300 acres of land managed for grassland bird habitat, organic blueberry production, and scenic and historic preservation values.
Vehicle will be an economy car or larger
Picking up and dropping off at the airport
Registration form
*Price per person based on double occupancy
Please type Carefully! Inaccurate information will result in travel delays and/or airline change fees.
Pricing details
package price:
$3181*
(based on double occupancy)
*Prices and availability are subject to change and are not guaranteed until completed through the booking process.
INCLUDED IN THE QUOTE
Hotel accommodations

Car rental

Most taxes and fees

Service fees and commissions
**Some hotel reservations require you to pay taxes and resort fees onsite onsite
NOT INCLUDED
Airfare

Tours

Meals (unless included in hotel stay)

Some hotels may require payment of city taxes and resort fees onsite

Tips to guides, drivers and hotel staff

Optional Travel Insurance

Basic (starting at $50/ea)

Cancel for Any Reason (starting at $90/ea)
SUGGESTED PAYMENT SCHEDULE

Prices and availability are subject to change at any time and are not guaranteed until completed through the booking process.
Payment can be made in full
or
You can follow a customized payment schedule
Additional fees apply: $50/pp (one time) and 3% processing fee per payment.
REGISTRATION
A completed registration form (per person)

Photo copy of picture/information page of each traveler passport emailed to: christian@zone-travel.com (if applicable)

Credit Card Authorization form with copy of credit card and Government issued photo ID (like a drivers license or passport)

Please make sure the credit card belongs to the driver of the rental car
FINAL PAYMENT
Payments not received on time will result in reservation cancellation without refund.

Additional bookings after the final payment deadline may result in higher prices, less availability and additional administrative fees.

Fee amounts imposed are at the discretion of Zone Travel.
CANCELLATION
Cancellation in writing must be received by Zone Travel prior to departure for appropriate refund on the land tour cost minus the following fees. Airline penalties are not part of the percentages below and vary based on each individual airline policy.
30 Days Prior or less: 100% of tour cost
Commissions and Travel insurance are non-refundable.
Travel Insurance
TRAVEL INSURANCE - AVAILABLE FOR ALL PASSENGERS - DUE 10 DAYS AFTER DEPOSIT
Zone Travel LLC strongly suggests purchasing Trip Cancellation insurance. Be sure to check with your healthcare provider as most U.S. medical coverage will not cover you outside of the country.
Insurance costs are based on the total package cost, including air taxes and charges listed under "Included."
Approximate amounts can be given at time of reservation in order to purchase the appropriate amount of insurance.
BASIC PLAN:
Your may think you can't afford both the fun and the insurance to protect it. The Basic Plan is so affordable that you can have it all, while still staying in a budget. The plan offers existing medical condition coverage and 24-hour assistance services, allowing you to purchase your trip with complete confidence.
Trip Cancellation: Trip Cost
Trip Interruption: Trip Cost
Emergency Medical/Dental Coverage: $10,000.00
Emergency Medical Transportation: $50,000.00
Baggage Coverage: $500.00
Baggage Delay: $200.00
Travel Delay: $300.00
Travel Delay: $150.00
24-Hour Hotline Assistance: Included
CANCEL ANYTIME:
You can enjoy the extra flexibility of knowing you can cancel your trip for almost any unforeseen reason that the Classic plan does not already cover at 100% and receive 80% of their non-refundable trip cost back in cash. With features like comprehensive trip cancellation, primary emergency medical coverage and 24-hour travel assistance, the Classic with Cancel Anytime plan is there if life throws an unexpected wrench in your travel plans. Plan must be purchased within 10 days of the first payment date and must cover the full non-refundable trip cost ($10,000 maximum).
Trip Cancellation: Trip Cost
Trip Interruption: Trip Cost
Emergency Medical/Dental Coverage: $25,000.00
Emergency Medical Transportation: $500,000.00
Baggage Coverage: $1,000.00
Baggage Delay: $300.00
Change Fee Coverage: $250.00
Frequent Flyer Miles Redeposit Fee: $250.00
Travel Delay: $800.00
Missed Connection: $800.00
24 Hour Hotline Assistance Plus: Included
F.A.Q.
How can I make a payment?
You can make a payment (Mastercard, Visa, Discover or American Express) or, if you prefer a check, you can make checks payable to:
"Zone Travel LLC"
Address:
PO Box 44098
Columbus, OH43204